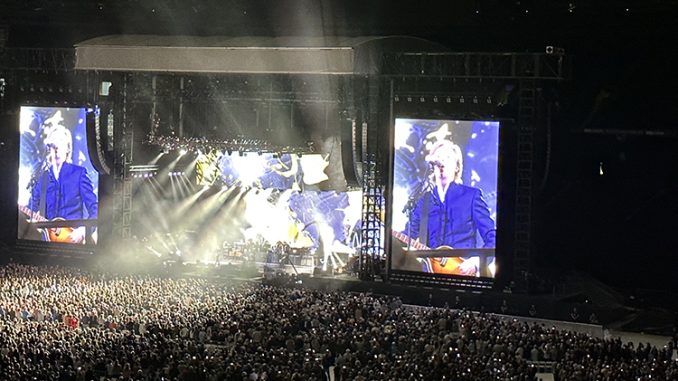 Review by Brian Wise
PAUL McCARTNEY – Marvel Stadium, Melbourne, Saturday October 21, 2023
A few minutes into his first show here in six years, and only his fifth visit ever to Australia, Sir Paul McCartney said, 'I'm just going to take it all in', and he stepped aside from the microphone for a few seconds to look at the 50,000 plus audience.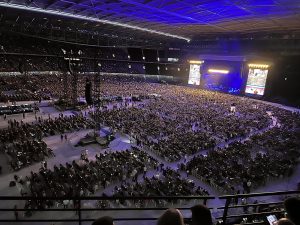 It also gave us the chance to take in the fact that we were seeing the most successful musician in history and a member of the most successful musical group in history. We might have also considered that here was a musician who helped to change history, a claim that might seem exaggerated until you consider the effect that the Beatles had on music and culture (which requires an entire essay or book in itself).
Here also, was a musician who had not only penned one of the greatest ever catalogues of songs but also one of the most covered by other artists. McCartney was able to draw this audience not because of his image (which was iconic in the Beatles) and not because of his stage show (spectacular in itself) but simply because of the songs and the craft behind them.
If I had to find a word to describe the feeling that I had at seeing Sir Paul at this stage of both our lives, it would be 'awestruck'. After seeing him when I was just into my teens outside the Southern Cross Hotel here in 1964, it was affirming not just because Sir Paul was still here at the age of 81 – more than 61 years after The Beatles' first record was released – but because we were still here too!
Without labouring the point too much, which I probably did to relatives and friends, there are a lot of entertainers who are described as legends or superstars, who take up a lot of the oxygen in the news atmosphere and who can pull an audience of 100,000 to a venue like the MCG but whose careers will not even be a footnote in history in 60 years' time. They will only be remembered for the size of the audience not because of any of their songs. As Jody Stephens of Big Star, recently told me, 'You think you are important until a Beatle walks into the room.' Paul McCartney is a genuine superstar, the likes of whom we will probably never see again.
All of which might mean a lot less were it not for the fact that the near three-hour show matched the superstar status. The 39-song (!) set list, which included 23 Beatles songs, was preceded by a half hour montage of Beatles/McCartney music and videos on the giant screens either side of the stage, which might have filled in the younger members of the audience on some history (and it was an audience of very mixed ages). My concern that the sound would not be great all the way across the arena on Level 3 – having experienced some atrocious sound there in the past – was swept away. The sound was perfect and way beyond what could have been expected in such a large stadium. Suddenly, our cheaper tickets became bargains! (Much better than being on the floor where everyone was forced to stand for the whole show).
Looking fitter and healthier than probably any of the other 81-year-olds in the audience, McCartney – mainly on bass but also guitar, piano, ukulele and mandolin – was supported by his superb long-time band: Paul 'Wix' Wickens on keyboards, Brian Ray on bass and guitar, Rusty Anderson on guitar and Abe Laboriel Jnr on drums (and occasional dancing). There was a choreographed horn section augmenting the sound when needed as well. This relatively small ensemble was able to create an enormous sound and even recreate some of the most complex sounds from the Sgt Pepper's album. (Nice also to see the Vox amplifiers on stage a la the Beatles days).
At the age of 81 McCartney's voice is not quite what it was even six years ago but while he didn't always reach the really high notes, this was a voice was that had aged like fine wine rather than merely being a shadow of its former self – and it didn't need autotune! The songs were still served brilliantly. Of course, with a backing band that could add harmony vocals, any flat spots were going to be hardly noticeable anyway in the overall brilliance.
"When we play an old Beatles song, the place lights up with all your phones like a galaxy of stars," confessed McCartney at one stage, adding, "When we play a new one, it's like a black hole. But we play them anyway." (Which is a little damning to his post-Beatles/Wings songs, at least one of which, 'My Valentine', will remain a classic despite the appearance of Johnny Depp in the video).
Naturally enough, the set list was heavy with his former band's material. But it wasn't always the obvious songs. There were the early hit singles and songs from classic albums such as Revolver, Sgt Pepper's, The Beatles, Abbey Road and Let It Be but it was also amazing to hear 'For The Benefit of Mr Kite' and 'Sgt Pepper's Lonely Hearts Club Band' and later Abbey Road's ending medley.
Other highlights included the first song the Beatles ever recorded as The Quarrymen, 'In Spite of The Danger'; a coda to 'Let Me Roll It' of Jimi Hendrix's 'Foxy Lady'; a fabulous version of 'Band On The Run'; a tribute to George Harrison on which McCartney played the uke; and, a 'virtual' duet with John Lennon, shown on video, of 'I've Got A Feeling' from Let It Be. The patter between songs was concise, relevant and entertaining.  You could have devised two or three alternate set lists from all of McCartney's songs over the decades!
Thankfully, the singalongs – which can destroy some concerts – were few and far between and were mainly orchestrated by McCartney, including 'Hey Jude' which became even more epic that its original version with everyone encouraged to join in. (I commend my section where no-one sang unprompted and, believe it or not, no one spoilt the night by being on their phones).
And in the end, to paraphrase the song, the love that Paul McCartney gave the audience was more than equal to the love he received back. As a friend noted, Macca has the ability to play a large stadium and make you think he is talking directly to you.
Afterwards, in the palpable post-concert excitement there were many people claiming that this was the best concert they had ever attended. (If I never saw another concert, this would be a fitting finale). Paul McCartney, the legend, arrived, conquered and left with his reputation enhanced.
THE SET LIST
Can't Buy Me Love
Junior's Farm
Letting Go
She's a Woman
Got to Get You Into My Life
Come On to Me
Let Me Roll It 
(Wings song) (with "Foxy Lady" by Jimi Hendrix outro)
Getting Better
Let 'Em In
My Valentine
Nineteen Hundred and Eighty-Five
Maybe I'm Amazed
I've Just Seen a Face
In Spite of All the Danger 
(The Quarrymen song)
Love Me Do
Dance Tonight
Blackbird
Here Today
New
Lady Madonna
Fuh You
Jet
Being for the Benefit of Mr. Kite!
Something
Ob-La-Di, Ob-La-Da
You Never Give Me Your Money
She Came in Through the Bathroom Window
Band on the Run
Get Back
Let It Be
Live and Let Die
Hey Jude
Encore:
I've Got a Feeling
Birthday
Sgt Pepper's Lonely Hearts Club Band
Helter Skelter
Golden Slumbers
Carry That Weight
The End