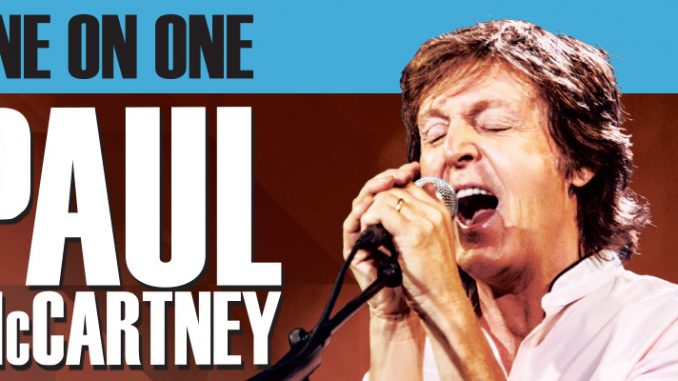 There's nothing like a stadium to drain any nuance and grace out of live music. The general rule is bigger over better. So while there were plenty of fistpumping, cheeseball performances during Paul McCartney's show at Suncorp, giant drums and searing guitars razing older Beatles material like 'A Hard Day's Night' and
'Can't Buy Me Love', McCartney somehow delivered on the tour's 'One on One' promise of intimacy by telling plenty of anecdotes and by breaking the stadium group down into smaller ensembles.
The middle section of the epic 40-song set saw the five-piece group huddled at the front of the stage with a small drum kit to summon the first ever pre-Beatles Quarrymen song 'In Spite Of All The Danger'. Songs like 'Love Me Do' and 'And I Love Her', performed in this arrangement, were far more effective without the bombast. And a solo rendition of 'Blackbird' was human and affecting.
Of course, the Wings material, much of it designed for and performed in larger venues, worked in a stadium setting. 'Jet', 'Let Me Roll It' (with McCartney joining in on the cutting electric guitar riff and a completely unnecessary 'Foxy Lady' coda), 'Band On The Run' and 'Live And Let Die', complete with KISS-like explosions and pyrotechnics, all filled the arena.
It's easy to be critical. Watching such a highly competent group's take on this soundtrack to our lives just made me lament all the more that I never got to see The Beatles, a band that was so incredible because of the members' limitations and personalities, not despite of them.
And the less said about the 'multi-media' visual elements the better.
But grown men were crying in their seats around me. We were seeing a genuine living legend; a cultural icon and a songwriter and storyteller who has been a significant part of all our lives; and, in the end, a phenomenal musician still performing at the elite level, despite his age. McCartney spent 99% of the three-hour show engaging us, me, holding me enthralled, whether goofing about, telling stories about providing Mick Jagger and Keith Richards with their first hit, or singing immortal compositions like 'Let It Be', 'Hey Jude' and 'Yesterday'. That's three hours I'll treasure for the rest of my life.
Martin Jones
Set List:
A Hard Day's Night
Junior's Farm
Can't Buy Me Love
Jet
All My Loving
Let Me Roll It
I've Got a Feeling
My Valentine
Nineteen Hundred and Eighty-Five
Maybe I'm Amazed
I've Just Seen a Face
In Spite of All the Danger
You Won't See Me
Love Me Do
And I Love Her
Blackbird
Here Today
Queenie Eye
Play Video
Lady Madonna
FourFiveSeconds
Eleanor Rigby
I Wanna Be Your Man
Being for the Benefit of Mr. Kite!
Something
A Day in the Life
Ob-La-Di, Ob-La-Da
Band on the Run
Back in the U.S.S.R.
Let It Be
Live and Let Die
Hey Jude
Encore:
Yesterday
Get Back
Mull of Kintyre
Sgt. Pepper's Lonely Hearts Club Band (Reprise)
Helter Skelter
Golden Slumbers
Carry That Weight
The End