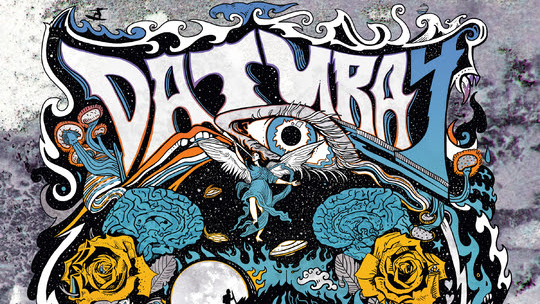 Fremantle outfit Datura4 are set to launch eagerly awaited second album 'Hairy Mountain' in a massive night at Mojo's, Saturday 3 December.
The follow-up to acclaimed 2015 debut 'Demon Blues', 'Hairy Mountain' was released worldwide on Alive NaturalSound Records on 28 October.
Datura4 is Australian garage rock legends Dom Mariani (the Stems) and Greg Hitchcock (the Bamboos) with long-time Mariani collaborator and Rippled Souls bassist Stu Loasby, and ex-Drones drummer Warren Hall.
'Hairy Mountain' builds on Datura4's 'guitars to infinity' approach and celebrates an unbridled joy for rock'n'roll. Road-tested on sellout crowds throughout 2016, 'Hairy Mountain' blends hard rock riffage, psych-boogie blues and culminates in the title track's lysergic tale of perfect surf breaks and peace-pipe smoking chiefs.
It promises to be a huge night at the iconic North Fremantle venue. Joining Datura4 for the blast-off are some of Perth's brightest new rock acts including Marlinspike, Cal Kramer from the Southern River Band and Burning Angels.
On Sale Info
Saturday 3rd December 2016
Mojo's Bar, Fremantle, WA
Special guests: Marlinspike, Cal Kramer and Burning Angels
Price: $29.60 inc BF
Doors: 8:00 PM
TIX: http://mojosbar.oztix.com.au/Default.aspx?Event=66711