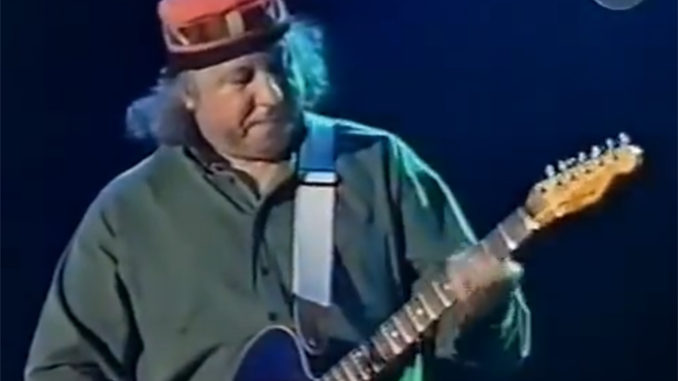 Fleetwood Mac co-founder and influential blues rock guitarist Peter Green has died aged 73.
Solicitors acting on behalf of his family said in a statement: "It is with great sadness that the family of Peter Green announce his death this weekend, peacefully in his sleep.
"A further statement will be provided in the coming days."
In a statement, Mick Fleetwood, 73, said, ""For me, and every past and present member of Fleetwood Mac, losing Peter Green is monumental! Peter was the man who started the band Fleetwood Mac along with myself, John McVie, and Jeremy Spencer. No one has ever stepped into the ranks of Fleetwood Mac without a reverence for Peter Green and his talent, and to the fact that music should shine bright and always be delivered with uncompromising passion!"
Fleetwood added, "Peter, I will miss you, but rest easy your music lives on. I thank you for asking me to be your drummer all those years ago. We did good, and trail blazed one hell of a musical road for so many to enjoy. God speed to you, my dearest friend."
In 2017 Fleetwood said that Green deserved the lion's share of the credit for the band's success. "Peter was asked why did he call the band Fleetwood Mac. He said, 'Well, you know I thought maybe I'd move on at some point and I wanted Mick and John (McVie) to have a band'. End of story, explaining how generous he was."
Many musicians have paid tribute to Green. Peter Frampton said: "Most sadly have lost one of the most tasteful guitar players ever. I have always been a huge admirer of the great Peter Green may he rest in peace."
David Coverdale, the lead singer of Whitesnake, said he was an artist he "truly loved and admired". He tweeted: "I supported the original Fleetwood Mac at Redcar Jazz Club when I was in a local band… he was a breathtaking singer, guitarist and composer. I know who I will be listening to today. RIP"
Singer-songwriter Cat Stevens (Yusuf Islam), tweeted: "God bless the ineffable Peter Green, one of the unsung heroes of musical integrity, innovation and spirit. When I heard he left Fleetwood Mac in 1970 to get a real life and donate his wealth to charity, he became something of a model for me."
Green, from Bethnal Green in east London, formed Fleetwood Mac with drummer Mick Fleetwood in 1967.
They came together after Green's stint filling in for Eric Clapton in John Mayall's Bluesbreakers. Green and Fleetwood then convinced John McVie to join the band as bass guitarist, in part by naming the band Fleetwood Mac.
He wrote the instrumental 'Albatross', the band's only number one hit, plus two other early hits, 'Black Magic Woman' (which later became a hit for Santana) and 'Oh Well'.
Fleetwood Mac made its debut at the British Blues and Jazz festival in the summer of 1967, which led to a recording contract, then its first album, Fleetwood Mac, in February 1968. The album, which included 'Long Grey Mare' and three other songs by Green, stayed on the British charts for 13 months.
The band's early albums were heavy blues-rock affairs marked by Green's fluid, evocative guitar style and gravelly vocals.
Green left the band after a last performance in 1970 as he struggled with his mental health. He was eventually diagnosed with schizophrenia and spent time in hospital in the mid-70s.
"Certainly, John McVie would fully blame an event in Germany where Peter took some more drugs and never really came back from that," recalled Mick Fleetwood in the Green documentary Man of the World. "John is, to this day, absolutely furious with these people. We called them the German Jet Set. They captured Peter completely, and pulled him away."
Green married Jane Samuels in January 1978. They divorced in 1979 and share a daughter.
Green was among the eight members of the band – along with Fleetwood, Stevie Nicks, Lindsey Buckingham, John McVie, Christine McVie, Danny Kirwan and Jeremy Spencer – who were inducted into the Rock & Roll Hall of Fame in 1998.
News of Green's death comes days after Fleetwood Mac announced a retrospective box set documenting the band's early years between 1969 and 1974.
In February this year, artists including Mick Fleetwood, Pink Floyd's David Gilmour, ZZ Top's Billy Gibbons and guitarists Jonny Lang and Andy Fairweather Low performed at the London Palladium in a gig celebrating the early years of Fleetwood Mac.
Rolling Stone magazine ranked Green at number 58 in its all-time list of the 100 Greatest Guitarists.