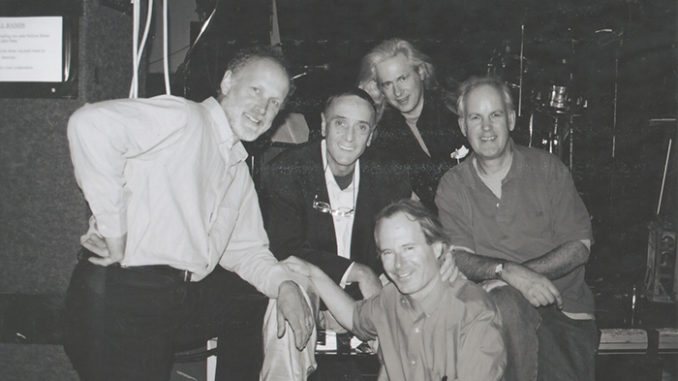 'He was the guitarist we all wanted to be' – remembering an original Skyhook
By Jeff Jenkins.
Peter Starkie – an original member of the ground-breaking Australian band Skyhooks – has died at home in Melbourne.
His younger brother, Bob – who replaced Peter in Skyhooks in 1973 – posted on his Facebook page: "Very sad to deliver the news that my brother Peter has tragically died in one of those stupid ladder accidents."
Bob says Peter's formative years were in England. "Our father was an Air Force officer. We're Australian, but he got transferred to England in 1961 and we were living in England when The Beatles and The Rolling Stones happened. My brother was right into it. He picked up the guitar and started having lessons. So, when we came back here, he was it and a bit. There was this two-year lag back then, so he was ahead of his time. He had the Beatles hairdo."
Legend has it, that Peter Starkie was the first student to have long hair at Melbourne High.
After high school, Peter started a band called the King Bees and Joe Camilleri became their singer. "They were hot," Bob recalls. Peter was also part of the art rock band Lipp and the Double Decker Brothers, alongside Joe Camilleri, Jane Clifton and Dave Flett.
Peter Starkie went to university with Red Symons – both studied science at Melbourne University. They also shared a house in Carlton, a time that Starkie remembers for "smoking a lot of top-grade hashish, which probably didn't help my academic record".
Red Symons says Peter Starkie "was the guitarist we all wanted to be".
The original Skyhooks line-up was Steve Hill on vocals, Greg Macainsh on bass, Freddy Strauks on drums, and Peter Starkie and Peter Inglis on guitar. They played their first gig on April 16, 1973 at St Jude's Church Hall in Carlton.
Steve Hill recruited Peter Starkie. "I'd been a great admirer of Peter Starkie," he explained. "Maybe he was not quite as good as Ross Hannaford, but he had the most superb feel."
Both Peters didn't particularly enjoy the theatrical side of Skyhooks. Peter Starkie's idea of dressing up was putting on an Hawaiian shirt.
By August 1973, Peter Starkie had quit Skyhooks – choosing a stripper over what would soon become the biggest band Australia had ever seen.
"They all thought they were going to be millionaires or something," Bob recalls, shaking his head.
Peter Starkie left Skyhooks to join an act called Roger Rocket And His Millionaires with Joe Camilleri and Dave Flett. The band was set up by Paul Madigan to tour mining towns in WA, backing Madigan's stripper wife, Mary "Doody" Scott Pilkington.
"I think Doody was the first stripper who actually took everything off," Joe Camilleri recalls, "so the police would turn up to shut the show down, which was good news because it would generate publicity."
The band and Mary headed west to make their fortune. But the road was not paved with gold. Their tour van blew a piston just over the South Australian border and they had to catch the train from Port Pirie to Perth, where the vice squad was waiting to interview them after police had found some cannabis in their cabin.
The tour fell apart in Port Hedland, where they were booked to play at the Walkabout Hotel. The band didn't particularly enjoy the hotel's catering, so Joe Camilleri decided to perform a Lou Rawls-like monologue, 'The Walkabout Blues'. "He wasn't too complimentary about the Walkabout Hotel," Peter recalled. "It was about the chicken that got up off the plate and walked away, that sort of thing. The wife of the manager was furious, and they wouldn't let us go back on. From then on, our gigs at the Walkabout Hotel and that chain went downhill rapidly."
Joe Camilleri remembers hiding under a car in the Walkabout car park. "It was the first time I'd been run out of town."
After the six-week tour, Peter Starkie was sleeping on Joe Camilleri's floor back in Melbourne. He played on the first Jo Jo Zep release, a cover of Chuck Berry's 'Run, Rudolph, Run', which was released for Christmas in 1975.
Bob Starkie replaced his brother in Skyhooks. He did a few gigs with Peter Inglis, before he, too, decided to exit the Hooks. He was replaced by Red Symons. "I didn't like playing with other guitarists," Peter Inglis explains. "Peter was one of the few guitarists I could play with, to the point that I really dug him. When he left, I was heartbroken."
When I wrote a book about Skyhooks in 1994, I met with Peter Starkie and Peter Inglis at Percy's Bar – opposite St Jude's Church Hall. Peter Starkie said he felt "just a bit niggled" when Skyhooks shot to number one. "I'd go over to my folks' place and the phone would be always ringing and there were fans camped outside … I tended to just want to distance myself."
But Peter was proud of what his brother Bob – who Red Symons dubbed "Bongo" – achieved with the band. Peter had given Bob his first guitar as a Christmas present – "only because he couldn't stand me playing the drums", Bob laughs.
If he had his time again, Peter Starkie says he wouldn't have quit the band. "When the stripper thing came up, instead of leaving, I should have said, 'I'm going for six weeks, I'll be back.' But I didn't say that."
Peter "got married about made babies", having three daughters. He also got a day job – working for the Industrial Relations Commission. He acknowledges that Skyhooks became a different band with Bob and Red. "We were kind of loud guitar players. It was a much heavier sound. What [producer] Ross Wilson did was clean it up, that element of heaviness is not there. I think he made the songs more interesting. We were a much heavier band than the one that became popular."
Peter played with Bob, Greg Macainsh and Fred Strauks in 2004, to celebrate the 30th anniversary of Living In The 70's.
And the original Skyhooks reunited in Sydney in 2005 to do a benefit gig for Steve Hill, who died of liver cancer six weeks later.
Peter Starkie and Peter Inglis remained good friends. They formed a band called Spanner in 1977 and continued to play together over the years. Peter Starkie also played regularly with Paul Madigan.
Bob says his brother "had plenty of life ahead of him". He was 72.