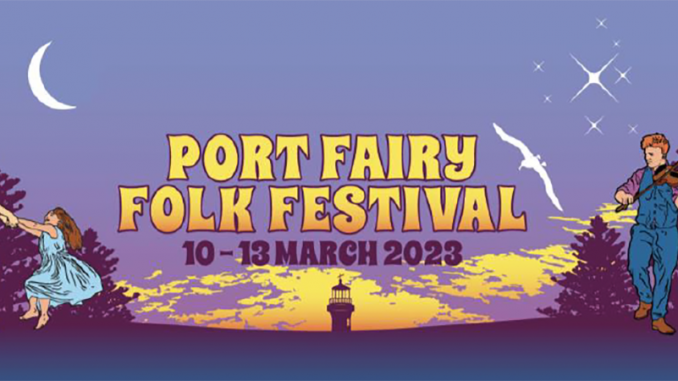 19-Twenty | Billy Bragg | Eric Bibb | Gina Williams and Guy Ghouse Inn Echo | John Smith | Mary Coughlan |Steve Poltz | The Waifs
Port Fairy Folk Festival today announced the first artist line-up for its 2023 event, running 10-13 March. Following the success of the beloved festival's much-anticipated return in 2022, tickets for the full-strength 2023 Port Fairy Folk Festival are available from Friday 17 June.
The 2023 Festival will feature 19-Twenty, Billy Bragg (ENG), Eric Bibb (USA), Gina Williams and Guy Ghouse, Inn Echo (CAN), John Smith (UK), Mary Coughlan (IRE), Steve Poltz (USA) and The Waifs.
Announcing the first artist line-up, Port Fairy Folk Festival Program Director Justin Rudge said that next year was already shaping up to be bigger and better than ever. 
"After the joyous return of the Folkie earlier this year, I am thrilled to reveal the first line-up for what is promising to be a huge festival in 2023. Next year will see the return to a full-strength program, brimming with a diverse range of styles and genres, and featuring the best musical talent from Australia and around the globe. Stay tuned for more artist announcements in the lead up to our 2023 festival weekend – we can't wait to share our festival with new and returning Folkies!" said Justin.
Fearless recording artist, tireless live performer and activist Billy Bragg is amongst the first big names announced for the 46th annual Port Fairy Folk Festival. The fabled 'Bard of Barking' will bring his entertaining and gobsmacking songs, stories and lyrical masterpieces to the world-renowned Folkie stage in this very special performance and tour extension. 
Festival-favourites 19-Twenty return to Port Fairy after a show-stopping performance in 2019, bringing with them their infectious riff-and-groove-based blue-billy-grass-rockin'-roots music! Also returning to the Folkie after such a huge crowd response, is Irish singer, songwriter and actress Mary Coughlan. 
Missing out on his 2022 Australian tour, fans will be thrilled to see Eric Bibb on the line-up with a brand-new set of songs to share along with his inspiring back catalogue of hits. Plus Nashville-based singer, songwriter and legend Steve Poltz will bring his folk tales and mesmerising lyrics to the Folkie – all set to a backdrop of the almighty Southern Ocean. 
Our very own Gina Williams and Guy Ghouse, along with the unstoppable Australian band The Waifs, will reign supreme on the Festival grounds, alongside Canadian instrumental trio Inn Echo, and one of the UK's finest guitarist and songwriters John Smith. 
Port Fairy Folk Festival takes place in Port Fairy, Victoria from 10-13 March 2023. Sign up to access subscriber tickets, available from Friday 17 June. For further information and to secure your spot at Australia's biggest folk festival by the sea, visit portfairyfolkfestival.com