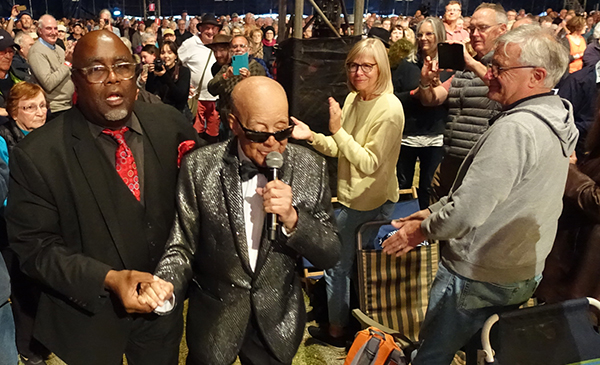 44th Port Fairy Folk Festival – 6-9th March 2020
Rhythms subscriber Alan Calder sums up his Port Fairy experience.
Award-winning Canadian modern folk trio The East Pointers may well have just endangered the somewhat staid stereotype of the Port Fairy Folk Festival. At their final workout in the Pyipgil Gundidj stage, and joined by the effervescent Emily Watkins (yes, Emily Wiggle), there was indeed crowd surfing! This hard-working band appeared no less than five times throughout the three-day festival and had clearly won over punters with their harmonies, acoustic grooves and traditional Prince Edward Island trad breakdowns.
Not to be outdone, Port Fairy favourite Claymore had the crowd on their feet with a mixture of traditional Irish and Celtic rock. Add some mandolin, military snare, highland bagpipes and Irish dancers to the mix along with an AC/DC cover and there was quite a bit of Guinness spilt during their Shebeen set.
The Blind Boys of Alabama added their own brand of spiritual energy at both of their gigs. Fresh from WOMADelaide, and in fine voice, they delighted the 3000 fans packed into the new River (Warinoong) stage when they headed for the aisles, singing, dancing and shaking hands.
Themed concerts and special events played a significant role in the 44th iteration of this festival which this year acknowledged the Indigenous custodians of the country by renaming the main venues in Peek Whurrong language and celebrating Australian, New Zealand and Canadian First Nations in a moving Songs and Stories concert. This event featured Hubert Francis, Archie Roach, Brett Clarke, Emily Wurramara and Mihirangi Fleming.
The Women Out Loud session, always a great way to start International Women's Day, was hosted by the charismatic saxophonist YolanDa Brown who facilitated an emotional and fascinating sharing of stories and music from a panel of inspirational women.
YolanDa had already demonstrated her stagecraft chops leading her own hot band with a fusion of reggae, jazz and soul. Her Saturday night set featured stunning interplay between sax and bass guitar during an unforgettable rendition of 'Summertime'.
When Nick Charles assembles a cast of guitarists on stage one tends to take notice. Jeff Lang, Will Kimbrough, Tony McManus, John Smith and Leisha Jungalwalla delivered virtuosity in a range of blues, roots and traditional styles in the packed Island (Maleen) venue on Saturday morning. Despite their diverse styles and influences, these talented players spontaneously clicked together when jamming on some standards led by Charles. Perhaps organisers could consider a larger venue in future considering the popularity of this session.
Grace Petrie impressed from the moment she introduced her 'only happy song' about driving home from the Glastonbury Festival in time for the birth of her niece – yet still managing to see Dolly Parton before she left. Her words, both spoken and in the lyrics of her songs, struck a chord in these confusing times in life, love and politics. And there were many poignant and thoughtful words uttered over three delightful days at this community-run event, including those from Gina Williams and Guy Ghouse (Port Fairy 2020 Artists of the Year), Judith Owen (I hope Olivia Newton-John is okay with her take on 'Summer Lovin''), Eleanor McEvoy ('Only a Woman'), Neil Murray, and local boy Shane Howardwho shared his 14th solo album with us.
As with all music festivals, choices have to be made and despite some frantic venue hopping, some of the prominent acts were missed by this reviewer. By all reports Rhiannon Giddens and Francesco Turrisi, as well as Kieran Kane and Rayna Gellert, were warmly received as were Patty Griffin and C.W. Stoneking. The acts that impressed in addition to those already mentioned included the Grigoryan and Tawadros brothers performing as the Band of Brothers, high-energy bluegrass band Flats and Sharps, Nova Scotian Ian Sherwood's genre-shifting music and stage show, Orcadian folk quartet FARA, Irish brothers Ye Vagabonds, and the harmonies and charm of both The Maes and The Little Stevies.