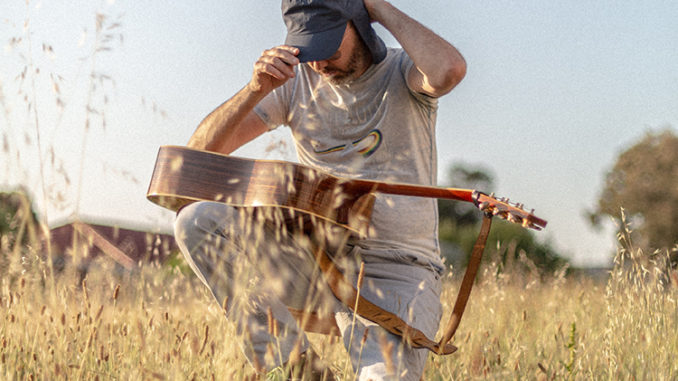 Master folk guitarist Justin Bernasconi's new single 'Blank Page' is out on Thursday 13 May and we have the exclusive premiere right here:
There is also a bonus B-side, 'Flags Staked Upon This Hill.' Produced by Jeff Lang both tracks feature Justin Olson (drums), Anita Hillman (cello Mae Trio) and Ben Franz (The Stillsons, The Waifs) on double bass and are from Justin's forthcoming album Sleeping Like A Maniac to be released later this year.
Blank Page on the A Side, see's Justin narrate the loops of a stalled mindset, a struggle to express tangled thoughts. The dreaded 'writer's block' that accompanies a worried mind. And yet, the multi-instrumentalist displays a gift for poetry.
Bonus track, Flags Staked Upon This Hill is the B-side, and is written about the 'point of reckoning' in the breakdown of a relationship, with the rousing chorus: 'If I turn, should I stay?' Esoteric lyrics portray both longing and anger as a man self-righteously claims victory over a relationship issue while losing the relationship itself. Win the battle, lose the war. The single features Ben Franz (The Stillsons) on electric bass with Cat Canteri's drums rolling on with a military momentum. Justin (Harmony Sovereign Guitar, Mandolin and Tambourine) is joined on vocals by Mandy Connoll.
Bernasconi straddles styles and sounds from the Delta Blues, Appalachian Bluegrass, English Folk and all stops in between, his highly original tunes are infused with exciting and soulful guitar playing.
Blank Page and Flag Staked Upon This Hill will be launched live on Sunday May 30th with an afternoon show at the Retreat Hotel in Melbourne. Justin will then head to NSW for performances at the Cronulla Jazz and Blues Festival on the June 5 and the Studio Folk Club in Armidale on Sunday June 6.
TOUR DATES:
• Sun 30 May – The Retreat Hotel, Brunswick, VIC
• Sat 5 June – Cronulla Jazz & Blues Festival, NSW 10:30am
• Sat 5 June – The Royal Exchange, Newcastle, NSW 8pm
• Sat 6 June – The Studio Folk Club, Armidale, NSW
• Fri 9 – Sun 11 June – The Celtic Festival, VIC