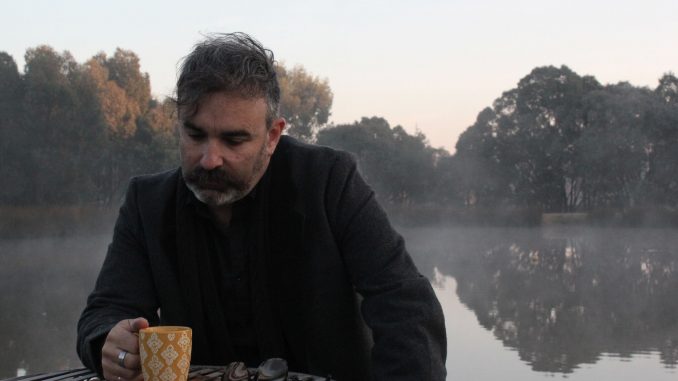 Ahead of its release on Friday, Steve Lane's debut album 'The Revenge Of The Lawn' is being premiered today on Rhythms.
Accompanying the debut release is a track by track breakdown by Steve Lane and John Holton, who collaborated with Lane on the album.
Read on and listen to Lane's debut album now.
Steve Lane is a lifer.

Steve has written songs as played in bands since he was legally able to enter the pub.

His debut solo album 'Revenge Of The Lawn' is a culmination of some great and some shit life experiences shared with band mates and long time collaborators.

Steve's songs come from the great Australian tradition of lyricists like Paul Kelly and Courtney Barnett.  These songs have been co-written with acclaimed Australian poet John Holton and recorded with David Williams from Augie March on drums, Jacob McGuffie and Steve on guitars and his son Kai playing the Bass.

Steve's solo career started with a bang with him signing recording and publishing deals with ABC Music upon release of his debut album.  This album was also selected as a contender for the Australian Music Prize.

2015 saw Steve showcase at Canadian Music Week in Toronto and make the kind of connections that will see his career traverse both Australia and Canada from here on in.

The last few years have challenged Steve to the core with the loss of both of his parents.  This loss has informed the heart of the songs on "Revenge Of The Lawn" but has not left them without hope.
The Revenge of the Lawn
"For me, Revenge of the Lawn is an allegory on love in all its many forms and absurdities. Love between people – love of place – love as an ideal – love as an absolute – love as motivation – all wrapped up in the day-to-day narratives of our existence. The small moments of extraordinary-ness amidst the ordinary." –  John Holton May 2017

TRACK BY TRACK
Monsoon Heartbreak
What started life as a poem inspired by two cartoon birds, evolved to become a grand scale homage to the power of the ocean and its influence on the history of this land. What are the central characters of this ill-fated journey fleeing and what are they seeking? Our history is full of journeys like this, people fleeing persecution, seeking peace in distant lands – from the convicts of old England, to the Italians, Greeks, Vietnamese… it continues today.
There Is Light
Fundamentally this song is about the deep need and desire we share as human to communicate with each other. It's where we find the light when confronted with darkness. A meaningful connection can be like a blood transfusion, giving us the strength to face our situation, no matter how harrowing… even when 'smoke haze breeds a blood red sun'… an occurrence that strikes a collective anxiety amongst many rural Victorians in summer.
Camber
Honed from years of song-smithing at the coal face, Lane has produced what he calls his first true single… a convivial highway alt country rock cruiser with a strong undercurrent of Americana, no doubt fuelled by their recent successful showcases in Canada.
Camber celebrates relationships of substance with some kilometres under the belt, and how small adjustments can make the ride smoother.
The song was good enough to attract the attention of Melbourne soul diva, Nkechi Anele whose voice glides effortlessly behind Lanes in a most 'un-Saskwatch' way.
There's old and new on this track.
David Williams (Augie March) jumps back behind the drum kit to give the track its bedrock.
Latest Autocrat (and current Australian flat picking champion) Jacob McGuffie (The Fearless Vampire Killers/Davidson Brothers) provides the shimmer and shine with his sweet and purposeful slide guitar, always leaving room for bassist (and Steve's son) Kai Lane U'Ren,  whose melodic playing surfaces beautifully in the middle eight.
Dot Point
A grandiose and sweeping existential number about energy, love, life and death… where does it come from where does it go? Is the Dot Point love? Has that energy always existed?
A work of musing and abstraction.
Motherland 
If there was a genre called 'Kremlin Country', then this song would be it.
The Motherland Hears, explores the life and impact on the Soviet era's first cosmonaut (& rockstar) Yuri Gagarin. The Russians got the initial points in the Cold War space race, by sending former foundry worker Yuri into space. Early American reports cast doubt into the veracity of the mission as they were clearly pissed at being beaten. The Russians were also pretty keen to let the God-fearing yanks know that Yuri hadn't seen any God out in space!
Juice Bar Girl
Juice Bar Girl's genesis is a poem written by John after buying a juice from a girl who'd clearly been crying. The next step was to imagine why she was crying and why her day had turned to shit. Steve took the poem one step further, imagining the effect of this girl's emotional outpouring on her customers, picturing a queue of regulars who returned to by a juice off the girl, because she reminded (validated) them of their own futility.
Steve and John both live in Central Victoria, a place known for its dry and harsh summers and this dryness is echoed in the Steve's conversational chorus with lines like 'would you like a little lime, coz your lips are looking dry' and 'I don't think it will rain do you?' … a distinct metaphor for the dryness of the spirit which her customers are seeking to soothe.
C'est Tellement Mysterieux
The song developed from a poem John wrote after reading Antoine de Saint-Exupéry's The Little Prince. We tend to underestimate our children's ability to cope with the mysteries of life. We like to paint neat pictures and wrap things up in stories that say how the world is, and how people behave, but this doesn't prepare them for the convolution of life. The Little Prince is a brave story for children AND adults – like all the best stories.
In a very hazy nutshell, this song is about freedom and abandon, and the happiness connected with being a little crazy.
Reap What You Know
A songwriter will often sing a nonsensical line to encourage the development of a melody.
In this case the line stuck and the following text message between Steve and John un-folded:
Steve:
Just come up with a song… really catchy melody… with a tag line… 'You reap what you know not what you sow'. What does it mean? Is there a story in it?
John:
I think it's a line about "real" understanding. Not just facts and information. It's tied up with the oracle of Delphi "know thyself".
If we truly know, then the sowing takes care of itself. Fuck that's deep for a Sunday lunch:-)
Steve:
Have you heard that line or have I just made it up? As for the oracle of Delphi I bet if she was around she'd take a good selfie!
John:
The ancient Greeks would have loved a good selfie stick. I think you made it up… or maybe you heard it on the block?…. and the texts continued….
Zebra
An open plan office can be a pretty confronting place, at its worst resembling a jungle… its own animal kingdom. This is a song about finding others, with similar 'markings' and how that can change the way you feel about a situation. It's also a song about the power of totems.
Steve says "Originally, I had asked my great mate Darren Seltmann (The Avalanches) to help me with this song. He was really busy but sent me some really thoughtful ideas and potential directions for the song, which helped me find a direction.
All his points were spot on, and I took many of them, but here was one that I struggled with:
"Building atmospheric tone?… Like the sound of wind or steam or a mechanical whirring?
Like a little melodically bending train".
It wasn't until I thought of the meaning of the song that I understood this … and the meandering intro of office type sounds sprung into life"
Cocoon
At the time of writing this song, Steve's Dad had been in a 'cocoon' like state … bedridden, shrinking and unable to communicate for many years after a massive stroke at just 59. John finally passed away in 2015. When he recorded Cocoon, Steve thought the random soundscape at the end of the song was an attempt to be inside his dad's head and portray what he might be hearing from his cocoon.
"I was grabbing instruments and throwing down my emotions … there was no thinking involved… it was all stream of consciousness… at one stage I grabbed my phone and recorded an ABC talkback show"
"After my father passed, I was listening to this song with a friend who wanted to hear it and was playing it over and over… it made me feel physically sick… it was too raw"
"For me know, that ending is his leaving"
STEVE LANE – REVENGE OF THE LAWN – OUT JULY 7
Includes the singles "Camber" and "There Is Light"
Touring Nationally August/September