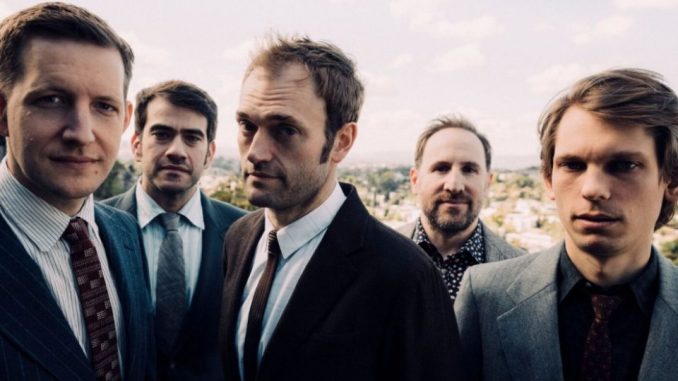 With a new album under one arm, 2018 'All Ashore' and a Grammy Award under the other Punch Brothers – mandolinist Chris Thile, guitarist Chris Eldridge, bassist Paul Kowert, banjoist Noam Pikelny, and violinist Gabe Witcher will make their long-awaited return to Australian shore in July 2019.
They will play Woodville Town Hall, Adelaide, Sunday, July 14, The Tivoli, Brisbane on Monday, July 15, the Arts Centre Melbourne, State Theatre, Tuesday, July 16 and The Enmore Theatre on Wednesday, July 17.
"We are just thrilled to be returning to Australia this July. We had such a wonderful experience when we visited last in 2016 and have been eager to find our way back. Interestingly enough, the beginning instrumental section of "All Ashore", the title track of our new record, materialised quite spontaneously during our soundcheck onstage in Sydney in 2016. So it is only fitting to finally come back and showcase the finished product." –  Punch Brothers.
An Evening with Punch Brothers – General On Sale Now
For ticket and full pre-order details please visit http://lovepolice.com.au/punch-brothers-2019 


The latest album, All Ashore, the fifth and first to be self-produced by the quintet, was released in July 2018 on Nonesuch Records. It spent six weeks at #1 on the Billboard Bluegrass Album Chart and won the 2019 Grammy Award for Folk Album of the year.
In 2015, Rolling Stone noted, "The genius of Thile and bandmates guitar player Chris Eldridge, bassist Paul Kowert, banjo player Noam Pikelny, and fiddler Gabe Witcher is the artistry with which they mix bluegrass, roots, rock, pop, jazz, and classical to create a unique, contemporary sound." 

As so it still is. Do not miss An Evening with Punch Brothers.
An Evening with Punch Brothers


Sunday, July 14 – Woodville Town Hall, Adelaide, SA
Monday, July 15 – The Tivoli, Brisbane, QLD
Tuesday, July 16 – Arts Centre Melbourne, State Theatre, VIC
Wednesday, July 17 – The Enmore Theatre, NSW 

General On Sale 11.00AM AEST
For ticket and full pre-order details please visit http://lovepolice.com.au/punch-brothers-2019