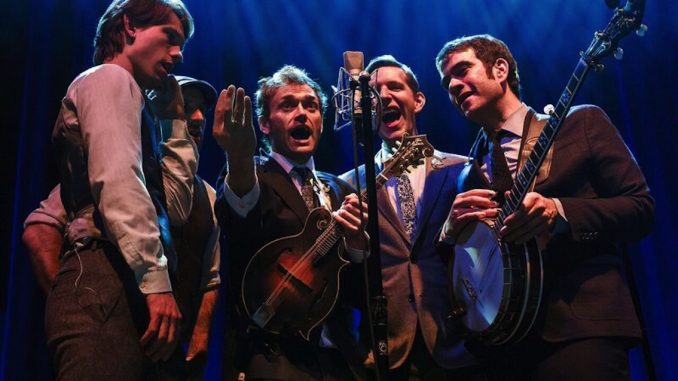 For the second time in four years, the Punch Brothers delivered a knockout performance to kick-start the Adelaide Guitar Festival – one that had a packed house enthralled from the opening round to the closing salvos.
It was case of going back to the future in more ways than one last night (Thursday, August 11) as the heavyweight champions of America's  acoustic music scene gathered in a semi-circle around a single microphone (a multi-directional Neumann U-89), in the time-honoured manner established by the band's patron saints and primary inspiration, Bill Monroe's Bluegrass Boys back in the mid-1940s.
The scene at the South Australian capital's ornate marble-pillared, pipe-organ adorned Town Hall, where the Beatles famously performed half-a-century ago, might have had a sepia hue, and a baby boomer boosted audience in attendance, but there was modern punch to the Brothers' high octane show.
Whereas their last concert in Adelaide, during their debut Australian tour, centred on the band's third album, 'Who's Feeling Young Now', this year's performance hung on compositions from an even more adventurous album – 2015's dazzlingly daring 'Phosphorescent Blues' and its EP spin-off, 'The Wireless'.
A mutual love of bluegrass might have brought these young sultans of string together a decade ago, but their music defies genre classification. While progressive bluegrass might suffice, it's perhaps more accurate to describe the band's players – Chris Thile (mandolin), Noam Pikelny (banjo), Gabe Witcher (fiddle), Chris Eldridge (guitar) and Paul Kowert (double bass) – simply as virtuoso instrumentalists doing their "thang". And when they're doin' their thang – and that includes some sweet harmony singing – sparks indubitably fly and magic ensues. Given front of house sound as close to perfection as one could imagine, their Adelaide concert was simply sublime – among the finest this veteran music reporter has attended.
The Punch Brothers rendered songs from the aforementioned 'Phosphorescent Blues' as originally recorded with some accuracy – at least as could be recalled, given the complexity of the music on that album. Not that their set lacked animation or imagination or was in any way short of added thrills and, indeed, trills.
There's more than a hint of Radiohead rock or the neo-classical approach of the Kronos Quartet or the futuristic folk of the Scottish trio Lau in the buccaneering way the Brothers straddle the divide between cultured elegance and cutting edge. Just when you think you've heard it all, the chops and dynamic range go into hyper drive and the Punch Brothers hit the audience with the left and right hooks and ring craft of a champion boxer.
As the band's founder, lead vocalist, de facto MC and mandolin mandarin, Thile (pronounced "Theely") might have taken the lion's share of the solos, but the rest of the band were afforded ample opportunity to step forward and take a turn in the spotlight. Pikelney's banjo often played brilliant counterpoint to the mando pyrotechnics. When his flat picking prowess wasn't centre stage, Eldridge's imaginative rhythm work bolstered. Witcher's fiddle provided dynamic drive, while Kowert earthed the music with his inventive work on upright bass, plucked and bowed.
For all their individual virtuosity, the Brothers play as one. This was obvious throughout their show, and particularly noticeable in the instrumentals that genuflected to bluegrass tradition – 'Watch At Breakdown', 'Hops Of Guldenberg' and 'Lonelieness and Desperation'.
Thile and fellow vocalists Witcher and Eldridge produced some high and lonesome vocals that would have curled the toes of the original Bluegrass Boys. The Brothers' intricate rendition of 'Passepied' – a piano study configured for five-piece strings – would have left its composer, Claude Debussy, well chuffed. The Beatles might have recognized strains of 'Taxman' and 'Drive My Car' in one of the attractive early songs, 'Magnet'. The upper-register three-part harmony singing on 'My Oh My' had a Beach Boys' ring.
Arrangement wise, the meandering 10 minutes of 'Familiarity' – predicated on a solo mandolin arpeggio – was among the show's highlights, although The night's sole cover, of Josh Ritter's 'Ahoy!', came a close second.
Throughout, the Bros used the old Adelaide emporium's wonderful acoustics with alacrity, accented by their own well developed sense of dynamics and superb front of house sound.
By TONY HILLIER