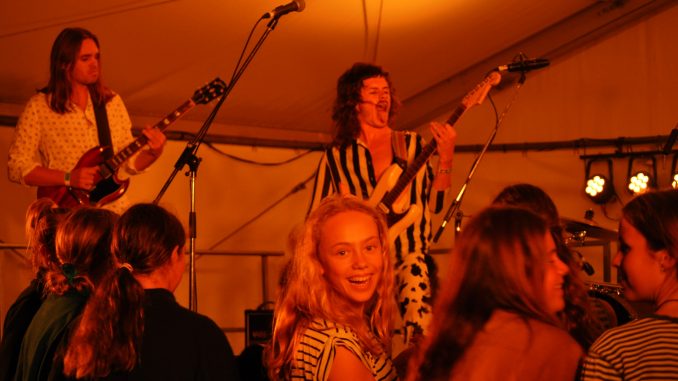 QMF's 21st birthday was an absolute pearler. A new improved layout kept hungry punters within earshot of music at food stalls. Water refill stations addressed a 'no single-use bottles' strategy. Clouds threatened to unleash a tempest each day, that bullet dodged with pleasant temperatures amid a few harmless bursts of rain. After last year's success, DJ Vince Peach's 'Ozone Lounge' was made roomier to satisfy dancers between live sets. There was a sound glitch here and there but that ain't bad for 250+ gigs from 60+ acts.
In QMF World, the midpoint of Friday evening is traditionally time to go OTT. In the wake of Malcolm Young's recent passing, I'd recently made a loud and proud reconnection with irreverent, flat-to-the-floor rock'n'roll. Perth 4-piece The Southern River Band belied their somewhat pedestrian name with shredding riffs and a frontman sporting mullet, mo, stripes and cow print. The gig turned the Hippos tent into a late 70s 21st, minus the speeches.
Winners of QMF Emerging Artists grant, The Refuge (teens from Apollo Bay) have stepped up as keepers of the old school rock tradition. Heads of all ages were banging wildly in the Pavilion. The grant means they'll be recording soon. Watch this space! Others rocking the same rafters included Heath Robertson, Sagamore and Hussy Hicks. The latter joined Beccy Cole for a standing ovation-winning set on Saturday.
Varieties of folk were popular, crowds increasing for repeat appearances. The Mae Trio, Stella Donnelly (WA) and Didirri were mentioned frequently as favourites around the site. Based in Canada's remote Prince Edward Island, both The East Pointers and Irish Mythen returned to charm and amuse Antipodean fans. Canadian country artist Lindi Ortega's stage presence was surprisingly low key. Her distinctive vocals and striking appearance were rivalled by killer guitarist Champagne James Robertson for the lion's share of attention.
The Wilson Pickers represented country blues, with polished indie rock from The Temper Trap. The magnificent Mia Dyson and eye-catching Nai Palm were among guitarists who match their chops with commanding vocals and presence. Blokes who needed no introductions were thick on the ground and delivered the goods: Bernard Fanning, Bob Evans, Russell Morris, Xavier Rudd. Fanning's medley of covers by the recently departed was an uplifting treat. (including 'Fame', 'Blueberry Hill', 'Learning To Fly')
NY-based multi-instrumentalist Gabriel Garzon-Montano took intrepid listeners to a reflective place. From the same city, the trio of Too Many Zooz (baritone sax, trumpet and drums/percussion) catapulted unbridled beats and notes into a whole other stratosphere. Sonically and kinetically mesmerising.
QMF does some things very well. Programmers have the uncanny knack of booking acts just as they're about to take off. It's like a talent-spotters Utopia. The coastal fest also places soul music at the forefront of stages from fest central to the Blues Train and township venues. The Bamboos starred on the Lighthouse stage with the incandescent Kylie Auldist out front. It was QMF that introduced me to Ella Thompson and The Teskey Brothers as precociously talented teens. This year, Ella (ex-The Bamboos) performed in GL with drummer Graham Pogson who I first saw years ago with Jaimi Faulkner's band. The Teskeys' shows were packed – their 'meteoric rise' actually coming over quite a time span. From New Orleans, British-born Jon Cleary brought the crescent city to the Victorian coast, firstly with his Absolute Monster Gentlemen, then a solo set seated at the keys where his fine craftsmanship drove syncopated blues and funk. Larger line-ups included Mama Kin Spender with a mega-choir, horns x 6 from the Hot Potato Band and recent award-winners (The Age Music Victoria Awards) Lamine Sonko & The African Intelligence. Yothu Yindi & The Treaty Project introduced a new line-up featuring Dhapanbal (daughter of Dr G. Yunupingu). I'd watched frontman Yirrmal start out at QMF's Foot-In-The-Door competition. The next year appearing on a main stage. Now he's a 'main stage' act with a swag of natural talent and star quality. His own set with The Miliyawutj drew an enormous crowd.
A nice change of pace came with the Saturday's comedy showcase. Harley Breen's hilarious family recollections justified the 'language and content' warning. Other familiar local stand-ups also got the giggles rollling, but I have to make special mention of Venezuelan (now Australian) Ivan Aristeguieta. Shining a light on the foibles of his adopted home, he sparked unanimously welcomed hilarity. We could've listened to his passionate musings for another hour and have been quoting choice lines ever since.
Among the jubilant moments with strangers bonding in revelry (and recovery) one act sang to my very soul, as they always do. Hat Fitz & Cara are among my favourite live acts of all time. The entertainment gods earned their keep when they brought this pair together. Their dirt-floor bluesy roots deliver polished musicianship, disparate and stirring vocals with mutual affectionate ribbing between songs. The primal beat of 'Absent Eyes' shook weary bones into action.
On behalf of the 16,000 clearly satisfied punters, thanks to Festival Director Andrew Orvis and the team for another invigorating weekend.
Chris Lambie