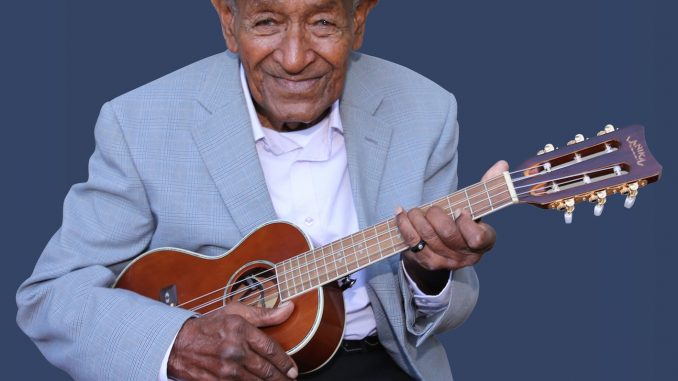 On the cusp of ninety and now officially retired, Australia's oldest ARIA winner is still picking up awards.
The latest accolade for legendary Torres Strait Islands' crooner Seaman Dan comes courtesy of QMusic, which this week presented him with the Grant McLennan Lifetime Achievement Award, in recognition of his remarkable contribution to Queensland's music industry.
"Uncle Seaman", as he's widely known in Australia's tropical north, has also reportedly been nominated for an Order of Australia, which recognises citizens and other persons for achievement or meritorious service.
Long-time Rhythms writer and Seaman Dan chronicler Tony Hillier observes that the dual ARIA winner has been an important role model for the Torres Strait. He points to several emerging musicians whose eyes have been opened to a career in music because of his achievements.
As recipient of the Lifetime Achievement Award at this week's Queensland Music Awards, Henry Dan follows in the footsteps of country music legend Chad Morgan, who received the award last year after many decades of achievement. Other awardees have included Ed Kuepper.
The award was determined by the QMusic Management Committee after considering a list of nominations from respected industry figures.
They were impressed by Seaman Dan's unique story: "There really is no career like yours in our state's music history," they told him. "Your impact on the Aboriginal and Torres Strait Islander music culture has been profound but that impact spreads so much further, including beyond Australia."
The former pearl diver and boat skipper's extraordinary second career began after a fortuitous meeting with academic Dr Karl Neuenfeldt in January 1999.
Neuenfeldt was in the Torres Strait interviewing local indigenous artists as part of his research and quickly recognised Seaman's talent. He suggested that he might like to make a recording, to which Seaman quickly agreed.
Neuenfeldt approached Cairns-based music producer Nigel Pegrum, who has been co-producer throughout Seaman's recording career.
Thus, at 70 years old Seaman Dan began his second career — as a professional musician and recording artist.
His ten albums have included originals and adaptations of traditional Torres Strait Islander songs. The songs drew from his working life on the ocean and as a jackaroo. They also reflected his love of the Torres Strait.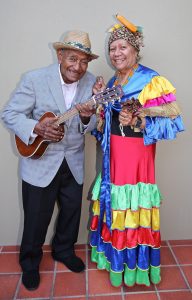 In 2000 Follow The Sun won the National Folk Recording Award at the National Folk Festival in Canberra, helping to set up Seaman's belated recording career.
Over the next decade, he toured extensively nationally and internationally, attending festivals and conventions. He has contributed to many compilation albums and appeared in several documentary films including SBS's Seaman Dan and Friends: Welcome to the Torres Strait and Hula Time: The Seaman Dan Story on ABC TV's Message Stick program.
Seaman Dan was inducted into the National Indigenous Music Awards' Hall of Fame in 2013. In 2009, he took out the Jimmy Little Lifetime Achievement Award; in 2005 the Australia Council for the Arts' Red Ochre Award Indigenous Artist of Year.