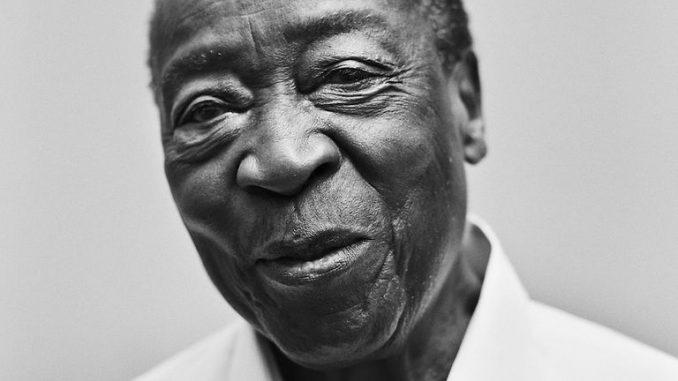 Another New Orleans music icon Dave Bartholomew – trumpeter, songwriter, bandleader, producer and arranger – has died in a New Orleans hospital at the age of 100. The news was confirmed by his son, Don Bartholomew.
Bartholomew was best known for his collaboration with Fats Domino and they were probably the most successful partnership in the history of New Orleans music, enjoying a string of hits together between 1949 and 1963, with more than one hundred entries on the pop and R&B charts.
David Louis Bartholomew was born on Christmas Eve 1918 in Edgard, La, but moved to New Orleans as a child. He played trumpet, in local jazz bands, served in the Army during World War II (playing in a military band) and after the war returned home to found a popular jump-blues big band. Later, Imperial Records hired him as a talent scout and in 1949, he discovered young New Orleans piano player named Antoine "Fats" Domino.
Domino signed to Imperial and in December 1949, Bartholomew put together a band to record what would become Domino's first hit, 'The Fat Man', at Cosimo Matassa's J&M studio on North Rampart Street. The single sold two million copies, as did Bartholomew another Bartholomew production that same month, '3x 7 = 21' by Jewel King.
The Domino/Bartholomew combination would result in dozens of hits singles including 'Ain't That a Shame,' 'I'm Ready,' 'My Girl Josephine,' 'I'm in Love Again,' 'Blueberry Hill,' 'Blue Monday,' 'I'm Walkin',' 'I'm Gonna Be a Wheel Some Day,' 'Whole Lotta Loving' and 'I Want to Walk You Home.' Australian group The Loved Ones enjoyed a hit in the '60s with their version of 'Blueberry Hill.' Paul McCartney was hugely influenced by Domino as evidenced on the song 'Lady Madonna' (which Domino covered and had his last Top 100 hit). McCartney also recorded the song 'Coquette, which Domino released as a single in 1958, on his 199 album Run Devil Run.
Bartholomew also wrote and/or produced for many other Louisiana artists including Lloyd Price, Smiley Lewis, Frankie Ford, Shirley & Lee, Chris Kenner and Robert Parker. Mac 'Dr. John' Rebennack's first recording session as a young guitarist was with Bartholomew.
Bartholomew received a lifetime achievement award from the Grammys as well as a Rhythm and Blues Pioneer Award and induction into the Rock & Roll Hall of Fame and the Songwriters Hall of Fame.
Bartholomew is survived by his wife and eight children.