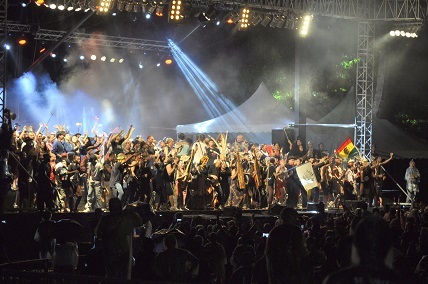 July 14-16 Sarawak, Malaysian Borneo 
I waited in the shuttle car between hotel and festival site, excited to be heading for my first afternoon workshop of the weekend.  Tabla player Ninder Johal from 'New Wave Bhangra' group Achanak (UK/India) jumped in, looking a little anxious.  "Are you going to the 'Dialogue Of the Drums' session?" I asked. "Yes. I'm supposed to be leading it!" came his incredulous reply. "I've never met the other guys. I have no idea what's going to happen." It wasn't my first time at 'Rainforest'. I assured this stranger, "Don't worry. It will all be fine and you'll have fun." "I like your optimism, but…" He laughed and shook his head. And so it followed that the workshop ended in a joyous, unified bounty of beats. No other common language required. The UN should meet at Rainforest.
The annual event is always a celebration. This year's 20th anniversary was especially so. Artists and visitors from across continents, generations and cultures arrive in the Borneo rainforest as strangers. Hanging out together over four or more days, they form creative and social bonds that extend far beyond the jungle's remote coastal setting. From modest beginnings in 1997 with 300 punters in attendance, the festival now averages between 18,000-22,000 through the gates over three days and evenings. Acts are among the planet's best, chosen for their emphasis on heritage influences. The resurgence in traditional arts and crafts among Sarawak's own indigenous people is largely down to the influence of 'Rainforest'. The traditional boat-shaped lute, the sapé, was almost unheard by the late 90s. Very few of the old men made or played the evocative strings. Women were forbidden to play or even touch one. Ancient head-hunter dance traditions and nose flute have likewise been revived. At my first Rainforest, only sapé Master Mathew Ngau Jau demonstrated the art. In 2017, a bevy of kids from the Sarawak Arts School danced to the old sounds. Young fusion groups like At Adau raised the starry 'roof' on one of the two main stages, dressed to thrill in feathers, pelts, tribal tatts and glee.  Whoop and yowls imitated hidden forest creatures. Bidayuh bamboo zither, guitars and djembe play together. "The jungle is our playground", says band member Meldrick. Mathew's star pupil Alena Murang appeared with five other young female solo players from a range of local indigenous lines. Preserving tradition now allows respectful evolution. Added strings, amplification and a touch of funk spread the iconic sounds further than any dry lecture could.
Australian trio The Chipolatas were appearing at the festival for the second time. With 14 years between, Tristan Glover said it had remained their all-time favourite gig. The 2017 performance incorporated rootsy and soulful melodies (accordion, drums, 'junk' percussion, banjo) with theatre, acrobatics and deliciously surprising nonsense. A sequence involving floor-level tightrope walking and a little tacker from the audience brought on giggles and tears; sweet and graceful, old-school circus pathos. Lump in the throat material.
Storytellers abounded. With his band, kora player Guinean Ba Cissoko shared his inherited griot philosophies. Formerly of the Carolina Chocolate Drops, Dom Flemons (USA) played quills and bones. He sang odes to black cowboys, the African roots of the banjo, lovers and the land. Lightning-speed banjo strumming had the theatre audience clapping and stomping. His rendition of 'Old Paint' brought an reverent stillness to the room. South African vocal group Kelele told of the old ways. They'd simply consult 'the old people' when in need of  wisdom and mental health advice.
Nomadic Mongolians believe in the power of nature. So when the clouds burst with a vengeance, superstar-group Hanggai tempted fate by playing their song 'Praying For Rain'. The crowd rocked on regardless. Galicians Radio Cos made music around the clock – in concert, at workshops, jamming after the show, walking to breakfast… A 36 hour travel time didn't dampen their passion for playing and singing as a natural part of the everyday. High energy dance acts included Svara Samsara (Depok, Indonesia) who continue making beats as taught by drumming legend Innisisri. Finland's electro-folk band Okra Playground were a highlight with cranking accordion, rhythm section and a trio of female vocalists on kantele and bowed lyre.
And then there was the elegance of chamber ensembles including Myanmar's Saing Waing Orchestra with instruments made from wood and deer leather. The endearing quartet of Pareaso from South Korea put on dazzling performances with strings, flute, percussion and vocals. We heard Taiwanese ballads once forbidden but now being taught again in schools.  The Paradise Bangkok Molam International Band brought rocking Blues to the table. Hungarian Gypsies Ramengo were amazed by the 'extreme commitment' of audiences who remained frolicking in the rain. They claimed it added to their joy as they played romantic and rhythmic tunes. Their percussion brought via spoons, utensils and an upturned washtub. The player of the latter bathed in it as a baby. South African marimba group Abavuki got everyone jumping, players swapping instruments with a spontaneous nod between songs. Their Fela Kuti and Miriam Makeba tributes received tremendous cheers. Across the weekend the treats continued.  Classical refinement from Belgian duo Belem, Welsh powerhouse group Calan, Spiro from the UK and a fiesta of rhythms and joy from Colombians Cimarron. From a group of 10 islands between Brazil and Senegal with individual Creole roots, Bitori (Cape Verde) featured the octogenarian squeezebox patriarch who the group is named for.
The eye-popping panorama of dancers from O Tahiti E swayed and vibrated, hypnotic hips and hands answering the volcanic percussion behind them. Members spring variously from Taiwanese, Tongan and French Polynesian heritage. Leader and choreographer Marguerite Lai spoke of their surprise to hear local words and phrases that resonated. Not the same but so similar in meaning to their own, it felt as though they were visiting family. "We all sing, dance, cry and love the same way here on Mother Earth. We become richer from this trip." As Welsh musician and champion clog-dancer Huw Williams observed, "Festivals like this may be last channels of diplomacy."
There was a daily wellness program, kids' activities, massage by vision impaired practitioners, drum circles and pop-up performances. The preceding Fringe Festival in the city made a stunning debut. Flawless sound and lighting highlights the unique environment. MC Hendrick Foh ignites the frenzy as volunteers join the on-stage finale.
That evening, I met young local Iwan who had been to every RWMF. He and his brother had stumbled upon the first meagre gathering while holidaying on the peninsula. "Since then, I would never miss this," he said with a huge smile.
Chris Lambie