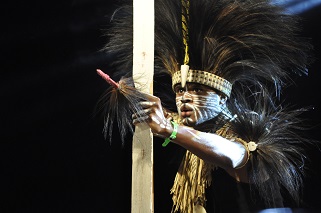 Sarawak Cultural Village, Malaysian Borneo
Many elements make the Rainforest World Music Festival unique. The 'living museum' setting, a 35-minute drive from the state's capital Kuching, is a sprawling green and serene world of its own. Spectacular sunsets wash the South China Sea in reds and golds where artists and crew mingle at a nearby resort between strolls (or shuttles) to the festival site. The rainbow of colour, sound and movement reaches dizzying heights over three days, with nightly concerts and daytime workshops held in tall timber longhouses. The daytime program now includes intimate theatre showcases in air-conditioned comfort. Kids activities were highlighted too with activities, book fair and 'Tree of Life' Doodle Wall. Craft and food stalls offered local delights. Despite the line-up of 20-plus acts, there's no agonising decisions to make. The alternating of sets between two main stages ('Jungle' and 'Tree') is user-friendly; As one show ends, just turn your head or take a few steps and watch the next begin. Big screens by the lake, dining area and boardwalks eliminate FOMO syndrome. Proceedings were barely interrupted by a brief tropical downpour early on Saturday night. And afterall, what would the 'Rainforest' experience be without a little rain?
With 2017 promising the 20th RWMF, the 'formula' has been well-refined since the first event sold just 500 tickets. According to the Sarawak Tourism Board, more than 18,000 turned up this year. Artistic Director Jun Lin Yeoh finds something new to dazzle us with each year. She wondered how to top the appearance of a Congo Pygmy group in 2015. Who knew a pair of Inuit throat-singers in Canada's Arctic region were ready to share the practice in Borneo? The Kettler sisters (Nukariik) connected, eye-to-eye breath-to-breath, as they exchanged sounds of nature – wind, water, working dogs, mosquitoes. They explained how women ancestors used this as a game or storytelling as they worked, while the men hunted. Missionaries once banned such cultural rights, aiming to 'kill the Indian in the child'. A talented young local to embrace her musical heritage is Alena Murang. Learning the sapé (boat-shaped 'lute'), Murang breaks a long-held taboo of females playing the instrument. Her mentor is sapé master and custodian of Orang Ulu music, Matthew Ngau Jau. He welcomes the evolution (also added strings and pick-up) as a way to preserve songlines that almost vanished before RWMF began. A special performance by Sape Sarawak brought 20 of the instruments together on stage with players from a range of tribal groups and neighbouring regions. Musicians and dancers from Sarawak, Peninsula Malaysia, Indonesia and Sabah are evidence of growing pride and pleasure among youth in their ancient heritage. Mind you, soon after meeting three of the last local Dayak 'Ring Ladies' at the village, I saw my first Pokémon Go in action back at the hotel.
Two of the most popular RWMF acts came from Australia. Both began by acknowledging the indigenous people from the land on which we gathered. From Torres Strait Islands, Naygayiw Gigi wore spectacular attire with feathers, grasses, shells, body paint, weapons and tools. Their evocative beats, songs and dancing were captivating over two concerts and interactive workshops. Born in Malaysia, Australia's Dya Singh led a sublime concert by his group featuring harmonium, tabla, flute and guitar with daughter Jamel on vocals and dance. Singh's Sikh hymns, passionate environmental message, humour and wisdom fitted the global communion perfectly. He also led a fun workshop, with a'capella group Vocal Sampling (Cuba) providing 'instrumentation' as vocalists from other featured acts improvised in harmony. Singh's meditation session in a longhouse refreshed attendees between the afternoon heat and big night to follow. Meantime, in another longhouse, Jamel led a Bollywood dance class.
Theatre highlights included Vietnamese chamber ensemble Lan Dieu Viet, with a stunning solo by award-winner Truong Thi Thu Ha on bamboo xylophone, the t'rung. Her astonishing hands are a blur in every photo I attempted. From South Africa, guitarist Derek Gripper took unexpected turns including a Toumani Diabate cover. Close your eyes and you'd swear he was playing kora. He spoke of celebrating the differences as well as the commonalities found across cultures. Norway's Vassvik revealed another form of throat singing from the Sami 'yoik' tradition. Torgeir Vassvik (drum, guitar and vocals) was joined by violin and cello – the latter needing urgent repairs on arrival in Sarawak after suffering damage in transit. Nevertheless, a truly hypnotic performance. Mongolian throat-singer and morin khoor maestro 'Epi' returned after a hit solo appearance in 2015. This time, with trio Violons Barbares, he and fellow 'Barbarians' (from France and Bulgaria) brought a punk sensibility to traditional sounds. Punk, folk tunes, quirky antics and a sneaky dash of heavy metal from Yunnan Province folk-rockers Shanren sent punters wild.
Every year, one or more cultures on show are experiencing some form of major hardship on the home front. Natural disaster, coup, war… Yet, this global gathering representing five continents again shone a light on the inherit fellowship among humankind. Musicians from Auli wonder at a handful of words common to their native Latvian and Sanskrit. The Medieval styled heavily-clad pipers and percussionists (with a gigantic, resounding log drum) delivered two dynamic shows despite the humid atmosphere. Breakout dance-moves from the Stelios Petrakis Cretan Quartet and Ireland's Teada likewise thrilled the crowd.
Ethiopian trio Krar Collective presented the bluesy krar (East African lyre), drums and ululation with singer Genet Assefa managing multiple wardrobe changes between funky traditional dance moves. Malaysia's Unique Arts Academy filled the stage in a frenzy of colour, rhythm and choreography inspired by the villages of Tamil Nadu in South India. Somewhat more tranquil, but no less inviting, the joget dance style of Sarawak's Gendang Melayu Sri Buana was demonstrated in the village. The afternoon before their concert, I gave it a whirl – in a fashion – among other amused amateurs. The sister state was represented by the Band Girls of Sabah State Cultural Board with gongs and drums from the Bajau highlands. While I bang on about drums, the imposing line-up of Sumatran drummers from Dol Arastra Bengkulu were as visually stunning as they were sonically. Just how does one get back up from lying on the stage beating such a cumbersome instrument? Dining some distance from the central area on Day 3, I heard a familiar sound. 'That's the sound of thunder we heard before the big rain last night,' I warned sagely. Wrong! It was the local Thunder Beats of Nanyang Wushu Drums. Apt name. Thrilling. But 'Rainforest' is more than a spectator event. Everyone had a chance to "express their inner rhythms" each day with the return of 1Drum.org and their giant drum circles. Winners of a local band search competition, At Adau played sunset shows at the Damai Beach Resort next to the village. The won a slot at RWMF2017 with their meeting of traditional instruments and modern influences. Torgeir Vassvik reckoned the guitar reminded him of Johnny Marr. Ones to watch.
Some acts were as inspiring as they were entertaining. At 68, dapper Ghanian Highlife master Pat Thomas left the weary in his dust to close Saturday night. With the Kwashibu Area Band, Thomas introduced joyous Afrobeat in all its glory. Some legendary performers appear to go through the motions to maintain an income. Thomas says, 'I'm doing it for the love of it'. I believe him. All on and off stage showed they'd come for a good time. With a substantial line-up and energy to match, Haiti's Chouk Bwa Libete bring the 'voice of the poor' from Voodoo roots, 80's style mizik rasin and reggae influences from modern day Port-au-Prince. Caribbean rhythms, ritual dances and a 'call to the spirits'. Towards the end of their concert, the once strident vocals of Sambaton Dorvil became thready. He soon stumbled to his knees as band members and manager rushed to support him. Their female singer appeared to weep. The audience held their collective breath before Sambaton lifted his head, raised an arm and sang again with the power of his voice restored. I believed it must be a dramatic break, a representation of a story about a trance-induced 'moment'. In fact, the manager later assured me, 'I would never do that. To frighten an audience that way'. Sambaton told him he had felt spirits coming down from the trees before his collapse. Heatstroke? Perhaps. Or something less easily explained? The tribal miring ceremony had summoned the forest spirits on opening night…
One interpretation of spirituality touched all present both for the performance and the unspoken story. The members of Broukar come from Syria. They do not live there. They cannot live there. From their adopted locations of refuge, they rejoined in Sarawak to share the art of their troubled homeland. Their sacred and secular music entranced listeners before the appearance of their renowned Sufi Dervish dancer. Fellow refugee Ahmad Alkhatib whirls effortlessly – or so it seems. He shares his vertigo-defying secret with no-one. Mesmerising, wondrous and utterly beautiful, he drew a rapturous response from the crowd. Moments such as this mark the difference between a moving and enlightening sense of occasion and an everyday event.
My pinnacle moment, as ever, was the melting pot celebration uniting all performers for the big farewell jam. When the finale theme 'We Are Family' launches, it's all hugs laughter and group 'selfies'. I asked members of Naygayiw Gigi how much fun they had up on stage. They replied, "We didn't want to leave." Neither did the crowd. We danced on to the DJ's next selection, Toots and The Maytals' 'Funky Kingston'. Funky and free. Maybe next year the wider world will be more like that.
Chris Lambie