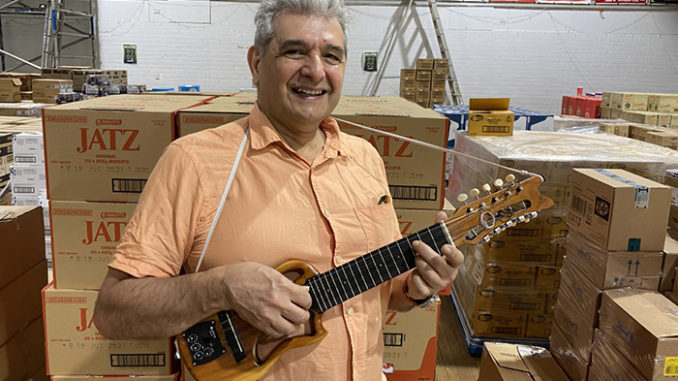 Justo Diaz was one of the founding forces behind the cultural centre La Peña and the iconic Latin American band Papalote. He has new project called Friends of El Taller.
By Mark Mordue
Justo Diaz is a legend of the Latin American music scene, and a pioneer in Australia of what became known as World Music long before the term was invented. He was one of the key creators behind La Peña in Newtown, a seminal Sydney venue that deserves a book being written for all the artistic work it did across a decade from 1980 till it closed in 1992.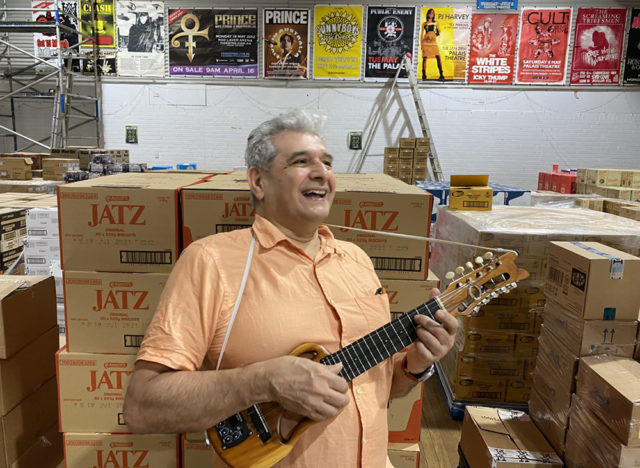 In a sense Justo reopened this book when he played with Friends of El Taller at Addi Road's Open Vault music festival in Sydney's Marrickville. There was a coming home feeling to the event as Friends of El Taller exalted in Latin American sounds that walked the line between joy and sadness, a musical storytelling that societies under pressure always need and find answered in their most dedicated artists.
Looking out over the crowd, Justo recognised the connections to his own history with La Peña. As he explains, "La Peña was a cultural centre with political overtones. We were always leaning to the Left, showing our solidarity with Latin America, with indigenous issues, serving as a resource centre, a venue charging minimal fees for functions and community actions where musicians of all kinds could come together."
Back when he was a student of classical guitar at the Conservatorium of NSW, Justo would invite his teachers to come and give classes at La Peña, covering things like arrangement and improvisation, jazz and classical, all the while his teachers learnt from the Latin American musicians, young and old, who were associated with the venue. "We were contemporary and original," he says.
Hailing from Argentina, Justo is a master of classical guitar, flutes, pipes, and traditional instruments, with flashes of tango and salsa to his spare, emotional playing style. Despite his reputation, he preferred not to put his own name on the festival because of the renowned musicians joining him: percussionist Fernando Coloma; Chilean accordion player and singer, Liber Osorio; and Justo's daughter, Olive Diaz, a force in her own right, her singing rooted in contemporary jazz as much as Latin American folk sounds.
"We're not a group," Justo says. "We're just playing together for this one event." Friends of El Taller. Justo pronounces 'El Taller' with emphasis. "El Ta-shar' he says sharply, explaining the linguistic quirks of sound that go with the meaning. "In Spanish it means 'Friends of the Workshop'."
Conversation with Justo has a way of digging down into history. Or maybe it's a case of history welling up to be answered and expressed. Justo speaks in low-key way that could almost seem weary, but his words have coils of energy in them that suggest something stronger. "There was a lot of movement at La Peña," he says, by which Justo means movement across cultural borders as musicians from Latin America mixed with other musicians locally and the cultural centre flourished. "It was always full up."
For him the radicality of the place enlivened an energy that would make it a key place for World Music in Australia. Though he laughs now about a musician friend getting into trouble with his more conservative community for playing at La Peña. "He told me they didn't like the pictures of Che Guevara and Fidel Castro on the wall."
After La Peña shut down, Justo Diaz would go on to become the director of Musica Viva's Café Carnivale from 1999 to 2011. The work was more community driven, less overtly political at heart, but Justo says he enjoyed the broader opportunities. He did his best to interpret multiculturalism in wider ways than the usual, adding to the typically selected Latin American and African acts by seeking out Indonesian and Filipino musicians and trying to get them working together as well. "In the end," Justo says frankly, "the state government decided multiculturalism wasn't that important anymore. They just got sick of us."
In between all that, Justo continued to play both solo and with the band, Papalote, combining his love of performing with a committed role in music education, bringing the culture, history and sounds of Latin America to school students and universities as well as the wider public across Australia for some forty years.
It has not always been easy. In many ways it remains a tough gig still. "There is a lot of frustration, of course," Justo says. He recalls his youth in Argentina playing music. Then touring in Europe and living there. "The music scenes were very active. Very active. When I came to Australia [playing with an Argentinian-French dance company] I was an international musician. But when I got here I had to start from scratch totally. I was a migrant. I came to here an international artist; in Australia, I was a community artist."
Justo moves his hands apart quietly as if to mark the difference. It's how he became involved in being one of the creators of La Peña and forming Papalote. He points out, "I am not a member of a political party. But I do associate art with politics. I do sing political songs; but not pamphlet songs. I try to raise awareness of issues. I try to arouse critical thinking. I try to promote all the voices that are suppressed or that are not given an outlet."
Papalote stopped performing as a unit last year because of the pressures Covid-19 put on venues and wider industry of performing and the arts generally. The band's long and passionate history is something he has not let go of. But a circle of solidarity was somehow completed and give new life when Justo played with his latest creation at Open the Vault. The audience response suggests he may want to review the idea of Friends of El Taller being a one-off project.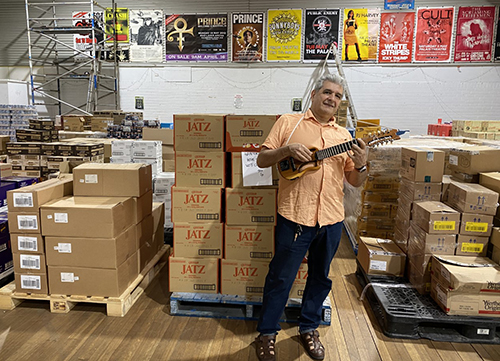 He sees many connections between his life's work and struggles, his history with La Peña and an event like Open the Vault, a response to the Covid 19 crisis that will donate all its profits to CrewCare and to Addi Road's food rescue and food security programs. "It's a kind of follow-up to everything I've done," Justo says. "We're promoting a side to the industry that is neglected by the industry, the road crews that are battling to live now. We are also promoting a side to the community that the community often ignores or does not see, people in need."
"Yes," Justo says, of the musicians playing and the causes being supported. "We are somehow traveling in similar lines but we have not met. I am sure if we did meet then we would find that common line. We are committed. We are committed each in our own way. We are committed to sound and noise, silence and music, lyrics and politics, to our different languages in every sense."
Justo seems to become pained. "Many musicians die in total poverty." He stops, then says, "I have a story for you. I retrained in music in late 1989 as a music teacher. Another person retraining was a classical musician and composer of renown. Our teachers referred to him with a lot of respect. He had troubles with alcohol, but he was an amazing musician, an amazing composer. We all finished the course and started our teaching in schools. Years later I was in Town Hall Station and I saw the guy. And he was living on the street. How many have gone this way? How many have died in total poverty, no money to buy food, no money to buy medication, no money to pay for their own funeral. Of course they go back to alcohol when things are so bad."
"So yes, I sympathise with the roadies now struggling to live and fighting depression. I know how heavy the life is. I know how heavy the gear is. I carry my own gear. And I know the load they really carry all their lives. I look forward to playing for them."
Thanks to Addison Road Community Organisation: https://addiroad.org.au