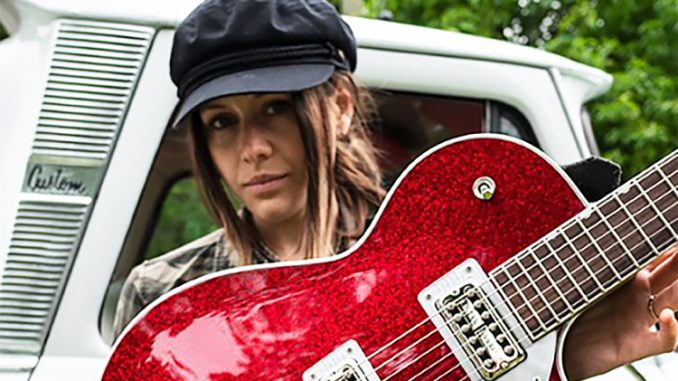 Rebecca Lovell of Larkin Poe talks about her guitars and her relationship with Gretsch on its 140th anniversary.
By Brian Wise.
"It was incredible," says Rebecca Lovell of the recent Larkin Poe tour of Australia with sister Megan, that included the sisters second visit to Bluesfest. "We packed so much in, in a very short period of time. But getting to kick off at Blues Fest this year with truly one of the most star-studded festival lineups imaginable was a great treat. We had such a strong reaction. It was really, it was such a blast."
The Australian jaunt was followed by their first appearance at JazzFest in New Orleans with a very special midnight show at Preservation Hall, where Robert Plant also appeared. "We jumped at the chance just to be able to experience such a historic community and space and the musicians that contribute to the whole Preservation Hall family. It was astonishing. We got to jam with horns and, you know, just experience a, a real slice of New Orleans. It was very cool. It was very, very cool."
"We really enjoyed Jazz Fest for the first time," continues Lovell. "Being able to get out and see Buddy Guy perform was a real highlight for me. It was, it was an honor to get to close out the Blues tent. So that in and of itself, I think put a lot of pressure on us. We wanted to, to really go out with a bang and, and it felt like we did."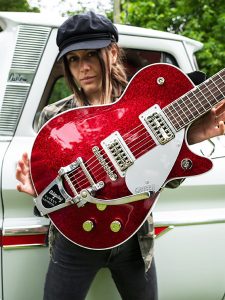 While we spoke to prior to the Larkin Poe Australian tour, this time we are meeting on Zoom to talk about guitars, specifically Gretsch guitars on the brand's 140th anniversary. But the Lovell sisters didn't originally begin their music learning guitars but rather started playing violin and piano before moving to banjo and violin. It might surprise to find that they played bluegrass before taking up the guitar to rock out.
"I think I was a reticent guitar player," says Rebecca. "I always used the guitar originally as a rhythm instrument. I definitely had more of an affinity for the mandolin and the banjo for a time. But in about 2012, a couple of years after my sister and I started Larkin Poe, I began to realise the full power of the guitar, the harmonic range of the guitar, and how satisfying it can be to take an instrument and plug it into a fender amp and get your Tube Screamer [distortion pedal] and crank it up."
The first guitar Lovell bought was a Fender Jazz Master after seeing Elvis Costello play one in concert.
"I think even more than the sound, I think the aesthetic of the instrument really attracted me," she explains. "I think it's such a unique shape and I do love bigger silhouette guitars. So, that also I guess with some foreshadowing makes sense with, with some of like the Gretsch silhouettes of guitars that I find very beautiful."
"I jump back and forth between predominantly the Gretsch Jet single cutaway and some Stratocasters," says Lovell when I ask what guitars she takes on tour. "I really enjoy having the Gretsch on stage because it is a good foil. Being able to have a guitar that occupies more of a dynamic range, I think helps flesh us out as a four piece. So, there is a lot of oomph behind the Jet, which I really love."
"It's funny because I originally fell in love with the Jet, the, the double cutaway, because of Malcolm [Young] because I think that in terms of sibling duo, Angus and Malcolm are two of the baddest and I always connected. Obviously, I adore Angus, as everyone does, but I always thought that Malcolm was the mysterious cool brother in the back with that double cutaway. I think that was really the first time that I really connected with Gretsch and thought it could be really cool to have one. I feel like here in the States they're a little bit left of centre. It's more of an exclusive vibe, which I really love. I guess I got my Gretsch about five or six years ago and it's been a staple in my touring rig ever since."
So, how does the sound and the tone different of the Gretsch differ from to the Fender?
"I think that the Gretsch definitely bridges the space between the lap steel and myself," replies Lovell, "because my sister's lap steel is that metal on metal, it's very piercing. It's very sharp. So, to be able to have the Jet, to my ear – and the way that I choose to set up my pickups and the effects that I have on my board – can be a bit more tubby. It's got girth and weight in a really good way, which I appreciate. I like a big fat sound.
Lovell would be aware that there are many men who are obsessed with guitars. Do women feel the same about them?
"I think increasingly, and this is something that I feel so much joy and gratitude around, is the fact that in the last 18 years of touring, specifically in the last five or six years, we have seen such an influx of women into the touring circuit, especially in the blues world as well," says Lovell when I ask her if she has noticed that women have the same obsession with guitars that many men seem to have. "To be able to have players like Samantha Fish and Susan Tedeschi really kicking ass and putting more of a spotlight on the female capacity for the blues and blues guitar is fantastic. I think the addiction or the obsession with gear and guitars is definitely all holds no holds barred if you're a man or a woman because I certainly get very fixated on gear and can never quite have enough."
You can find out more about the Gretsch anniversary edition guitars at: GRETSCH