41st Port Fairy Folk Festival
10-13 March 2017
Diehard folkies came to Port Fairy (Pyipgil) to revel in Celtic, colonial, rootsy acoustic, spoken word and electrified shenanigans. The enduring coastal event is nothing, if not a celebration of storytelling, featuring experts in the art like Shane Howard, Don Walker and Kutcha Edwards. Between gigs, Mick Thomas launched his new book in the township. Paul Kelly & Charlie Owen interpreted songs about death. Eddi Reader crooned the songs of Robert Burns, including the delightful 'Charlie Is My Darling'. Drummer/composer Ash Davies presented 'Burke & Wills: The Expedition' at the Reardon Theatre. As founding member of the Warumpi Band, Maton 2017 Artist of the Year Neil Murray played on the first commercial recording of an Australian song in language, 'Jailanguru Pakarnu'. Especially heartening at PFFF, a range of younger artists shared their exceptional passion for preserving the languages and stories of aboriginal Australia.
From Arnhem Land, Yirrmal Marika was named 2017 Maton Class Act for Emerging Talent after playing to huge and enthusiastic crowds. They were dancing in the aisles to his music, mostly sung in language, including Yothu Yindi covers. Performances with his band The Miliyawutj featured traditional dance. Since winning Queenscliff Music Festivals' 2013 Foot-in-the-Door competition, Yirrmal has proved his potential as a cultural leader. He joined the opening night 'Buried Country' concert (from Clinton Walker's book, film and album) alongside indigenous Country music legends. Against a backdrop of archival footage, pioneers LJ Hill, Roger Knox and Warren H Williams revived their hits. Like Yirrmal, others from musical families included Jimmy Little's daughter Franny Peters-Little and grandson James Henry. Lee 'Sonnyboy' Morgan, Leah Flanagan and Luke Peacock also represented the next generation of cultural custodians.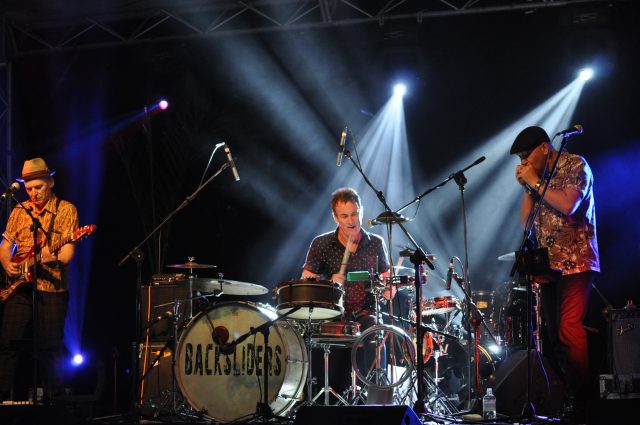 Daughter of Joe Gaia, Jessie Lloyd travelled the nation to talk with elders for The Mission Songs Project. 'The Songs Back Home' is a collection of Indigenous folk songs performed on Christian missions, settlements and native camps from 1900-1999. Not a moment too soon, Lloyd has revived these unique songlines before they're lost forever. The warm and articulate performer shared the lead on family yarns and glorious harmonies with Emma Donovan, Deline Briscoe and Jessica Hitchcock.
Speaking of harmonies, another four women charmed punters with blended voices, instrumentation and plenty of laughs. Singer-songwriters Suzannah Espie, Kerri Simpson, Barb Waters & Alison Ferrier are among Melbourne's best. So many beautiful voices could be heard across the weekend: Gawurra, Lior, Marlon Williams, Hollie Smith, Deborah Conway & Willy Zygier, Melody Pool and Kutcha, who led a touching audience sing-along to Joe Gaia's iconic song 'Yil Lull' with fine trio accompanying. The Warsaw Village Band brought less familiar sounds with open-throated singing and ancient instruments. Punters joined the seated Festival Choir while Jimi Hocking led a horde of them for the Big Sunday Sing Out. (And who among us doesn't know the words to 'Jesse's Girl'?) The Waifs launched their new album 'Ironbark' while a one-off reformation of Karma County saw Brendan Gallagher rule the stage among his numerous outings in various line-ups.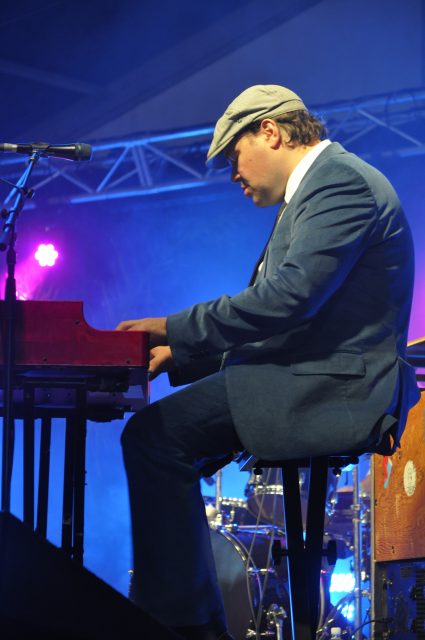 From Canada came good reasons to get dancing with Buckman Coe and Arctic Circle group The Jerry Cans. Funk, phat beats and frivolity spared the 'folk-intolerant' with Dutch ska shakers The Bazzookas, Dubmarine, Nhatty Man & Gara and Cookin'on 3 Burners (with Stella Angelico & TexPerkins). A cooking JVG Guitar Method made audience members nervous as Jon Von Goes prowled the room, mic in hand, looking like trouble. (Although some shameless fan popped her card in his pocket!) The Chipolatas, Dog Trumpet and Jemma & The Clifton Hillbillies added their own brand of fun while Mexrissey delivered their 'horn-infused love letter' to angsty Brit Morrissey! Animated on stage, the Mexicans really leapt to life at the opening bars of 'Gimme Shelter' by the Backsliders. Racing to the front of stage, they marvelled at drummer Rob Hirst's kinetic detonations, Ian Collard's wailing harp and Dom Turner's sublime guitar work. The blues kept rolling with guitarist Nick Charles and Turner's duo turns with American harmonica giant Phil Wiggins. The 'Pinks Play The Blues' (Reg Mombassa, Peter O'Doherty, Continental Robert Susz, Brendan Gallagher, Jonathan Zwartz, Rob Souter & Doug Nairn) delivered a killer setlist of covers. 'Prodigal Son' was a standout.
Not diverse enough? How about Mercan Dede (Can/Turkey) with a blend of digital effects, clarinet, darbuka and zither? The appearance of their serene whirling dervish dancer was mesmerising and a perfect way to re-centre the mind after a busy day of gig-hopping. Tash Sultana occupies a category all her own. From busking in the Bourke St Mall to worldwide acclaim, the one-woman band wrangles guitar, loop machine and strident vocals with joyous verve. Throw in a little trumpet break and a turn on pan pipes and you get the feeling she could make music out of a piece of string.
Between tales of seafarers, swaggies, the stolen and the saved, we heard a series of backstage insights from The Band's famed final concert. Sporting the most infectious smile on the block, Brian Nankervis presented 'The Last Waltz Revisited'. The RockWiz orchestra backed guests including Vika & Linda Bull, Vince Jones and Tim Rogers. A mic stand felt the full force of Tex Perkins' inner Muddy Waters during 'Mannish Boy'. An instrumental break during 'Forever Young', saw Eddi Reader and Marlon Williams join in an impromptu waltz.  There could hardly have been more love in the room at the original 1976 gig.
Festival favourite Danny Spooner was scheduled to perform at the 41st PFFF. Sadly he passed away shortly before. His gigs turned into special tribute shows providing a poignant and timely send-off. Like former director Jamie McKew (who passed the reins to Caroline Moore this year), Spooner was involved in the Port Fairy Folk Festival since the start. He was inaugural Artist of the Year (1995) and received a Lifetime Achievement Award in 2012. As Jessie Lloyd reminded us, "Sometimes there are more voices in the room than people". Along with poetry, instrument making and theatrics, a satisfied crowd lapped up the feast of stories behind the music – to inspire, amuse, educate and remember.
Chris Lambie