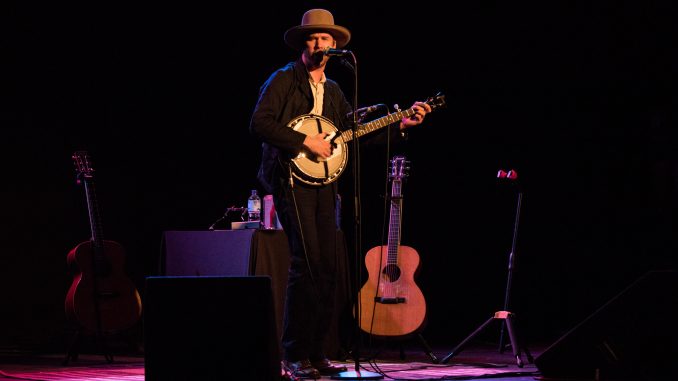 Willie Watson is a master singer, songwriter, and banjo player. Not to mention, one of the founding members of bluegrass staples, Old Crow Medicine Show. Although his Old Crow days are in the past, Willie still continues to dazzles audiences worldwide with his gritty timbre and exceptional banjo style. Willie stopped by the Factory Theatre in Marrickville to give audiences a taste of what is to come on Folk Singer Vol. 2. After the success of Vol. 1, it took quite a few years to get another collection of historical folk songs together to record. Like Vol. 1., Vol. 2. will not contain any original songs, rather a selection of personal favourite folk tunes in which Willie Puts his own spin on. We were lucky enough to get a little preview of whats to come on Thursday night.
As soon as Willie takes the stage you know you're in for a folky time. From his rugged demeanour to his classic working musician fashion. Willie shouts folk from head to toe and it's refreshing and authentic. He can captivate an audience like no folk act I've seen before, and insists that banjo is the best medicine, but too much will make you sick. Willie may have a point, but whenever he picked up the banjo it was like the first time, met with roaring applause. It was sad to hear that Willie nearly had to cancel his tour as he injured a nerve in his hand and it made it difficult to play many songs. He was forced to change arrangements on many tracks, but no one seemed to mind as Willie gives you everything he's got. Nerve damage or not, Willie showed no sign of slowing down throughout the performance.
It takes quite a stomach to stand up their with just a banjo, an acoustic guitar, and a few harmonicas, but Willie doesn't seemed to mind. Willie seldom opens his eyes as he plays, but that's just him channeling his folk forefathers. Close your eyes and you too could think it was a simpler time with Willie leading the way through time. Keeping the roots of folk alive is important, and Willie Watson continues to do this after every word he sings, and every chord he plays. Packing up his instruments, Willie is off to time travel with another group of eager listens yearning for a feel of more modest times.