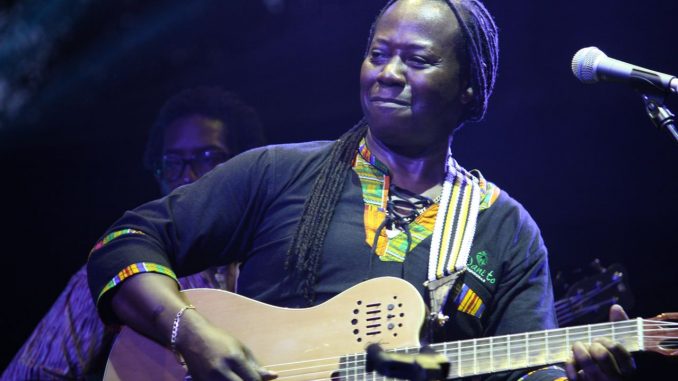 WOMADelaide's SILVER JUBILEE
by TONY HILLIER
Boundaries may have blurred and parameters extended over its 25 years, but WOMADelaide has unwaveringly maintained its status as Australia's most stimulating and satisfying festival.
In terms of diversity and musical excellence, 2017's silver jubilee event (March 10-13), featuring 60 acts and upward of 400 artists from 30 countries watched over the four days by a combined attendance in excess of 90,000, was pure gold — the equal of any of its predecessors.
Most tastebuds would have been well and truly sated by the concerts alone, irrespective of the ancillary entertainment provided by roaming performers, talk sessions, international cooking demonstrations and artist workshops.
Discovery being the essence of any great festival, this self-confessed "trainspotter" made his annual pilgrimage to Adelaide's Botanic Park primarily in search of fresh global treasures. His exploration was richly rewarded!
Two bands from opposite ends of South America and the Latin spectrum playing mind-blowing, if vastly contrasting, music provided unexpected pleasures.
To be honest, punters who took pleasure in the anaesthetised version of tango delivered by the electronically-inclined Gotan Project at a past WOMADelaide might have found Orquesta Típica Fernandez Fierro's radical take on Argentina's national genre a painful experience. The band's playing, peppered with punk attitude, was the antithesis of tango nuevo and probably more in accordance with the music's origins in the back streets and brothels of late-19th century Buenos Aires.
Driven demonically by four front row bandoneon (concertina) players working in thunderous tandem with three equally strident violinists on a riser above, and flanked by cellist, double bassist and a pianist, the 12-piece ensemble served up an artistic, energetic and highly dramatic theatrical experience, enhanced by edgy strobe-like lighting and a wild-haired siren of a singer, who sang love songs for lonely girls with the unbridled zeal of a South American Janis Joplin.
Other opening night acts the Warsaw Village Band and Xylouris White, who respectively performed Polish and Cretan folk music with rock intensity, were tame by comparison with the somewhat ponderously monikered Argentinians.
Colombia's La Mambanegra, an ensemble that succeeded in matching the passion, power and virtuosity of Orquesta Típica Fernandez Fierro's performances, took the honours on Saturday night with a sparkling show that even induced committed non-gyrators to trip the light fantastic. This 10-piece unit is quite simply the most electrifying Latin dance band experienced by your veteran correspondent in four decades of festival going. Serpentine and sassy, La Mambanegra's members were perpetual motion on stage, exuding ebullience and superb musicianship as they created intoxicating rhythms that combined funk, hip-hop and 1970s' style New York salsa with superb arrangements and superlative solos. The lead singer surpassed himself during Sunday's set with a sizzling saxophone solo.
Chilean songstress Ana Tijoux was backed by a similarly exhilarating brass section, which embroidered her politically motivated "rap en Español" with exquisite horn harmonies. Elsewhere jazzy brass met hip-hop in the efferverscent and funky form of New Orleans' aptly named, crowd-pleasing Hot 8 Brass Band. A terrific cover of 'Ghost Town' concluded their rain-interrupted Saturday set, which perhaps prompted veteran UK ska band The Specials to start Monday's curtain-closing concert on the Foundation Stage with their biggest hit song.
Getting away from the brass, a brace of dynamic guitar dominated bands also took the breath away — one an innovative outfit called Bokanté, the brainchild of two-time Grammy award-winning guitarists Michael League, Chris McQueen and Bob Lanzetti of US jazz hipsters Snarky Puppy. A 9-piece featuring players from four continents, their brilliantly-arranged and executed music spanned everything from Zeppelin-esque blues stomp to folkloric Caribbean music — the latter element conveyed by their imposing Montreal-based singer Malika Tirolien, who grew up on the island of Guadeloupe. The percussion section, comprising long-time Paul Simon and Sting sideman Jamey Haddad, Väsen's André Ferrari and Yo-Yo Ma associate Keita Ogawa, was as superb as the guitar line, which also included a pedal and lap steel virtuoso in Roosevelt Collier. Remarkably, WOMADelaide was Bokanté's only second ever appearance. I'm greatly looking forward to hearing their debut album Strange Circles when it's released in June.
Bamba Wassoulou Groove, a sensational guitar band from Mali, was not new to your correspondent, having impressed me greatly at WOMAD UK last July. Their performances in Adelaide were perhaps even more admirable, given that they were denied the services direction of their veteran percussionist and leader Bamba Dembele, who was unfortunately hospitalised with heart problems on arrival in the city. Propelled by three hypnotic, spiralling string-benders led by Moussa Diabaté, a veteran of the legendary Super Rail Band, they created a mesmerising wall of sound, with the young left-handed shredder at Diabaté's side tossing in some truly thrilling solos.
The fact that Bamba Wassoulou Groove's CDs sold out early in the festival endorses the excellence of their performances, which generated more excitement than the slick multi-cultural band backing their Malian compatriot, the big-haired Oumou Sangaré, who resembled an African version of Dolly Parton, although altogether more funky, in her solitary show.
Honduras's Afro-centric Garifuna culture had an eloquent representative in the talented multi-instrumentalist and singer-songwriter Aurelio Martinez, whose languid tropical sound may have induced the sun to come out after a rainy start to his laidback early Sunday arvo show on the main stage.
On the Novatech stage, over the other side of the salubrious site, the inventive and immensely likeable Welsh band 9Bach also overcame showers (and a noisy flying fox colony) to deliver a riveting set with a frontline dominated by the crystalline singing of Lisa Jên Brown in her lyrical native tongue (Cymraeg). In between renditions of songs from their excellent albums, the leader held court with entertaining and educative introductions in English. Their female three-part harmony singing was impressively augmented when they were reconnected mid-set with their Aboriginal guests, Lou Bennett and Shellie Morris, who had collaborated with 9Bach on a project for the London 2012 Cultural Olympiad.
Also on the Celtic front, Canada's The East Pointers showed exactly why they're so popular in Australia with some foot-stomping pre-St Paddy's day Celtic instrumental medleys on fiddle, banjo and guitar, in between some beautiful three-part harmony singing.
Showing passion and considerable grace, the velvety voiced Aziza Brahim, a Sahrawi singer based in Barcelona, took festivalgoers on a journey that blended Latin rhythms with the music inspired by her estranged Western Saharan homeland. Disappointingly, the Brazilian bossa nova superstar Bebel Gilberto failed to connect with her audience to the same extent. Likewise, the lauded Galician multi-instrumentalist Mercedes Peon, who was over reliant on excessively loud electronic gadgetry.
The impressive falsetto of New York-based Sudanese singer Ahmed Gallab over driving beats and layered synth lines gave Sinkane powerful pop and soul grooves, laced with Afrobeat. Australia-based Senegalese singer and percussionist Lamine Sonko led his pumping band, The African Intelligence, on West African rhythms with aplomb. Fellow Melbourne-based Ethiopian vocalist Nhatty Man mixed reggae and dancehall with traditional Ethiopian rhythms with assistance from his equally well-drilled band, Gara.
One of the most celebrated of south India's devotional Carnatic singers, Sudha Ragunathan adhered to the strict rhythmic system and protocol of her music. The Manganiyar Classroom, featuring 35 boys aged 8 to 16, demonstrated the musical traditions of their homeland, Rajasthan, in a more entertaining and theatrical production.
In terms of drumming dynamics, nothing compared with the athletic troupe TAGO, whose slick show produced a pyrotechnical South Korean equivalent of Japanese taiko, including an enthusiastically received rendition of 'Waltzing Matilda'. Other South East Asian crowd pleasers, Japan's Oki Dub Ainu Band and Vietnam's Hanoi Masters, wielded weird and wonderful instruments of a more exotic nature with surprising rhythmic vibrancy.
BaBa ZuLa, the torchbearers of 21st century psychedelic Turkish rock 'n' roll, and Serbian auteur Emir Kusturica's No Smoking Orchestra delivered loud, wild and in-your-face shows that tapped a rich vein of Eastern European music and a little too much showbiz chutzpah.
I'll leave the performances of the more populist acts, which included the likes of Oz rappers A.B Original, The Waifs and Blue King Brown's Natali Rize, for others to rate and simply conclude by saying that if WOMADelaide is about connections, contexts and contrasts — and it certainly caters for a wide demographic these days — punters who were prepared to look beyond their favourite acts would not only have broadened their musical horizons at this year's anniversary WOMADelaide, but they would have come away with a deeper appreciation of global diversity.
• Photographs: Julie McEnerny