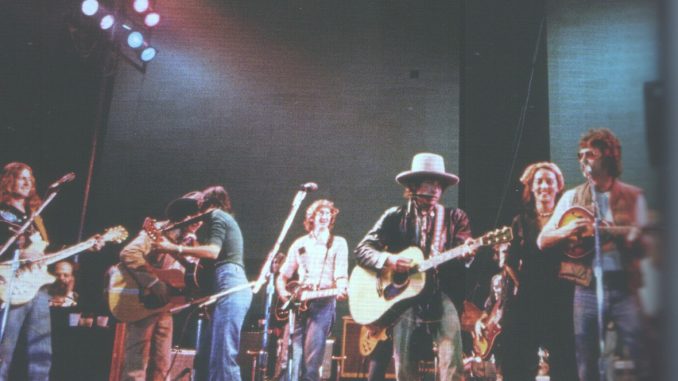 Was it Dylan's greatest tour?
By Michael Goldberg
Things were decidedly in flux for Bob Dylan. Professionally, he had fallen from the heights of both fame and artistry reached in '65 and '66 (Highway 61 Revisited, Blonde On Blonde, the 1966 World Tour backed by some of the Hawks) to what was little more than a big money-making nostalgia tour, backed by The Band and promoted by Bill Graham, in early '74, only to bounce back with what some consider the best album of his career, Blood On the Tracks, released in early '75.
He'd fired his manager, Albert Grossman, and left Columbia Records, where he'd recorded 12 studio albums (nine of which are some of his best), to make one, Planet Waves, for David Geffen's Asylum in '74, before returning to Columbia a year later. Additionally, by '75 Dylan's personal life was in flux; he'd nearly lost his wife Sara (who would file for divorce in March of '77). Chaotic? I'll say.
It's impossible to second-guess Bob Dylan. We will likely never know what motivated him during the summer of 1975, at the time reunited with Sara, as he worked on the studio album he would title Desire and release in 1976, to call on famous and not-so-famous musician friends and acquaintances to join him for a most unusual venture: the Rolling Thunder Revue.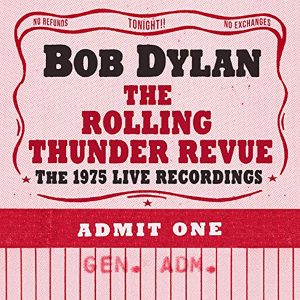 In sharp contrast to that 1974 'greatest hits' tour which played 15,000-plus capacity stadiums, much of the 25 show first leg of the Rolling Thunder Revue tour took place in the Northeast at relatively small venues; the first show was at the 1,500 capacity War Memorial Auditorium in Plymouth, Massachusetts. The itinerary was a closely guarded secret; shows were announced at the last minute and sold out quickly. For the first time in a decade Joan Baez, Dylan's former lover, was dueting with him each night.
Onstage, Dylan was joined by more than a dozen musicians at times, an informal band that called themselves Guam, possibly after the island of that name (an unincorporated and organized territory of the U.S.) in Micronesia in the western Pacific Ocean. Ferdinand Magellan, representing the King of Spain and the first European to travel to Guam, called it the "islands of thieves." "It [the tour] was like a carnival," wrote journalist Larry Sloman, who documented the tour and wrote an excellent book about it, On the Road with Bob Dylan (1978).
Accompanying Dylan (and backing some of the other singers), were former Dylan sidekick Bobby Neuwirth (guitar, vocals), Scarlet Rivera (violin), T Bone Burnett (guitar, vocals), Steven Soles (guitar, vocals), Mick Ronson (guitar), David Mansfield (steel guitar, mandolin, violin, dobro), Rob Stoner (bass, vocals), Howie Wyeth (drums, piano), Luther Rix (drums, percussion, congas), Ronee Blakley (vocals), Ramblin' Jack Elliott (vocals, guitar), Allen Ginsberg (vocals, finger cymbals) and Joni Mitchell (vocals). In addition to Dylan, other artists who sang lead vocals included Baez, Roger McGuinn, Ramblin' Jack, Mitchell, Neuwirth, Ronson and Soles.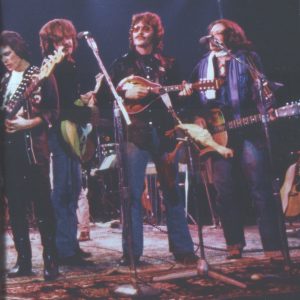 The full show varied from night to night (and there were occasional afternoon sets); in addition to Dylan doing between 19 and 23 songs with Baez joining him for five of them, the Revue also included at times six songs sung by Baez, one or two by McGuinn ('Chestnut Mare' and 'Eight Miles High'), and one each by Neuwirth, Stoner, Soles and Ronson. Sometimes Ramblin' Jack sang four songs, and on nights when Mitchell was there, she would sing two or three.
Off-The-Beaten Track
This time Dylan was not singing his greatest hits. He chose off-the-beaten-track songs to perform, including 'The Lonesome Death of Hattie Carroll' (from The Times They Are a-Changin'), the then unheard 'Romance in Durango' (to be released the following year on Desire), 'Wild Mountain Thyme' (an Irish/Scottish folk song recorded by Joan Baez in 1965 and the Byrds in 1966) and Merle Travis' 'Dark as a Dungeon' (recorded by Travis in 1946 and later recorded by Johnny Cash in 1968 for his At Folsom Prison album.)
The tour (on stage and off) was filmed and included fictional scenes; the resulting four-hour movie, Renaldo and Clara, staring Bob Dylan, Sara Dylan (the couple had reconciled at the time of the tour) and Joan Baez, was released in 1978. It was not a concert film, although some of the music from dozens of live performances was included. Most reviewers panned the film (influenced by Marcel Carne's 1945 film, Les Enfants du Paradis), but I found it fascinating, even if it was confusing, when I saw it the year of release. To date Dylan has not released Renaldo and Clara on DVD; does that mean he's had second thoughts?
The Rolling Thunder Review: The 1975 Recordings is not what you might imagine. It is not an audio document of the tour. It only includes performances by Dylan – recordings made at rehearsals and concerts held in 1975. None of the solo performances by Baez, Mitchell, Ramblin' Jack, McGuinn and the others are here. And while there were 25 shows in 1975, only five were professionally recorded; Dylan's performances from each of those shows are included on ten CDs. Additionally, there are three CDs of material from rehearsals and a fourth disc of rarities – including Hank Williams' 'Your Cheatin' Heart,' Smokey Robinson's 'The Tracks of My Tears,' Dylan's own 'Fourth Time Around' and a couple of Dylan originals, 'Rita May' and 'Patty's Gone to Laredo,' never previously released – that were not part of the normal set list. In total, there are one hundred and forty-seven songs (plus a radio ad for the shows in Niagara Falls) on 14 CDs. Additionally, director Martin Scorsese has utilized some of the footage shot in '75 to construct a concert film, Rolling Thunder Revue: A Bob Dylan Story, which Netflix began airing on June 12, 2019.
In Peak Form
To this day there are people who insist that Dylan was never much of a singer. I mean from day one. Of course he's a great songwriter, they will tell me, but his singing? Serviceable at best. I disagree. I have loved Dylan's voice since I first heard 'Like a Rolling Stone' on the radio in 1965. I was even more impressed when I heard his earlier acoustic albums from the first half of the '60s, and then later, when he crooned his Nashville Skyline country songs in a smooth voice distinct from how he sang during the '60s. I have always found Dylan's phrasing and timing remarkable. And he's pretty much never sang (or played) a song exactly the same way. This became clear when we got to hear the many studio takes he made while recording Highway 61 Revisited and Blonde On Blonde.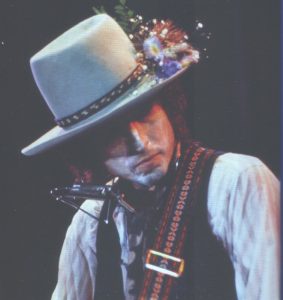 In 1975 Dylan was in great voice during rehearsals as well as for most of the Rolling Thunder Revue tour. And there was an energy, a spark, that I don't recall being present when I attended one of the Oakland shows of his 1974 comeback tour with the Band. In '75, Dylan adopted his hillbilly Basement Tapes singing style for some songs. For Ramblin' Jack Elliott's 'Rake and Ramblin' Boy' and Dylan/Jacques Levy's 'Rita May' (both sung just once during a rehearsal at Studio Instrumental Rentals on October 19, 1975), Dylan might as well have stepped out of the darkness in some lonesome Texas outback to join a small campfire gathering, only to vanish, returning from whence he came once he was done serenading those present.
For much of the Rolling Thunder Revue recordings, Dylan sounds loose and relaxed. And unlike his '66 tour with the Hawks where audiences were upset that he'd gone electric, the audiences for Rolling Thunder were made up of adoring fans who appreciated what he was doing. Some of his most moving vocals occur when he sings with Joan Baez. Marvel at the beauty of their voices as they share vocals for five songs on November 19, 1975, at the Memorial Auditorium in Worcester, MA, the tour's 13th show.
Dylan and Baez's voices had matured since their '60s duets and I've never heard them sound so good together. They began with 'Blowing In the Wind,' and also sang 'Mama, You Been On My Mind,' 'Dark as a Dungeon' and 'I Shall Be Released.' The highlight is the beautiful 'Wild Mountain Thyme,' which was only performed that night in Worcester, and the next, at the Harvard Square Theater, Cambridge, MA, before being dropped from the set. During 'Wild Mountain Thyme' their voices come together, separate, and come together again and again in moments of ecstasy. Those two performances are possibly my favorites of the entire 14 discs. But there are many more that I love.
At the Boston Music Hall, Dylan and Baez deliver a heartbreaking version of Joseph C. Scott's 'Never Let Me Go,' a Top 10 R&B hit for Johnny Ace in 1954; it's one of two times the song is performed during the shows included in this box set. "Here's a song for all you young lovers," Dylan says as introduction. "How about the old ones," Baez responds. "The old lovers too," Dylan adds and the audience applauds. Dylan sings the first three words – "Just let me" – a cappella, before Baez joins him in harmony for "love you tonight," and the rest of the song, as does the band. Their version of the old (dating from the 1600s) Scottish folk song, 'The Water is Wide' (covered in the '60s by folk artists including Baez) and which previously appeared the Bootleg Series set, Bob Dylan Live 1975: The Rolling Thunder Revue, remains stunning as the first time I heard it. Hearing the two of them singing so fabulously makes me wish they had recorded a studio album together in the mid-'70s.
Dylan sang six songs from his work in progress, Desire, during the tour; 'Romance In Durango,' 'Isis,' 'Oh, Sister,' 'Hurricane,' 'One More Cup of Coffee (Valley Below),' and "Sara." After the heartbreak of Blood On the Tracks, which some (including Dylan's son Jacob) have said is about Dylan's relationship with his wife, "Sara" is a beautiful makeup song with the infamous line, "Staying up for days in the Chelsea Hotel writing 'Sad-Eyed Lady of the Lowlands' for you." 'Oh, Sister' and 'Romance In Durango' are also terrific songs, brand new at the time, that proved Dylan had not lost his touch as a songwriter.
Some have written that the Rolling Thunder Revue was Dylan's greatest tour. I think that his 1966 World Tour was his best, but the Rolling Thunder Revue comes in a close second. And anyway, we don't have to choose. Both tours were exceptional, and we're lucky to have these 147 recordings. And, yes, any serious Dylan fan needs this set. Absolutely!
Michael Goldberg, a former Rolling Stone Senior Writer and founder of the original Addicted To Noise online magazine, is author of three rock & roll novels including 2016's "Untitled."