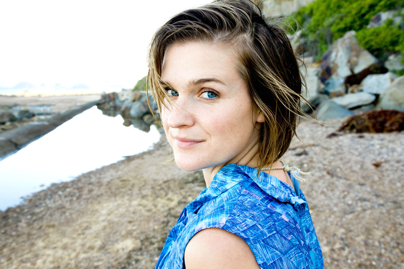 With the majority of songs written over an eighteen month throughout Latin America, Buckingham immersed herself in new cultures and varied pursuits. She sought local musicians, street performers, and creative collaborations, as songs were written in hotel rooms, on top of dense jungle mountains and every conceivable place in-between.
"It was a time of intense exploration and growth – I was affected by so many people and experiences that I was quite certain they needed to be written about. I'd pick up my guitar already knowing, in a way, what I wanted to say." – Sam Buckingham
TRACKLISTING
1. The Water
2. Living In The Dark
3. In My Baby's Arms
4. Compra Los Pantalones
5. Jolene
6. Green Water
7. Little Old Train
8. Marina
9. Hope
10. Elephant Man
11. Hammer & Love
12. Little Water
THE WATER became somewhat of an audio journal where subtle rhythms and the emotive language of Latin America sit beside fragile folk music, rousing Americana and pop-inflected hooks. There are fascinating surprises scattered throughout the record, while Buckingham explores the marriage of Australian folk with Latino influence – like a distorted steel pan bursting out from underneath a crunching electric guitar and heartbreaking harmonies – with the core of each song solidified by Buckingham's intricate storytelling and timeless voice.
Having released two independent albums and lapping the country countless times on house concert tours, Buckingham has built a reputation as one of Australia's most authentic and prolific songwriters. Playing alongside the likes of Katie Noonan, Megan Washington, Lior and gracing stages at the country's premier festivals, Buckingham is at once a seasoned performer and a compelling, emerging talent in Australia's burgeoning singer/songwriter scene.
TOUR DATES
(All tickets at http://www.sambuckingham.com)
Saturday, 3rd June @ Lismore City Hall – Lismore, NSW (supporting Felix Riebl)
Wednesday, 21st June @ Open Studio – Northcote, VIC (supported by Georgie Fields)
Thursday, 22nd June @ Junk Bar – Ashgrove, QLD w/ Emma Dean
Saturday, 8th July @ Hibernian House – Surry Hills, NSW w/ Eagle & The Wolf
Thursday, 20th July @ Chapel Theatre – Glen Innes, NSW w/ Kent Eastwood
Sunday, 23rd July @ Tamworth Hotel – Tamworth, NSW w/ Kent Eastwood
Thursday, 27th July @ Four5Nine – North Perth, WA
Monday, 7th August @ The Front – Lyneham, ACT w/ Kent Eastwood + The Burley Griffin
Wednesday, 23rd August @ Wheatsheaf Hotel, Thebarton, SA w/ Sam Brittain