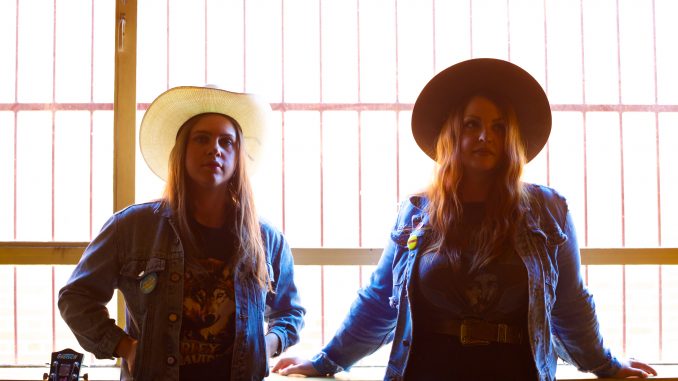 The South Australian country duo Hana & Jessie-Lee recently teased us with their single 'Maryses' (released in January) and are now announcing their debut Album, special edition pre-sale vinyl and ten (10) date tour through VIC, NSW, QLD and SA.
With the fitting title for these South Australian's, the debut album 'Southlands' that travels through Alt Country, Soul and Roots will be out on the 21st of April. Hana has stated, "I think people are going to be a bit surprised with the change of direction from our previous release in 2016."
Today we're premiering a new track entitled 'Eight Tonne Shackles' for Hana & Jessie-Lee alongside the beautiful footage filmed, directed and edited by Aaron Schuppan that conveys the dark underlying tone of the song through a beautiful slow swing dance performed Hana's sister, Elle Brenecki and Joel Kohn.
'Eight Tonne Shackles' was co-written with Doug Loudon when we were jamming and he was attempting to teach me some bluegrass picking. Much like the weight of these shackles is the weight of the story embedded in the track that reflects on someone being used by someone who already has a partner. Hana had said, "I was explaining that at work I was carrying around these 8T shackles for the crane operators and Jess had said it sounded like a good song title".
The full length 10 track album is pressed onto orange 180g vinyl and was recorded in Melbourne at Secret Location Sound with Paul Maybury, produced by Nick Finch (Graveyard Train), mixed by Matt Chow, and mastered by Nao Anzai.
The album, as stated by Hana was "Started as a rough idea and very quickly became a moving machine with nearly all songs written in the space of 6 months and 725km between us [Hana & Nick Finch], channelling my love of old country, alt-country and soul through Nick Finch's arrangement ideas as well as his skills in song craft and lyrics.
The moment we realised we had something special though, was when a gang of our favourite leading lady soul singers from Melbourne (Anna Lienhop, Zoe K, Kate Alexander, Katie Scott, Kat Mear) came into the studio to lay down some gospel backing vocals around a single mic. They nailed it so quickly we ended up getting them on 4 of the tracks."
All Pre-orders come with a free sticker and sweet poster designed by Tommy Doom from Mimsy's Trailer Trash Tattoo in Brisbane. Pre-Order here!
 'Southlands' Album Tour
 April 22 Old Bar, Melbourne VIC
April 23 Westernport Hotel, San Remo VIC
April 27 Django Bar, Sydney NSW
April 28 Flow Bar, Old Bar NSW
April 29 The Ori, Newcastle NSW
May 12 Nook and Cranny, Nambour QLD
May 13 Destination Blues, Brisbane QLD
May 19 The Metro Bakery, Mt Gambier SA
May 20 Coonawarra Arts Festival, Penola SA
May 21 The Wheatsheaf Hotel, Adelaide SA