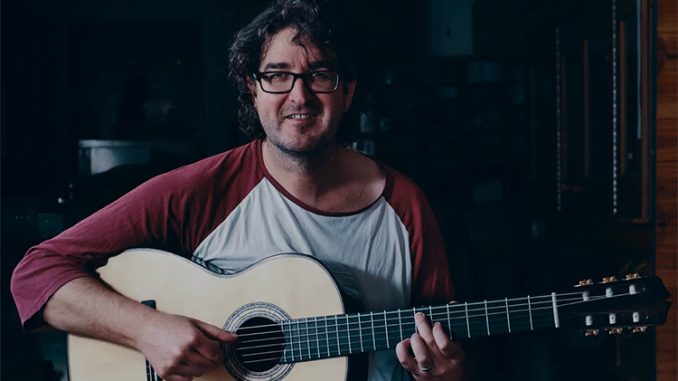 Review by Des Cowley.
Robbie Melville – Tangled Trails (Lionsharecords, LSR2381, CD & digital release).
Melbourne-based guitarist Robbie Melville has been hiding his light under a bushel for far too long. Sure, his beautiful, minimalist sound has graced recordings by Antelodic, cleverhorse, Nat Bartsch and others. His compositions have garnered awards, here and overseas. Yet he remains something of a musician's musician, a quiet achiever. Hopefully, this new album Tangled Trails, only the second to bear his name as headliner, following on from last year's Distance, will go some way to rectifying that.
Whereas Distance was scored for quintet, this new work is predominantly a solo venture – aside from several contributions by cellist Zoe Knighton – that sees him playing electric guitar, acoustic guitar, baritone guitar, bass, guitalele, harmonium, and junkie bell.
The album has been conceived as an imaginary soundtrack to a 1921 silent western film, directed by Charles Bartlett, set in the wilds of Canada and New York. Taking his cue from photographs of desolate Canadian landscapes around Alberta, Melville has constructed a rich, sparse, melodrama in music, sketching the empty topographies, the snow, the mine shafts, the logged forests, the timbered huts.
Over fourteen brief meditations, matched to scenes from the film, Melville weaves his narrative, evoking winter vistas, distant horizons, and wide-open spaces. It's a subtle and complex blend: there are echoes of the warm tones of Bill Frisell, the minimalist atmospherics of Jakob Bro, there's touches of country, folk, classical, jazz. Knighton's plaintive cello, sparingly used, elevates this music.
Beautifully recorded, Tangled Trails faithfully captures Melville as poet and storyteller, spinning sonic fictions.