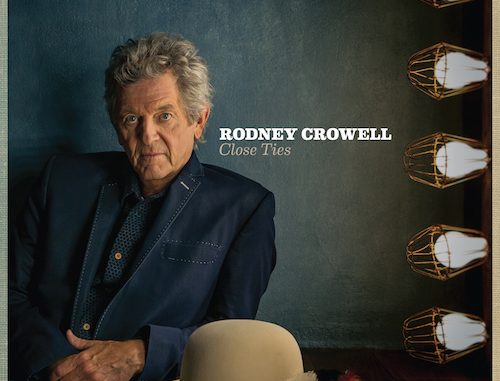 Multi-Grammy Award winning troubadour Rodney Crowell is set to release Close Ties on March 31st via New West Records.  The 10-song set is his first album in over three years and follows The Traveling Kind, his acclaimed collection of duets with longtime collaborator Emmylou Harris.  Co-produced by Jordan Lehning and Kim Buie, the album features a duet with Sheryl Crow on the haunting "I'm Tied To Ya," and "It Ain't Over Yet," a vocal collaboration with his ex-wife Rosanne Cash and John Paul White. Rolling Stone Country previously premiered the video for "It Ain't Over Yet," which also features legendary harmonica player Mickey Raphael in addition to Rosanne Cash and John Paul White, and can be seen Here.  They state, "The evocative lyrics call to mind the two-tone, punked-out cover image of Cash's 1985 LP Rhythm and Romance, which preceded Crowell's mainstream country breakthrough of five consecutive Number One hits from 1988's Diamonds & Dirt and the subsequent collapse of the couple's marriage." Paste Magazine also premiered the new video for the single "Nashville 1972" which can be seen Here.  The video was directed by Reid Long on 16mm black-and-white film and includes archival and modern images depicting the Nashville Crowell arrived in over 40 years ago and the Nashville he currently lives.  It's lyrics lovingly namecheck Guy & Susanna Clark, Townes Van Zandt, Willie Nelson, Tom T. Hall, Steve Earle and more.  While speaking about the song to Paste, Crowell stated, "You learn that writing is work, and all of us young guys in those formative years figured out that you just slept during the day and stayed up all night, at first in pursuit of girls and then in pursuit of the perfect song."  He continued, "With the poor man's salons where we hung out, sitting around drinking and sharing songs, when you were working you'd be trying to come up with something that you could be proud of when it was your turn to play one." CMT.com premiered the album opener "East Houston Blues," calling the song "a jumping acoustic number that authentically captures the working class neighbourhood that shaped Crowell as a kid growing up in Houston's Third Ward."  They continued, "The lyrics in 'East Houston Blues' don't shy away from the poverty and petty crime that plagued the area at the time.  It was the kind of place that if you're born into that environment, it was hard to escape." Read more and hear the song Here. Close Ties will be available on compact disc, LP, and is now available for pre-order Here.
Close Ties both demonstrates Crowell's strengths as a songwriter and illustrates how he has learned to balance personal recollection, literary sophistication, and his profound musical reach.  It's at once his most intimate record and his most accessible, the product of years of understanding the ways songs can enter – and be entered by – life.  Close Ties is a loose concept record that ranges from songs about Crowell's childhood in Texas (the aforementioned "East Houston Blues") to songs about arriving in Nashville as a young songwriter ("Nashville 1972") to songs about friends (the anguished "Life Without Susanna") and lovers lost ("Forgive Me, Annabelle").  It is a roots record, in the sense that Crowell himself has deep roots that stretch back into the alternative country scene of the early seventies that included Guy Clark, Townes Van Zandt, Steve Earle, and more.  But it defies easy classification.  Is it country?  Is it a singer-songwriter record?  "I have declared my loyalty to Americana.  It's a hard category for people to get their heads around, or at least the terminology is.  But all the people who represent it – Townes Van Zandt, Guy Clark, Lucinda Williams, Steve Earle and more recent stars like John Paul White and Jason Isbell – share a common thread, and that thread is poet.  Whether they are actual poets or their music exemplifies a poetic sensibility, generally speaking, the Americana artist shuns commercial compromise in favor of a singular vision.  Which resonates with me."  One trait of a poet and the concept behind Close Ties involved the careful handling of memory.  "A few years ago I made a record called The Houston Kid that triggered Chinaberry Sidewalks (Crowell's 2011 memoir)," he says.  "Those memory muscles are pretty strong in me.  They have a natural pull.  And so many of these songs use those memories as raw material."
Fifty years after Crowell first started playing as a teen in Houston garage bands, he has moved into elder-statesman territory, and continues to extend the path carved out by the top-tier songwriters who preceded him.  His songs have been recorded by country legends (Johnny Cash, Waylon Jennings, Willie Nelson, George Strait), to current country chart toppers (Tim McGraw, Keith Urban) to blues icons (Etta James) to rock and roll legends (Van Morrison, Bob Seger).   He is a Grammy award winner, a member of the Nashville Songwriters Hall of Fame, recipient of the 2009 Lifetime Achievement Award for Songwriting from the Americana Music Association, and the author of his autobiography, the stunning Chinaberry Sidewalks.