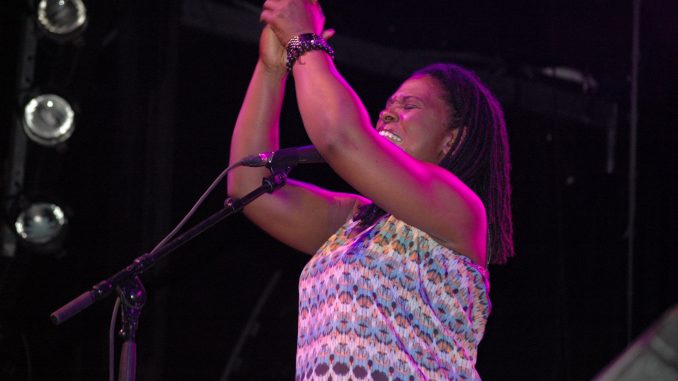 Ruthie Foster is way more than just another blueslady. She's a true gospel diva with an astonishingly powerful voice that sounds like it must have literally raised more than a few rooves and rafters over the years. Her stage-presence is always dynamic; clutching her trusty Gibson guitar, she launches herself into each number with immediacy and clear intent. Audiences look on in awe as she storms from one song to the next, pulling tracks from her beaded, braided head and an impressive award-winning back catalogue of sultry, soulful music with confident ease and purpose.
And surprisingly, perhaps, guitar is not her first instrument. Ruthie's a piano-player but, as she quips: 'The guitar's a lot more portable.' And unlike most musicians of the blues world and stage, she can read music, having graduated in that subject before signing up with Uncle Sam and joining the Navy to see the world as an engineer. It was while with the navy she turned her attention to fretwork developing a hard-hitting percussive style that has certainly served her well over the years since her demob.
But Foster has in reality covered most of the acoustic music bases in the USA over the years. She's played with Navy bands, big-band style, covered top 40 hits, played New York coffee-shops and festivals in the folk idiom and thrown herself into blues, gospel and soul with an apparent near-abandon.
So, does Foster see herself as straddling a variety of roots styles or as a single-genre blues-soul kind of player?
'Yeah, I guess I do feel like I'm still in both those worlds — or all of those worlds, if you want to say it that way: folk and blues and gospel. … I was one of the few black women in these folk festivals doing what I was doing. I guess my vehicle for that was the acoustic guitar, just to be able to get out and be heard. So it came across as folk because of that. I was doing blues and gospel and the same stuff I'm doing now even then — I just had an acoustic guitar.'
An answer that doesn't exactly clarify matters but clearly lights the way towards her overall thinking. But it's as a professional, qualified and trained musician that she approaches everything she does nowadays:
'That's exactly how it feels because that's all me. I do have training, and I do have a church background and singing with a big band and being able to read charts. I have all of that. So that's what you're hearing bumpin' around all at once.'
'My voice is my first instrument, though,' she says. A positively barn-storming quality developed and honed as a kid growing up in rural Central Texas where her grandmother ensured she attended the local Baptist church and weekly song sessions. The same grandmother who introduced Foster to piano and a love of music in a more general way as she grew-up.
Foster is quick to thank both her mother and grandmother for introducing her to music and performance, initially as a purely family thing, followed by church outings and a college course where she majored, as might be expected given her tremendous voice, in vocal-work, and that eventually led her to the world stage.
'I started out singing in our local Baptist church. It was really a sort of family situation. It was important to my mother and grandmother. Not singing at church was never an option,' she says with a rueful but clearly grateful smile.
As for inspiration, she simply plucks themes from everyday life and love. Songs that mirror her own interests and observations as she hits the road on tour, spending substantial chunks of time away from home, missing her young daughter.
It's difficult to avoid comparisons with Mavis Staples. Both are award-winning singers with huge voices and a grasp of gospel music few, if any, can equal. Foster is quick to pay her respect to the veteran singer, citing the near-legendary Staples as an obvious gospel-influence and a true survivor. "I love Mavis Staples. She still has such an amazing voice and energy. Despite her age, she gives it her all every time.'
In the studio she tries to capture the spirit of live performance as much as possible, eschewing over- much technology and overdubs. 'I've always preferred acoustic sound and instruments wherever possible,' she confirms. 'I have to plug my guitar in, of course, with a pick-up, but that's because I need to be heard when I play in front of a crowd, on a stage where that whole sound projection thing is real important.'
Blues music is in many ways central to Foster's continued success and she's quick to acknowledge its importance with a minor proviso in the overall music mix. She laughs at the suggestion blues often focuses on at times depressive themes like, lost love, despair and the old grim reaper:
'I don't look at it necessarily as blues. It's all about spirit — and maybe that's what blues is. A lot of people do look at blues as down and out: "My heart is on the floor and I'm gonna sing about it for a while." And it can be that. I went through some stuff with my relationship that was really, really hard. I remember coming to that point, and blues was the one thing I could listen to. I felt like, "I need to know that I'm not alone in feeling like this." Blues did that for me.'
It's a formula that clearly works. Foster has picked-up awards galore. Best Female Vocalist; Best Contemporary Blues Female Vocalist; Living Blues Writers' Poll Winner; Koko Taylor Award for Best Traditional Blues Female Vocalist – 2012, 2013, 2015 and again this year, 2016. In addition, Grammy nominations and plaudits rain down on her from all quarters. Foster seems to take it all in her stride without appearing complacent or smug in any way: 'Yea, I've sure been real lucky with the awards,' she smiles. 'It's all been great.'
With almost a dozen albums now behind her – mostly since she turned professional in '…..around 1995-96' – she nods, as she thinks back over the years – she still loves doing what she does, despite the travelling and the hassle that invariably goes with it.
'I love singing, it's what I do best. And I have freedom to change my set whenever I want. I might start-off a set with one number then just turn it around with another, with something different, like 'Ring Of Fire', for example. It all depends on the gig and the audience. Picking up the mood out front and going for it.'
But perhaps first and certainly foremost, Foster works the stage, her audience and her music, hard. She admits to having a powerful ingrained work-ethic, one she's had since childhood back home down on the farm: 'Success, this life and my music hasn't been one of those things where it's just been given to me, for sure. It may look like it has, with the awards and the recognition, but I've sure worked. And sacrificed relationships, and being around my family. I still do, in some ways. This is no joke. When you really want to get to that place that, you know, means something to you. Yea, it's great to be recognised, but I'm a worker, too. I come from farmers, where you work from sun-up till sun-down. That's the way I work in music, too,' she adds.
Iain Patience