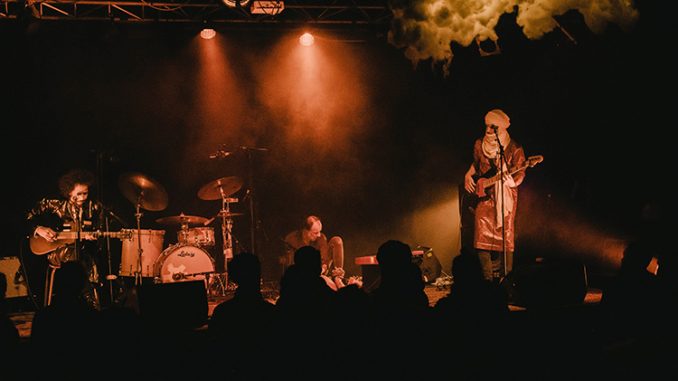 For the first time Australia will get the opportunity this coming October to experience the smouldering desert blues of the Sahara's hottest musical export, Tamikrest at The Sydney Opera House, MONA, Strawberry Fields Festival, Meeniyan Town Hall and Canberra Street Theatre.
Over the last decade, Tamikrest have grown a reputation across the world as one of the most exciting 'desert rock' bands to emerge from the Sahara, and this October the group are bringing their music to Australia for the first time.

Tamikrest is adventurous with a twist of familiarity – rock straight out of the desert, evoking the space and staggering beauty of the land that inspired it. Formed in Kidal with musicians from Mali, Niger and Algeria, Tamikrest draws on the rebel Ishumar Rock, or Tuareg Blues, infused with rock, reggae, world music and folk to create a sound that is both global and utterly unique

Driven from northern Mali by the fighting and burden of sharia law, the group is exiled to live in Algeria. Their music is a tribute to the Saharan Touareg identity, spiced up with modern influences, Tamikrest want to make Tamasheq poetry and culture accessible to inhabitants of a world larger than the immensity of the Saharan desert and their African neighbours.

The Australian tour will showcase the new trio arrangement, incorporating their blistering guitar sounds, tempered with drone-like elements that magically evoke the slowly shifting sands of their homelands.
"It will be the first time for me to come to Australia and I'm very excited to discover the customs and habits of the Australian people." Said band leader, Ousmane Ag Mossa.
"I'm really looking forward to Australia and of course, I'm proud that I can discover the country through my music, through my guitar and my lyrics. It will be a great experience. I'm 100% sure."
TAMIKREST 2022 DEBUT AUSTRALIAN TOUR

Wed October 26th – MONA – Nolan Room, Hobart
Fri October 28th – Strawberry Fields Festival, Tocumwal

Sat October 29th – Meeniyan Town Hall

Sun October 30th – Street Theatre, Canberra

Mon October 31st – Sydney Opera House

Ticketing and more information: https://www.topshelf.com.au/tamikrest