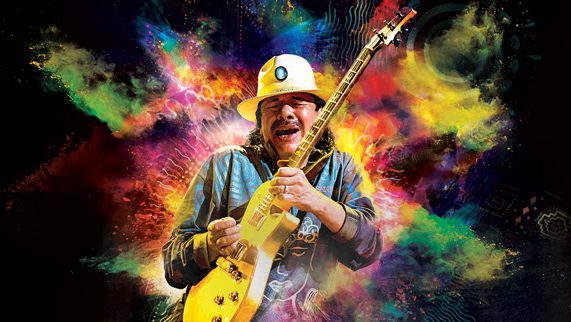 WITH SPECIAL GUESTS THE DOOBIE BROTHERS – APRIL 2017 –
Legendary guitar virtuoso, multi Grammy Award winner and a Rock and Roll Hall of Famer, CARLOS SANTANA, and his band SANTANA, will take in five huge dates across the country on his Transmogrify Tour. The tour will kick off at Perth Arena on Friday 7th April before heading to Adelaide's Botanic Park on Sunday 9th April, Melbourne's Rod Laver Arena on Tuesday 11th April and Sydney's Qudos Bank Arena on Thursday 13th April. Santana's Australian dates wrap up in the nation's capital on Saturday 15th April at the Royal Theatre. Tickets are on sale Tuesday 29th November at 12 noon local time.
SANTANA previously toured Australia in 2011, including a one-off show in the Hunter Valley with The Doobie Brothers, returning in 2013 for national shows with The Steve Miller Band. Delivered with a level of passion and soul equal to the legendary sonic charge of his guitar, SANTANA returns to our shores performing songs from over four decades of his career including hits and songs of yesterday, today and tomorrow.
The mighty DOOBIE BROTHERS will join Santana as Special Guests on the Perth, Adelaide, Melbourne and Sydney dates, adding to both artist's already announced appearances on the mammoth bill for the 28th Annual Bluesfest in Byron Bay. A global enduring favourite of the 1970's, The Doobie Brothers combine a touch of blues, and plenty of soul and rock 'n roll to create their nostalgic Californian rock sound. Their celebrated back catalogue of music includes hits like 'Listen To The Music', 'Long Train Runnin', 'What A Fool Believes' and so many more.
Rounding out a vibrant three-act bill for a special one-off performance at Adelaide's Botanic Park on Sunday 9th April is local icon RUSSELL MORRIS. Known for his global 1969 hit 'The Real Thing', Russell has in recent years received widespread acclaim for his Australiana blues trilogy of albums.
The passion infused, melodic sound of CARLOS SANTANA's guitar is one of the world's best-known musical signatures. For more than four decades – from Santana's earliest days as a groundbreaking Afro-Latin-blues-rock fusion outfit in San Francisco – Carlos has been the visionary force behind artistry that transcends musical genres and generational, cultural and geographical boundaries.
SANTANA will touch down in Australia with Special Guests THE DOOBIE BROTHERS straight off the back of a multi-year residency at the famous House of Blues in Las Vegas. He will be set to ignite stages across the country once again, with a style that fuses Latin rock, blues, soul and jazz, transcending time and the limits of genre typecasting.
SANTANA plays a standalone show at Canberra's Royal Theatre, Saturday 15thApril. Dynamic young indie artist, TASH SULTANA, will join Santana at this intimate show. Tash has been making waves across Australia this year, generating massive street buzz and creating a legion of fans with her carefully crafted, edgy fusion of multi-instrumental pieces that see the songstress shift from singing to beat boxing, combined with her unique percussion styled finger-tapping guitar.
THE DOOBIE BROTHERS will be takin' it to the streets of Brisbane, playing their own intimate one-off show at The Tivoli on Sunday 16th April.
SANTANA : TOUR DATES

Brought to you by Pure Gold, Mix 102.3 Adelaide, 4KQ Brisbane, Mix 106.3 Canberra, Mix 94.5 Perth, Channel 9 WA & Chugg Entertainment

PERTH
Friday 7th April – Perth Arena (All Ages)
*With Special Guests The Doobie Brothers
ticketek.com.au or 132 849

ADELAIDE
Sunday 9th April – Botanic Park
*With Special Guests The Doobie Brothers and Russell Morris
ticketmaster.com or 136 100

MELBOURNE
Tuesday 11th April – Rod Laver Arena (All Ages)
*With Special Guests The Doobie Brothers
ticketek.com.au or 132 849

SYDNEY
Thursday 13th April – Qudos Bank Arena (All Ages)
*With Special Guests The Doobie Brothers
ticketek.com.au or 132 849

CANBERRA
Saturday 15th April – Royal Theatre (All Ages)
*With Special Guest Tash Sultana
ticketek.com.au or 132 849

BYRON BAY BLUESFEST
Saturday 15th April – *DOOBIE BROTHERS
bluesfest.com.au

BYRON BAY BLUESFEST
Sunday 16th April – *SANTANA
bluesfest.com.au

BRISBANE
*DOOBIE BROTHERS ONLY – HEADLINE SHOW
Sunday 16th April – The Tivoli (18+)
ticketmaster.com.au or 136 100

AUCKLAND
Tuesday 18th April – Vector Arena (All Ages)
*With Special Guests The Doobie Brothers
ticketmaster.co.nz or 0800 111 999

WELLINGTON
*DOOBIE BROTHERS ONLY – HEADLINE SHOW
Thursday 20th April – TSB Bank Arena (All Ages)
ticketek.co.nz or 0800 TICKETEK (0800 842 538)