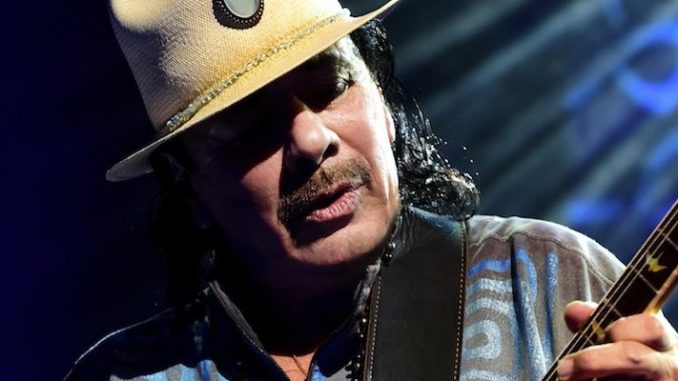 Nearly half-a-century has elapsed since Carlos Santana bounded on to the stage at the legendary Woodstock festival and blew the world away with a groundbreaking concoction of Latin jazz, rock and blues.
Now approaching 70 and with 100 million record sales, more than a dozen Grammy Awards and a Rock 'n' Roll Hall Of Fame induction to his credit, the Mexican-born and raised musician is still playing like the fuzz-toned electric guitar god he always was, while guiding his band to new heights. Yet, the aforementioned breakthrough show in New York State all those years ago remains arguably his greatest performance.
As the widely viewed 'Soul Sacrifice' video film clip shows, the string-bender well and truly nailed his solos at Woodstock. What punters at the time and fans accumulated since might not know, however, is that Santana was tripping on mescaline when he led the band to their famous late-night gig and spent the entire set wrestling with the neck of his instrument. "It was like trying to grab a bar of soap that keeps slipping through your fingers," he has revealed. "I was like a surfer riding a huge wave and just trying not to wipe out."
Since their superlative show at Bluesfest four years ago, the bandleader has revisited momentous days of yore, re-forming the classic line-up to record Santana IV — the first album since 1971's million-selling Santana III to feature the bandleader with singer/keyboard player Gregg Rolie, drummer Michael Shrieve, percussionist Michael Carabello and guitarist Neal Schon.
Santana was delighted to discover the old chemistry remained intact: "We started playing and it was like watching dolphins jump in the ocean again after being at Sea World or something."
Since he made that album Santana and his wife, Cindy Blackman, have recorded an LP with the legendary singer Ronnie Isley of Isley Brothers fame, whose voice graced a couple of tracks on Santana IV.
 The gifted Blackman will be behind the drum kit, playing alongside percussionist Karl Perazzo and bass guitarist Benny Rietveld, who also contributed to Santana IV, when Carlos Santana returns to Bluesfest on Easter Sunday with his current 10-piece band.
Although the 15-million selling 1999 comeback album Supernatural and 2014's Corazón, which respectively embraced modern RnB and hip-hop, have helped introduce Santana to a new generation of fans, it's golden oldies from the sixties such as Oye Como Va and Black Magic Woman — from the classic 1970 release Abraxas — that most punters will be baying for at Tyagarah next month.
Santana was a straight-out blues band during their early years, inspired by the likes of the Butterfield Blues Band and Peter Green's Fleetwood Mac, before incorporating Latin and African riffs and rhythm. "If you really want to play the blues, you have to be willing to go to a deeper place in your heart," says the founder and frontman. "If you can't make it personal and show an individual fingerprint, it's not going to work."
The blues has always been the base component of Santana's sound, as a trawl through any of their 23 studio albums or perusal of the leader's eminently readable 2014 memoir The Universal Tone will confirm.
One of the first songs Carlos learned in his teenage days in Tijuana was James Brown's 'Night Train'. It was listening to soul singers such as Marvin Gaye and Aretha Franklin and later the trumpet playing of his friend and mentor, jazz giant Miles Davis, that informed his guitar phrasing.
Explaining how the signature Afro-Latin-blues Santana band sound emerged, he says: "All I tried to do was combine John Lee Hooker, Lightnin' Hopkins, Jimmy Reed and B.B. King with Tito Puente, Ray Barretto, Eddie Palmieri and Olatunji."
For all his success, Carlos Santana has retained his humble demeanour and spirituality, what he calls universal tone. "With it, ego disappears and energy takes over. You rise above the fame and stardom thing by staying rooted on the ground."
TONY HILLIER
photo credit Maryanne Bilham