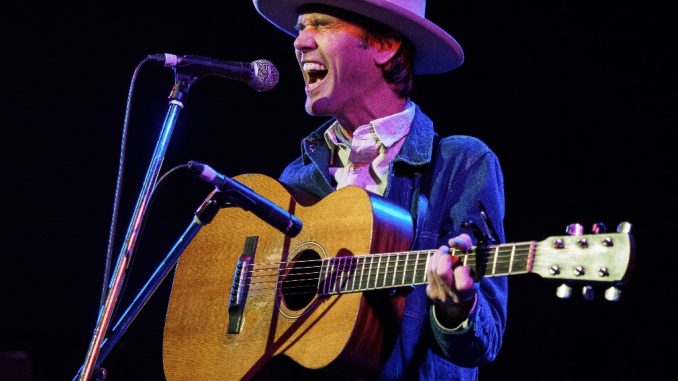 US singer Willie Watson at Bello Winter Music 2016. Photo by Kurt Petersen.
Following a successful debut last year the news had obviously gotten out about Bello Winter Music (7-10 July) resulting in a sell-out festival this year that saw thousands of patrons fill the halls, cafes, clubs and streets of the Mid North Coast town of Bellingen. Twelve different venues within the town played host to diverse array of over 80 international, national and local musicians.
"We're thrilled Bello Winter Music sold out in our second year," said Festival Director Glenn Wright, "Additional venues and an incredible team of volunteers meant that patrons were able to move comfortably from venue to venue and experience everything the festival had to offer."
US folk musician Willie Watson, co-founder of respected Americana outfit Old Crow Medicine Show and Dave Rawlings Machine band member, appearing in solo mode kept capacity crowds at the Memorial Hall enthralled with his pure, clear voice and heartfelt songs that tapped in to the deep seam of the American folk tradition. Similarly young singer Yirrmal had audiences spellbound with powerful performances that combined contemporary soul with Yolngu culture.
Western Sydney hip hop artist L Fresh The Lion and band had a joyfully democratic dance floor of young, old, hipster and hippie and everyone in between, dancing and jumping together hands with their hands in the air; Claire Anne Taylor and tour compadre William Crighton left no doubt they're artists on the brink of huge success; the prize for most beautiful harmonies was a dead tie between the men of Green Mohair Suits and the women of All our Exes Live In Texas; and pocket powerhouses Mojo Juju and Jo Jo Smithrepeatedly delighted audiences with their impeccable soul sensibility.
A spirit of collaboration permeated Bello Winter Music treating patrons to one-off performances bringing together different acts from the festival. The Gram Parsons tribute concert on Sunday at Memorial Hall featured a stage full of performers including Heartworn Highway, Sweet Jean, Green Mohair Suits, Claire Anne Taylor, Jo Jo Smith and Raised by Eagles. Down the road the Bread and Butter concert featured a rolling roster of unlikely duets including Mojo Juju and Elana Stone doing a hilarious and beautiful cover of 10cc, Roman Albert from Bullhorn and Merryn Jeann covering Kanye West and festival ring-ins Lucie Thorne and Ash Bell of Starboard Canons doing John Prine. Elsewhere Rockwiz maestro Brian Nankervis invited Willie Watson, Yirrmal, comedian Mandy Nolan and All Our Exes Live In Texas onto the couch for interview sessions and acoustic performances. Throughout the festival established musicians also took time to mentor and support young up and coming local talent through the Youth Mentorship Program.
Outside the venues the streets and parks were full of activity in the glorious winter sunshine – The Magic Bus, roving theatre, dance performances, markets, and people taking part in the many Bello LeaF Learning Festival environmental workshops and forums.
In a festival of so many highlights the hit once again was the beautiful riverside town and the warm, friendly community of Bellingen itself.