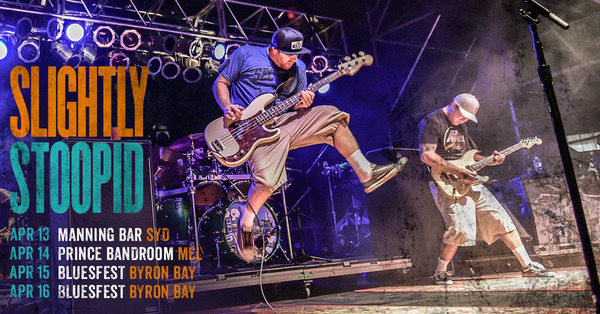 US genre bending brothers Slightly Stoopid are making Australian in-roads with Sydney and Melbourne Bluesfest touring shows filling up fast. This loveable band of brothers are weeks away from blazing up their party friendly fusion of folk, rock, reggae, funk, hip-hop and blues in front of Australian audiences.
Band member Miles Doughty says it will be the first time they have headlined shows in Australia. "We're so pumped to come down under again. The last few times we were supporting other bands but this is our first headline tour and we've got some really special stuff planned both for Bluesfest and our own shows in Sydney and Melbourne. We're going to make a big splash"
Sticklers for remaining fiercely independent, Slightly Stoopid have amassed years of impressive and diverse support credentials alongside the likes of Snoop Dog, Sublime, The Roots, Blink 182 & N.E.R.D.. The sheer diversity of these line ups alone are proof Slightly Stoopid have an incredibly adaptable and unique sound. Known for their their slabs of dubby bass, meditative vocal harmonies, rock-steady guitar licks and tightly syncopated percussive rhythms, the San Diego based band unveiled their latest musical experiment Meanwhile… Back at the Lab through the band's own Stoopid Records.
Nearly two decades into their artistry, Slightly Stoopid continues to progress into new musical territory, defining their signature sound while creating a contagious feel-good vibe that has its own lifestyle and subculture… and it's been done entirely on their own terms.
Slightly Stoopid will be joined by party starters Caravana Sun in Melbourne and Manalion in Sydney.
Extremely limited tickets remain to both shows.
Bluesfest Touring presents – SLIGHTLY STOOPID 
THU 13 APRIL | The Manning Bar, Sydney NSW
FRI 14 APRIL | The Prince Bandroom, Melbourne VIC
 –Also appearing at Bluesfest Byron Bay 2017—
Performance days: SAT 15 APRIL & SUN 16 APRIL