All This in Mind EP – Stella Delmenico
Review by James Gaunt
A four track EP of ghostly folk music from Melbourne.
Singing along with her guitar on opener 'The Drop', Stella's voice mixes with barely audible sounds. Is it another voice? An organ? A synth? It's hard to say, but it makes repeated listens a pleasure as there's more to discover beneath the surface, and a song about the madness of being alone has never sounded so beautiful. It all creates a great ambience across this EP.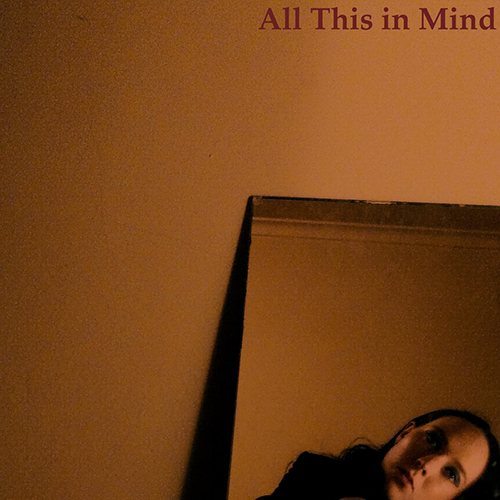 Title track 'All This In Mind' falls in on itself as each pluck of the guitar is echoed, building a rhythm track out of delay and reverb. There are several long pauses within this song, and it is all over too soon. Slowly building itself up, Stella is joined by a chorus of her own voice for a moment before they fall back, and the song is stripped back to just Stella and her guitar again. It's an absolutely beautiful moment which, again, ends too soon as Stella tells us 'I won't waste anymore of your time'.
A spookiness also permeates the recording. 'Lullaby' closes it with an unfazed Stella singing about nightmares, a house on fire, and warning that 'darkness is coming' as what sounds like a music box is pushed to breaking point.
Attention is often torn between the beautifully sung lyrics and the eerie production. But rather than detracting from the experience, it made me want to revisit this EP repeatedly as I tried to take in everything which has been hidden across these often deep tracks.
This is Stella Delmenico's debut EP, first teased a year ago with the release of her single 'Paradise Room'. That song doesn't appear here, but for anyone desperate to hear more, it sits well as a companion to this short EP, though it only hints at the ghostly direction she would find herself on.
From the complexity of her lyrics to the layers of sounds which only reveal themselves upon closer listen, All This In Mindis an EP which gets better with each visit, and is hopefully a sign of more great things to come.
All This in Mind is available on Bandcamp https://stelladelmenico.bandcamp.com/album/all-this-in-mind