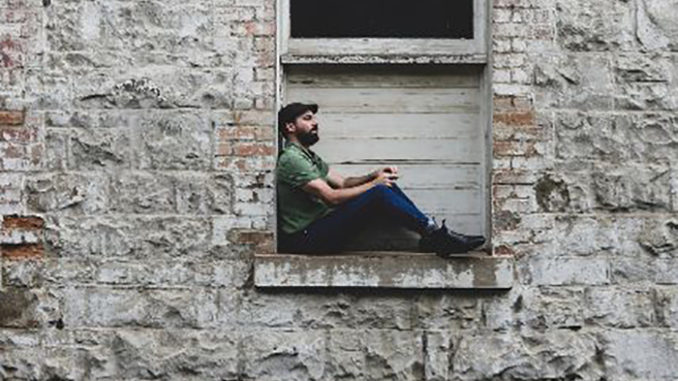 Stephen Grady has released a brand new video for the song 'Spring,' which appears on his new album Wonder, to be released on October 23.
"With the ongoing Covid restrictions in Melbourne, Rick [Stills] and I knew we had to think outside the box when it came to making a music video for 'Spring'," explains Stephen Grady about his new video. "We wanted to capture the natural beauty of spring blooming in the city landscape but we were limited by the 5km restrictions of lockdown.
"Technology enabled us to work collaboratively while on opposite sides of the city. Rick came up with the brilliant concept of a double exposure piece to allow for multiple sources of video footage. He filmed flora and streetscape shots around his neighbourhood and remotely directed a video shoot to get the silhouettes of me playing. The process made for an interesting experience with Rick directing and reviewing footage shot on my phone through a video call on my girlfriend's iPad. It was fun to do things differently and adapting to work with our limitations produced a unique and visually inspiring end result." (The music video is edited and directed by rcstills).
At the heart of it, Melbourne based Stephen Grady is a songwriter. His aim is precise; mastering the craft and getting in touch with the words and music on a personal level. And it is this in-depth, soul searching approach that shines through on his new album Wonder, out October 23.
Wonder is available for pre-order now HERE
Recorded over one weekend in February 2020 at Union Street Studios in Brunswick, Melbourne with producer/engineer/musician Roger Bergodaz (Lost Ragas/Ahern Brothers/James Ellis/ Freya Josephine Hollick), Wonder is an album with timeless sounds and influences. Grady & Bergodaz performed all the instruments on the album and it mastered by Grammy-nominated Pete Lyman (Chris Stapleton, Jason Isbell, Brandi Carlile, Sturgill Simpson, John Prine)
The lead track single "Spring' is available now. Grady wrote the song walking home from Essendon station after work one late afternoon.
"Queensland will always be my home but I'm so inspired by this great city (Melbourne) and it's change in seasons, I wanted to capture some of its beauty in a track like Spring. Easy to say harder to do," says O'Grady.
Since the hiatus of The Ahern Brothers, Grady went on a writing journey and wrote a total of 60 songs all the while attempting to rediscover an individual sound. "I started a band, did some recordings here and there, then finally I self-recorded in my room what would become the Streets of Gold album which was released in July 2020. I experimented with bigger sounds and layered production, and it was a challenge. Still, I'm glad I pushed myself to do something out of my comfort zone. However, it taught me that I needed to get back to the basics of singing and playing my nylon guitar. That's where I feel I can truly connect with the song, and hopefully with the listener. I called Roger and booked in some studio time, picked 11 songs and off I went to record Wonder LP. It was by far the most enjoyable recording experience of my life. I'm really proud of the album and feel as if I've found my sound. Maybe it was there the whole time, but I needed to go through what I went through to truly know!"
Grady will continue to release (and re-release) both new and old music over the coming year; a chronology of sorts that highlights the evolution of an accomplished songwriter with a career of ups and downs in the industry, much of which has given Grady plenty of grist for the mill when it comes to creating meaningful art.
"Fame has never interested me; its always been about the songs meaning something to someone."
WONDER TRACK LISTING
Spring
Hiding In The Dark
Lay It Down
Boys Don't Cry
Beggar's Eye
Voices
Wonder
I Escape
Neighbours
Testing The Waters
I Miss You More On Sundays