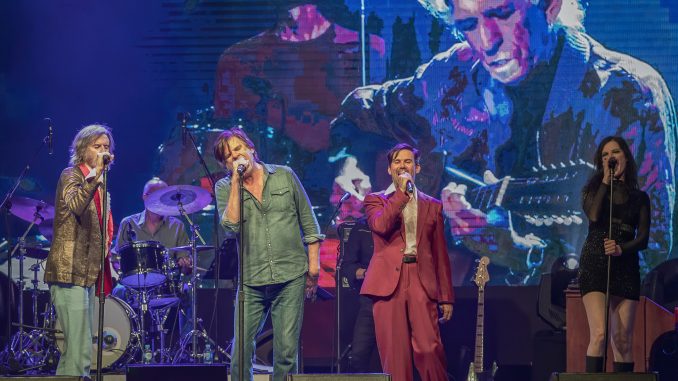 The Stones' Sticky Fingers – Palais Theatre, Sunday February 6, 2022
Reviewed by Nick Corr.
Tribute concerts can engender mixed feelings: at one extreme concerns of regurgitating better known material in an almost pantomime fashion that can even tip across in parody ala Bjorn Again. There was absolutely no danger of that this evening as the love, respect and admiration for The Rolling Stones and their 1971 masterpiece album Sticky Fingers was evident from the performers, backing band and especially the audience from the opening notes of first song 'Brown Sugar'. 
Initially scheduled to celebrate the 50th anniversary of The Rolling Stones Sticky Fingers album in April 2021, it was fantastic on this Sunday night to finally enjoy The Stone's Sticky Fingers show at St Kilda's Palais Theatre.
The setup for the evening made great use of the theatre with a huge screen behind the stage to project images and short videos of the Rolling Stones, their album covers, tour posters and a myriad of versions of the tongue logo. There was even the occasional thematic video  with footage of wild horses, dead flowers, and most effectively Rorschach ink blots during 'Sympathy for The Devil'.
The impressively tight five-piece backing band for the night was Jak Housden (The Whitlams / The Badloves / Tim Minchin) on lead guitar, Dario Bortolin (Baby Animals) on bass, Hamish Stuart (Ayres Rock / Don Walker) on the drums, Rob Woolf (Swoop, Diesel) on keyboards and, to quote from the tour press release, "up and coming local guitar hero" James Christowski on second guitar. They were joined throughout the night by Winston Smith on saxophone and harmonica.
The lead vocalists could legitimately be proclaimed a Who's Who of Australian Rock: Tex Perkins (Cruel Sea, Beasts of Bourbon), Adalita (Magic Dirt), Phil Jamieson (Grinspoon) and Tim Rogers (You Am I). 
Walking on stage appropriately enough to Bob Dylan's 'Like A Rolling Stone', the first set comprised a full run through of the Sticky Fingers album, with Tim Rogers kicking things off in full swagger with 'Brown Sugar'. Tex Perkins and Adalita's duet on 'Wild Horses' was particularly affective. Phil Jamison was the biggest surprise, leading 'Can't You Hear Me Knocking' into an extended jam with Phil and Tim Rogers duelling on maracas. Adalita was also great on a solo country pop flavoured 'Dead Flowers'. 
After a twenty-minute interval a second set of Rolling Stones greatest hits kicked off with Phil Jamison almost taking the roof off the Palais with 'Start Me Up'. His disco strut through 'Miss You' later in the second set was one of the evenings many highlights. Adalita's keyboard-heavy, 60s girl group arrangement of 'Ruby Tuesday' was also fantastic. Unsurprisingly Tex Perkins shined on the hard-edged rockers like 'Paint It Black' and 'Sympathy for the Devil' where he could open up his guttural Beasts of Bourbon  howl. Tim Rogers turned 'Midnight Rambler' into a full strip tease as he writhed on the floor with Winston Smith working overtime on harmonica. 
Returning for a high energy encore, kicked off by Tim Rogers with 'Jumpin' Jack Flash' before all four vocalists returned to stage to trading verses on 'Gimme Shelter' and a show closing 'Satisfaction'. 
 Setlist:
Set 1:
Brown Sugar (Tim Rogers)
Sway (Tex Perkins)
Wild Horses (Tex Perkins & Adalita)
Can You Hear Me Knocking (Phil Jamison)
You Gotta Move (All)
Bitch (Tim Rogers)
I Got the Blues (Phil Jamison)
Sister Morphine (Tex Perkins)
Dead Flowers (Adalita)
Moonlight Mile (Adalita & Tex Perkins)
Set 2: 
Start Me Up (Phil Jamison)
Paint It Black (Tex Perkins)
Let's Spend the Night Together (Tim Rogers)
Ruby Tuesday (Adalita)
Angie (Tex Perkins)
Midnight Rambler (Tim Rogers)
Beast of Burden (Adalita & Phil Jamison)
Miss you (Phil Jamison)
Sympathy for the Devil (Tex Perkins)
You Can't Always Get What you Want (Tim & Adalita)
Encore:
Jumpin' Jack Flash (Tim Rogers)
Gimme Shelter (all)
Satisfaction (all)