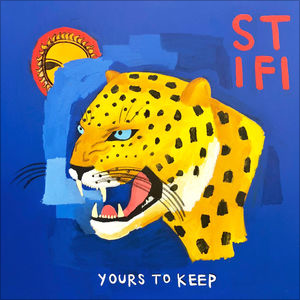 By Matt Rocke
Coming Unstuck
Sticky Fingers fourth album, Yours To Keep, is a bridge over troubled waters. The licence granted to rock stars in the seventies to behave as they liked was revoked by those of the aggrieved generation of this new millennium.
Such is the world nowadays, accounts of  disagreeable conduct on the road are amplified louder than a Marshall stack ever could.  So it came to pass lead vocalist Dylan Frost and his band mates ignited the ire of the liberal and social media to became an example in the maelstrom of gender and racial politics in the music industry. There were calls for boycotts.
Lamentably and maybe as a result, Yours to Keep is not its namesake. It suffers through the band's fall from favour and its self imposed hiatus.
The opening salvo 'Sleep Alone' is uninspired. 'Lose Ends' follows as watery punk pop. It's only at 'Another Episode' we get some percussive power, a track navigating troubles. 'Not Done Yet' continues the theme, a better ballad that feels for the first time like a conversation directly to fans about loneliness and self-destruction. Unfortunately, the spine of the album lacks similar emotional intensity, being mainly composed in the third person. The record does hit a stride late with the floating Spanish infused 'Sleeping through the Flood' and the driving 'Sunsick Moon'. But the set then tapers out referencing their precursor record 'Westway', which was in turn built off the pugnacious 'Land of Pleasure' album from 2014, which rocketed Sticky Fingers into the stratophere.
This new album is sadly stymied and self pitying.  The band really needed to give the middle finger to its detractors, innovate their reggae/rock sound and land on their feet. Instead they've stuck too close to their knitting and produced a tea cosy. In the end it hurts to say, it's just not there.