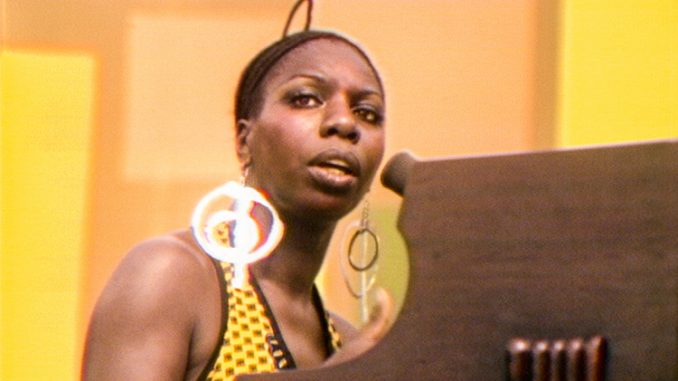 Review by James Gaunt.
Summer of Soul (…or, When the Revolution Could Not Be Televised) is a new documentary featuring footage, unseen for half a century, of a vibrant but forgotten music festival in 1969. 
While the Woodstock Festival, which happened in August 1969, has gained mythical status, a few months earlier in Harlem, a series of free concerts were held featuring Nina Simone, Mahalia Jackson, Gladys Knight, Stevie Wonder, and more.
The third annual Harlem Cultural Festival was a six-day celebration of black music and culture held in Harlem's Mount Morris Park. The concerts were filmed and initially aired as two one-hour TV specials, but otherwise have rarely been seen.
It's been over 50 years since the festival was held, and Summer of Soul includes several short segments giving context to that period. Harlem was considered a ghetto in the 60s, Martin Luther King Jnr's assassination was still on people's minds, the Vietnam War was ongoing, and while the festival was being held, mankind took a first step on the moon.
Some of the original performers are interviewed and Gladys Knight tells us what it meant to be on stage in front of a mostly black audience: "I knew something very, very important was happening in Harlem that day. It wasn't just about the music."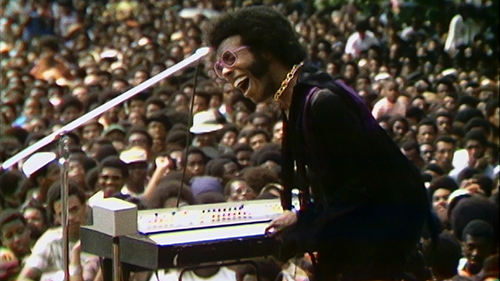 Included alongside these reflections are interviews with people who were in the audience. One shares her story of sneaking out to see Sly and the Family Stone, while another is relieved to find out the concerts weren't a dream. "I'm not crazy!" he cries as he watches the footage along with us for the first time.
Unfortunately, fitting six days' worth of music into a two-hour documentary means not everything can be seen. B.B. King performs one full song, but others like The Fifth Dimension are interrupted by talking heads, while many more only appear in passing.
Stand out performances include seeing Stevie Wonder on drums in the opening, Mahalia Jackson sharing the stage with Mavis Staples, and Nina Simone captivating her audience with a powerful poem near the end.
There's a lot to enjoy, and it must have been a difficult decision deciding what to include. There's a great balance between performances and interviews, but you can't help wanting more, and hopefully an extended cut is eventually released, much like the various extended editions of Woodstock that have appeared since 1969.
The question of course is, if this had been released in cinemas back then would it have had the same cultural impact as other memorable concert films?
Near the end of Summer of Soul the film attempts to answer this. Hal Tulchin, who filmed the festival, tells us he tried to sell the footage, but no one cared. Others tell us this part of history would have had a positive affect on everyone who saw it, had they been able to do so.
Now that cinemas are reopening Australia wide, Summer of Soul can finally be seen. Visually, it will blow you away, and it is well worth watching on a big screen if you have the chance. But even on a small screen at home the music is incredible, and we are lucky we can finally experience this piece of history.
Summer of Soul (…or, When the Revolution Could Not Be Televised) is now streaming on Disney Plus and showing in select cinemas around the country.