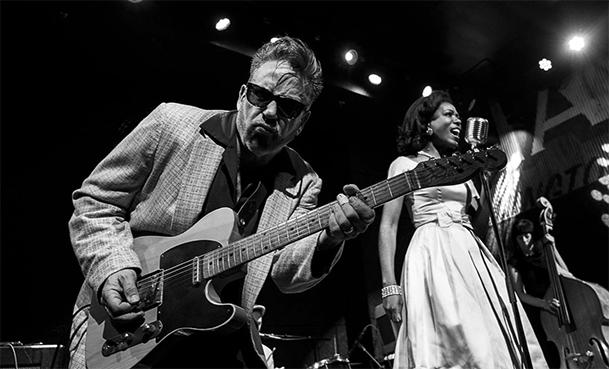 Rockin' The Night Away: Celebrating Everything Retro!
By Megan Gnad
The Tammi Savoy and The Chris Casello Combo show at this year's Bello Winter Music Festival will be a celebration of everything retro, Rockabilly, and vintage R&B.
Used to wowing crowds individually, and as a duo, the Australian performance brings together two exceptional talents; Savoy, the 2019 Ameripolitan Awards' Female Rockabilly Artist of the Year and Casello, the Rockabilly Hall of Fame Guitarist, and Ameripolitan Awards' Musician of the Year.
The shows this month will be Chicago-native Savoy's first time to Australia, and she's excited about bringing both new and historic material to their set.
"I like to sing a lot of obscure songs from the 50s that people don't know a lot about, to bring attention to it again," she says. "It's mostly rhythm and blues, jump blues, and it's funny because some people think the covers I do are originals. We do have originals in the show we do, but sometimes the covers are so obscure people don't even know (about them)."
Recognised for her classic vintage style, Savoy says the variety of genres she grew up listening to had a great influence on her musical taste. She is also the younger sister of the multi-platinum contemporary R&B group, "Next". 
"A lot of the music (I perform) was what I listened to growing up because my parents listened to a lot of it, and those were my fondest memories growing up," she says. "We listened to Motown, gospel, funk, jazz, a lot of different genres, R&B… We need to keep it alive, because it's so good."
By working with Chris Casello – the second-generation inductee to The Rockabilly Hall of Fame, who has worked with Johnny Powers, Jack Scott, Billy Lee Riley, Bo Diddley, Wanda Jackson, Wayne Hancock, and Marty Stuart – Savoy says the set has been sharpened even further.
Since the duo first met at a gig in Chicago, they've released a six-song CDEP, a 7" vinyl record on Swelltune Records, and have taken their performance to festivals and shows across the US.
"I really like working with Chris, we get along very well," Savoy says. "We're like yin and yang, because I'm very calm and chill, and when he plays on stage, he calls his style 'wild guitar', that's what he plays. So, I'm the mellow one on stage and he's the wild guitarist. It's like yin and yang, but it's always fun."
Currently working on another 45, Savoy and Casello are also developing new songs to add to their repertoire, and look forward to starting work on a new album soon.
Prior to the Bello Winter Music Festival, and six Australian performances, Savoy also has tour dates and appearances planned in Europe, and a Rockabilly celebration weekend booked in Las Vegas.
"There is a revival (for Rockabilly music), I feel like it is getting a little bigger…I'm going to a Rockabilly weekend in Las Vegas soon, and they have a big celebration, a car show, and lot of people come from all over the world. Last year, they had Jerry Lee Lewis, there have been the Stray Cats, and Brenda Lee was there one time, so they bring a lot of big names. It's very nice, people look forward to this and they plan a year in advance.
"This music brings a lot of joy to people, and that's the whole reason I like to sing, because I do like to bring joy."
TAMMI SAVOY AND THE CHRIS CASELLO COMBO LIVE IN AUSTRALIA!
Friday July 5 Meeniyan Town Hall, Vic
Sat July 6 Caravan Club, Melbourne
Sun July 7 Thornbury Theatre, Melbourne
Wed July 10  Oxford Arts, Sydney
Thurs July 11 Lizotte's, Newcastle
July 12 & 13 Bello Winter Music, Bellingen, NSW
Sun July 14 Lefty's, Brisbane