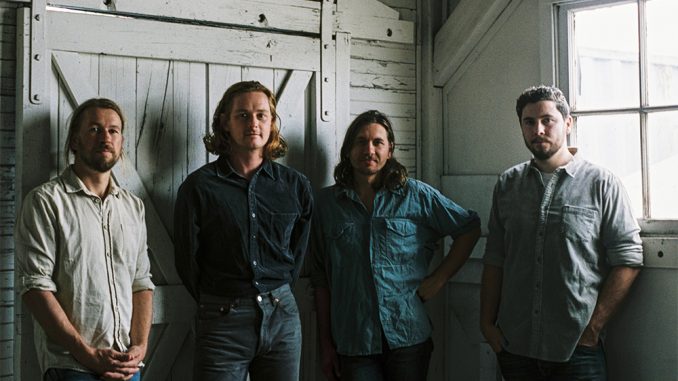 The Teskey Brothers for being honoured at tonight's ARIA Awards, winning Best Group, Best Blues & Roots Album and Engineer of the Year!
The event also saw the band perform 'Rain', lifted from The Teskey Brother's second and celebrated album on the night, Run Home Slow.
The other big winner was pop artist Tones and I, who won 4 ARIA Awards, including Best Female Artist, Best Pop Release, Breakthrough Artist presented by PPCA and Best Independent Release. 
Other ARIA winners included Paul Kelly for Best Adult Contemporary Album (Nature) and Best Classical Album (with James Ledger), Kate Ceberano and Paul Grabowsky (Best Jazz Album, Tryst) and the Melbourne Ska Orchestra (Best World Music Album, One Year of Ska).
For a full list of winners go here: ARIA AWARDS
The ARIA Awards top off what has been a huge year for the Teskey Brothers. Last week Run Home Slow was also nominated for a Recording Academy Grammy Award for Best Engineered Album, Non-Classical! The category recognises Paul Butler & Sam Teskey as the album engineers along with Joe Carra as mastering engineer. 
The Grammy nomination announcement followed four Music Victoria Award wins – including the Premier's Prize for Best Victorian Album, Best Band, Best Song ('So Caught Up') and Best Regional/Outer Suburban Act.
Run Home Slow debuted at #2 on the ARIA Album chart in August and stayed in the top 7 for four consecutive weeks. The release week also saw Run Home Slow and their debut, Half Mile Harvest sit at #1 and #2 respectively on the iTunes Album Chart.
The Warrandyte four-piece have just a handful of shows left of their completely sold out, 16-date Australian tour of Run Home Slow. This tour follows on from a huge UK and Nth American run, which included a performance of 'So Caught Up' on Jimmy Kimmel Live.
ARIA WINNERS INCLUDED:
Album Of The Year:
Dean Lewis – A Place We Knew (Island Records Australia/Universal Music Australia)
Best Male Artist:
Dean Lewis – A Place We Knew (Island Records Australia/Universal Music Australia)
Best Female Artist:
Tones And I – Dance Monkey (Bad Batch Records/Sony Music)
Best Group:
The Teskey Brothers – Run Home Slow (Ivy League Records)
Breakthrough Artist presented by PPCA:
Tones And I – Dance Monkey (Bad Batch Records/Sony Music)
Best Pop Release:
Tones And I – Dance Monkey (Bad Batch Records/Sony Music)
Best Soul/R&B Release:
Kaiit – Miss Shiney (Alt. Music Group/Ditto Music)
Best Independent Release:
Tones And I – The Kids Are Coming (Bad Batch Records/Sony Music)
Best Rock Album:
Amyl and The Sniffers – Amyl and The Sniffers (Flightless Records)
Best Adult Contemporary Album:
Paul Kelly – Nature (EMI Music Australia)
Best Country Album:
Morgan Evans – Things That We Drink To (Warner Music Nashville)
Best Hard Rock/Heavy Metal Album:
Northlane – Alien (UNFD)
Best Blues & Roots Album:
The Teskey Brothers – Run Home Slow (Ivy League Records)
Best Children's Album:
Dan Sultan – Nali & Friends (ABC Music/Universal Music Australia)
Best Comedy Release:
Arj Barker – Organic (Universal Sony Pictures Home Entertainment)
ARTISAN AWARDS
Best Cover Art:
Emilie Pfitzner for Thelma Plum – Better In Blak (Warner Music Australia Pty Ltd)
Engineer Of The Year:
Sam Teskey for The Teskey Brothers – Run Home Slow (Ivy League Records)
Producer Of The Year
Dann Hume for Matt Corby – Rainbow Valley (Matt Corby/Island Records Australia/Universal Music Australia)
FINE ARTS AWARDS
Best Classical Album:
Paul Kelly, James Ledger – Thirteen Ways To Look At Birds (Decca Australia/Universal Music Australia)
Best Jazz Album:
Kate Ceberano and Paul Grabowsky – TRYST (ABC Music/Universal Music Australia)
Best Original Soundtrack or Musical Theatre Cast Album:
Various Artists – The Recording Studio (Music From The TV Series) (ABC Music/Universal Music Australia)
Best World Music Album
Melbourne Ska Orchestra – One Year Of Ska (ABC Music/Universal Music Australia)