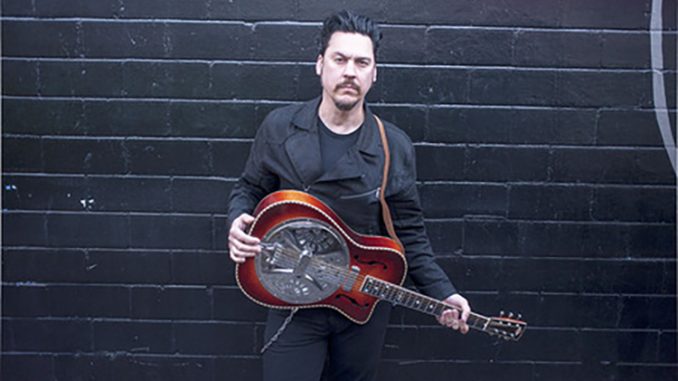 Texan guitarist Jesse Dayton has worked with a Who's Who of country artists, has his own impressive recordings and now has a memoir and a CD to go with it.
By Brian Wise.
When I think about Jesse Dayton's career, I am reminded of the film 20 Feet From Stardom about backing singers who deserve more recognition. Not that the 56-year-old guitar slinger and singer has remained in the background with sixteen albums behind him. It's just that he seems better known for his work with legends such as Waylon Jennings, Johnny Cash and Willie Nelson than his own recordings.
That is set to change in late July when Dayton hits our shores with his band and brings us his own special brand of what comes across as country-blues-rock with a voice that is every bit as imbued with character as the legends with whom he has worked.
Dayton happens to come from Beaumont, Texas, home to Barbara Lynne and Johnny & Edgar Winter and he has also recently published a memoir, Beaumonster (of course) about his experiences. There's also a CD of the same name with songs from some of his mentors. Three years ago, he also released Mixtape Vol.1, a really fine album of ten interpretations of some of his favourite songs. As a sidelight, Dayton has also made some music for and appeared in horror movies by Rob Zombie and has even made his own horror movie about New Orleans starring Malcolm McDowell!
Dayton was due to tour here last year, but Covid here nixed that. Then he was set to appear at the Glastonbury Festival in June this year but caught Covid himself and had to cancel.
"That's the one show that has been looming large in the clouds that are passing over my brain these days," says Dayton from his home in Austin. "But I did get a text from Joe Strummer's widow Lucinda, and she said, 'Don't worry. We'll have you back next year'."
Dayton's fascinating background in music dates back to his sister's Laurel Canyon record collection, which probably explains why Jackson Browne's 'Redneck Friend' and Neil Young's 'Harvest' are on Mixtape in fabulous incarnations.
"It was really interesting," he responds, "because I grew up on the Texas Louisiana border and New Orleans was actually as close as Austin was to where I grew up and it was a really interesting time being a kid in the '70's back then and even the 80's somewhat, because they had all this great rhythm and blues, all this great Cajun and country. We had a 24-hour French DJs.
"We didn't get the rock and roll stations. We had to tune in from either Lafayette or Houston and then we finally got that when I was 15 but it was a lot of country music and a lot of roots music. My older brother and sister were going off to school and they were hanging out in Austin, and we were still all listening to the radio. If 'Jail Break' came on by Thin Lizzy, we would all shake our fists in the air for three minutes but just having those colloquial kinds of music I think put a different slant on what would become my journey."
"There was a huge country scene there," explains Dayton when I ask him about the music scene in Beaumont. "George Jones cut his records there, Lefty Frizell, and they actually had a studio and record label all set up down there for a while and like they do with everything, they make a lot of money and they moved to Houston. My mom went to a small college with Janis Joplin. 'Gatemouth' Brown's from Orange. That was the next town over. There was quite a fertile music scene."
Dayton began playing piano as a youngster, then drums and finally took up guitar and within three months had a gig. "My parents had mandatory piano lessons," he explains. "My parents were the first ones to make it out of the oil field. They went to college and decided their kids were going to have proper piano lessons and so we did that and then I played drums and all kinds of little country bands and rock bands, blues bands and then I got a guitar and I had a gig. I think three months after I picked up a guitar."
Then he was discovered by the great Texas music legend Clifford Antone who loaned him album and convinced him to move – first to Houston and then to Austin where his career took off. While appearing on a TV show in Nashville he met and got to back Kris Kristofferson and was seen by Waylon Jennings who rang him the next day and recruited him to play on a track at Woodland Studios. 
"When I was 15, I had one of my first gigs at a little place called the Boulevard Club," says Dayton of his first encounter with Antone. "He showed up with Sugar Bear [Allen Black] his bodyguard and the Continental Man. He looked like he was full on New Orleans Mafia but Clifford was this Lebanese guy from Port Arthur, whose family knew my family. My brother was friends with Clifford, so there was a connection there. He gave me some really great blues records when I was 15. He gave me a Buddy Guy record, a Slim Harpa record, a Muddy Waters record. I think he gave me a Lazy Lester record and trying to give me some stuff that was from around where I grew up."
"That was the beginning of the whole thing," says Dayton. "I met Johnny Cash and I got to play with him and then I got to record with Willie and Kris and Glen Campbell and Ray Price, and it just happened that way."
"I had to get through high school first," he adds, "so I would just drive up on the weekends to go see Joe Ely and go to Antone's and try to sneak in or I would just hang out in the front and smoke cigarettes and then eventually I did move there. I lived in Houston for a while too, in a crazy artist area in Houston and Lucinda Williams actually lived there too at the time. That was a great scene too. I would just go back and forth from Houston, Austin. Finally, I just moved to Austin and started just playing joints, playing the places."
"What happened to me was totally wild," continues Dayton. "I got asked to be on this TV show in Nashville and I went there and it was real square and I was fresh out of the Continental Club with tattoos and all the influence of that scene. I was just like, 'Oh well, this will be cool for my parents. My family will see that I'm on TV.'
"It was the only National Country Music television show at the time and then Evelyn Schreiber, this executive from Nashville walks in and she goes, 'Hey, Kris Kristofferson's going to be on the show tonight and I want you guys to meet.' I was like, 'Oh well, this just got way cooler.' So I hung out with Kris that night and he said, 'Hey man, you want to go to the Gibson Guitar Factory?' I'm like, 'Well, they probably won't let us in, Kris, because it's nine o'clock at night'. He goes, 'Oh, they'll open it for us.'
"We got in the back of a town car and we smoked two joints back to back and talked about music and all these subversive writers and just really got on really well. Then the next morning I was leaving and I got a phone call and this voice was like, 'Hey I tracked you down, saw you on TV with Kris last night'. I was like, 'Who is?' He said, 'Waylon Jennings'. I went to Woodland Studios, man, and played on this song that he cut for this tribute record and at the end of it, he goes, 'Hey, I'm going to call you back for some more stuff'. I was like, 'Please do, please.' He called me two weeks later, we went back in and made the record. I played guitar on it right for the time.
"That was the beginning of the whole thing. I met Johnny Cash and I got to play with him and then I got to record with Willie and Kris Kristofferson and Glen Campbell and Ray Price and it just happened that way."
"It's very hard to keep up the standard,"laughs Dayton. "I mean anytime anybody says anything to me about being nervous or scared, I'm always like, 'Well, I got to play with Johnny Cash, so it can't ever be that terrifying'."
Not a bad start to a career, I suggest.
"I mean, it's all been downhill ever since," he laughs.
Not quite. Dayton's first solo album, Raisin' Cain (1995) featured Doug Sahm, Flaco Jimenez and Johnny Gimble!
That's a fantastic musical education. Being able to play with all those music legends was not only a great grounding in music but it shows on Dayton's recordings. (He has made 16 albums in all).
"I mean, it's nothing that you plan on it was just because I was really into that music. I mean I still am, but at that point I was force feeding myself large helpings of lots of hillbilly and country and blue grass and just all kinds of country music."
Dayton's latest album is titled Beaumonster which is also the title of his memoir. The album reflects the musical influences that are name checked in the book.
"I got to play with some cool punk rockers in my day and got to play guitar in X, when Billy Zoom got sick and did a whole tour with them," explains Dayton, "and got to do David Letterman with John Doe and toured with Mike Ness from Social D. Some of that's in there too. It's the crazy journey and it's still crazy, Brian. It's still happening since the book came out. Last Halloween, I did two shows with Dansig, where he sang all Elvis songs."
You can also hear Dayton's interpretations of some classics on his album Mixtape Vol.1 (available on Bandcamp). It contains songs from Neil Young, Jackson Browne, Elton John, Bruce Springsteen, Gordon Lightfoot, Dr Feelgood, The Cars, and even AC/DC.
"No," he replies, "but I did get the Elton John song. He played it on his radio show and then gave me a shout out like two weeks in a row and said, 'Hey, this guy can really sing this song'. Then he gave me a tweet and of course, I walked like a school girl all day, or school boy, whatever clothes you're dressed up in!
"I am a product of that music and that era and that FM radio. The thing that I understood early that I think a lot of my friends didn't understand, was a lot of those musicians who got put into mainstream or FM or whatever, they were just singer songwriters. They were just singer songwriters and that wasn't that different from Tom Waits in terms of the fact that before they had their success, they would all go in and do those songs. I see that in Neil Young and Elton and all that stuff.
"Jackson Browne, I'm a huge fan of Jackson Browne, man. I don't know why no one's recorded his songs more. I mean, 'These Days' was done by a few country acts, but I was listening for this song ['Shaky Town'] the other day. That's a big 10, four. From your back door, just put that hammer down. I was like, 'Wow, man!'
"Also, people don't realise that James Taylor wrote one of the best George Jones songs of all time, 'Bartender Blues'. They think, wow, that soft rock hippie guy. I'm like, no, that guy was like, he was like a big junkie. He was listening to country music and blues. I have a different outlook on the songwriters who've kind of been co-opted by yuppies."
If people hadn't heard Neil Young's original version of 'Harvest' song – and I can't imagine there would be many who haven't – if they heard Dayton's version, they would immediately think that is a country classic song."
"I always say, just think if we would've had cell phones back in the day and all of those rednecks who were listening to Waylon Jennings, do 'Are You Ready For The Country?'" says Dayton. "If they knew that Neil Young, free thinking longhaired anti-war, Neil Young, if they knew he wrote that, they would've probably freaked out a little bit, man."
So, what are we going to hear on the tour? Selections from across Dayton's career?
"I mean, I'll do all my main stuff and I'll throw in some different stuff," he responds. "I mean, we've kind of done this hodgepodge of American music and when I started off, there was a lot of country stuff and now it feels like we can go out there and play anything. It's great. Our fan base is very diversified. We get a lot of people who are like hardcore country fans and or into rockabilly music. We also get an older crowd, who's into the artists that we were talking about and we get blues freaks and punk rockers will show up. It's quite a cool crowd we've amassed."
If Dayton's gigs are anything like his albums this will be one touring act not to miss!
TOUR DATES
Thu, JUL 28 – Cherry Bar – Melbourne, Australia – TICKETS
Fri, JUL 29 – The Thornbury Theatre – Melbourne, Australia – TICKETS
Sat, JUL 30 – Marrickville, Australia – TICKETS
Sun, JUL 31 – Greazefest 2022 – Cleveland, Australia – TICKETS
Beaumonster is available in book and CD.