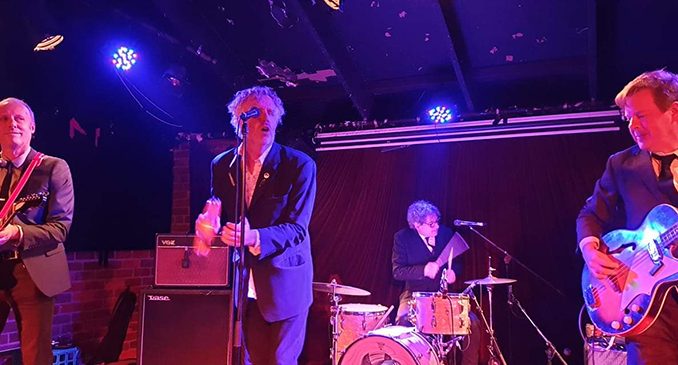 "When I saw that Bob Dylan had to wait sixty years for his first Billboard number one single it made me think that, being together only 31 years, maybe we're getting a bit ahead of ourselves. If we follow Dylan's example then our best is yet to come and we should peak sometime around 2050!"
"Later, Jack White "borrowed" the live to acetate idea and it's now one of the things his Third Man record company use quite a lot. He claims to have "revived" the process. Oh well – Elvis first, Corduroy Records second, Jack White third!" – Cadillac Slim, The Breadmakers
When Willie Dixon wrote "The Same Thing" for Muddy Waters back in 1964, he wasn't talking about what Melbourne's Breadmakers might still be doing after 30 years of playing, but could have been…
The Breadmakers are a Melbourne institution, but are perhaps better known in Japan, Spain and France than they are in some Australian capitals. They formed in 1989 to play early '60s-style Louisiana Rhythm & Blues – they take their name from a Slim Harpo track – having individually cut their teeth in '60s-styled garage rock bands earlier in the decade. 
Their new album, entitled simply The Breadmakers, is their first in over a decade and their most powerful yet. It was recorded in a beach shack in Sorrento by their latest keyboard player Mikey Young, who is best known as the guitarist of influential Melbourne punks Eddy Current Suppression Ring, and for his recording and mastering work with countless punk and garage bands worldwide. Mikey has captured the Breadmakers like never before; loud, stormy and very live sounding. The album includes ten new Breadmakers originals and a couple of covers, including a version of much-feted 1966 Wollongong garage-rock obscurity "Moonshine" by the Marksmen.
Fans of raw '60s R&B – along the lines of the early Rolling Stones, Pretty Things and Kinks and local luminaries the Pink Finks and the Purple Hearts – should check these guys out. As Max Crawddady says, "Can't believe that the BREADMAKERS have only been around 30 years, it really should be 60. Cause that's what one would assume when you hear them. Authentic 60's R&B played with authentic vintage instruments. Raw & Brilliant."
Rhythms caught up with vocalist Dikko "Lazy Dik" Whelan, drummer Scott "Bootpolish" Lacey and bass man Nick "Cadillac Slim" Phillips, a man also well-known for having ran Australia's sole-surviving record pressing plant, Corduroy Records,  in the '90s. We pick things up as Dik is explain the origins of the band… 
LAZY DIK: Nick (Cadillac Slim) Phillips was in the States in '86 and had hooked up with The Tell Tale Hearts , a cool sixties R'n'B influenced band in San Diego. I went over at the same time, and those guys turned us onto all things Dutch/English/German freakbeat and blues.
I was already playing in The Cracked Jaffers, doing punk/garage/jangly stuff, and The Puritans formed quickly after Nick's return, playing straight-up "savage" R'n'B. We started playing a lot together in that local Garage scene, and with other bands like Tyrnaround, The Moffs, The Bo Weevils, Mathmos and a band from Wollongong, The Unheard.
When (Homesick) Gordon Johns from The Unheard moved to Melbourne, with a cool collection of records produced by legendary Louisiana producer Jay Miller, The Breadmakers were born. Nick and Scotty (Bootpolish) Lacey from The Puritans, along with Davern (Hoodoo) White from The Bo Weevils, Clive (Smokey) Shepherd, a rad honky tonk piano player, and myself decided we wanted to play some of this swinging, hip shakin' party music. Artists like Slim Harpo, Lazy Lester, Tabby Thomas, Charles Sheffield, Katie Webster, Guitar Junior as well as the more well-known Berry/Diddley/Reed/Hooker/Wolf/Waters. It was cool, and no one else was doing it.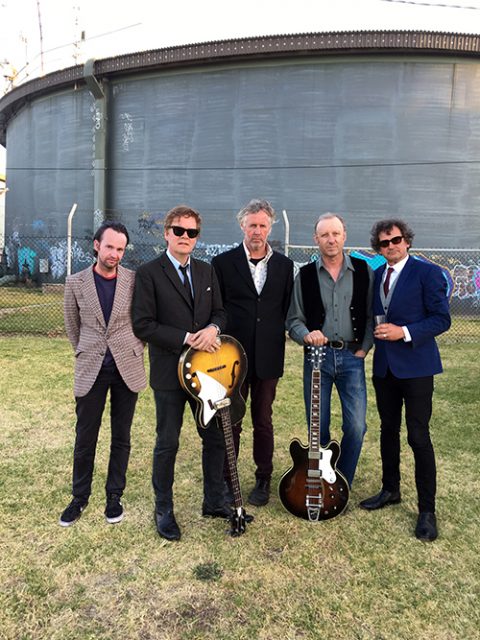 BOOTPOLISH LACEY: It was the perfect regression for us. The Stones put us on to the artists that had inspired them, and we then fell in love with Swamp Pop on our first date! The sounds were more soul-styled and swinging, so that when we worked out how they went and started playing them everyone would get moving!
LD: Through the 90's, Gordon, Smokey and Hoodoo moved on, to be replaced by Mick "Blacktop" Brierley, and Cameron "Cajun Spice" Peters. The sound pendulum swung slightly back to our Garage/R'nB roots, which continues up to this day. Mikey "Gumbo Squires" Young took over on keys from Cajun in recent years.
What led you to this '60s music in the first place. I know earlier on you guys were into things like the Sunnyboys and the Saints??
LD: Yep, and The Lime Spiders, Birdman etc.
CADILLAC SLIM: I loved the Sunnyboys at school, we used to sneak in and see them play at pubs when we were underage, thanks to our artfully handmade fake ID's! I used to sit next to Paul Thomas (Huxton Creepers, Weddings Parties Anything) in Physics class. I didn't learn much Science that year but I did learn plenty about the Sunnyboys, Missing Links, Pink Finks etc.
As life-long fans of the Sunnyboys we were all chuffed to read Pete Oxley's comments after we supported his band one night recently: "I just saw the Breadmakers actually. I've been playing with Ed Kuepper and they played with us at the Caravan Club. They were fantastic. I loved them. That's the sort of music that you should play before you die. You don't play country music as you get older, you play '60s garage rock".
Nick, in the '90s you ran the only vinyl pressing plant in Australia, Corduroy Records.
CS: Yes, I was lucky enough to run the pressing plant for a fabulous 10 years. We had a huge amount of fun (maybe too much!) and met lots of crazy and cool people. That was where I first met Mikey Young when we worked together there. When we finally managed to get our own record acetate cutting lathe, I had the idea that I wanted people to be able to record live straight to acetate, like Elvis had done as a present for his mother in 1953. And because we had a record factory as well, we could then make actual vinyl copies from the acetate rather than it just being a one off. When bands were touring from overseas that we liked we would invite them in to have a go. Because pretty much any decent bands are vinyl fans, they were all happy to come down and do it. So, we had The White Stripes, Dead Moon, Bob Log III, Wayne "The Train" Hancock (who was fantastic!) and a bunch of others. One of my favourites was Sonic Youth who agreed to come down and cut a 7" one night on their tour. They ended up getting so into it. They raided our kitchen for pots and pans to hit and eating utensils to scrape their guitar strings with. A lot of beer was consumed and the single 7" somehow morphed into a full double album!
Later, Jack White "borrowed" the live to acetate idea and it's now one of the things his Third Man record company use quite a lot. He claims to have "revived" the process. Oh well – Elvis first, Corduroy Records second, Jack White third!
The band has played overseas seemingly numerous times. Tell us a bit about the scene in places like Spain and Japan that you are part of.
BL: We went back to Spain last year to play The Wild Weekend—a crazy world-wide meeting of the hip-shaker minds—so fun and with just the right element of sleaze! We always get there via Japan. Boy do the Japanese know a thing or two about how throw a R'n'R party! Because we have travelled a few times, people come out which is ace!
CS: There's a tour promoter in Japan who, more than 20 years later, still breaks out in a cold sweat at the mention of Bootpolish Lacey's name! But yes, we love Japan and Spain, and also France! Such enthusiastic crazy audiences and we've sort of built up friends in the different countries. In Japan we have long associations with the guys from Teengenerate, Guitar Wolf and especially The Faceful who are like family to us. When our pal Sawa the guitarist married Mayuko the singer, instead of going on a honeymoon the band came and did a bunch of shows with us in Melbourne. Now that's what I call the rock n roll spirit. There's one Breadmakers video you can see on YouTube where we are playing at the Tote and one of the Faceful band members got so overexcited that he stripped off all his clothes, climbed on stage with us and stood on my bass amp. Somehow, I hadn't realised until I turned around to turn my amp up and saw my hand heading towards something I wasn't intending to grab onto! You can still see the video – the song is "Outta Gas", live at the Tote. He certainly gives a whole new meaning to vigorously shaking his maracas!
The band's early records were recorded with Preston Records' rockabilly and R&B wildman Graeme Thomas, and new album with 'young' punk Mikey Young of Eddy Current Suppression Ring, who is now also in the band. How do the two compare to work with? Tell us about the shack in Sorrento Mikey recorded you in??
LD: Ha. Poles apart, but both heavily into what they were doing. Graeme was loose as, sipping Martinis, and somehow wrangling that vintage one-track recorder of his. Preston Studios reeked of old school cool…actually felt like an authentic 50's recording studio. The only drawback was having to do take after take before we, and Graeme, nailed it.
Mikey, on the other hand, can, and will, record you anywhere. We play live, and as we are marginally better players these days, we can get it done pretty quick… This time we recorded in a log cabin type arrangement which is a storage/youth centre for the Sorrento Life Saving Club. Yep. It sounds way better than it should, but Mikey is the master of mic placement, and he can take what he captures home and weave some extra magic. Dark arts.
BL: I reckon they are actually quite similar! Both are absolute professor strength in technical knowledge, musical prestige (different subject-matter expertise of course) and are men of few, carefully considered, words. Until of course you get them going and they won't stop! Both constantly experiment with studio lay-outs and mic placement. Both do world-class fade-outs! Graeme just did his on the fly, and mixed on the fly, which is why we had to do several takes. He had to know where everything fitted, because when we finished the take, that was it! Recorded and mixed! So cool!
The new album continues the themes and sounds that your earlier stuff worked – mystery, and stormy nights. Who writes the songs and where does that inspiration come from??
BL: We all had a hand in writing. Cadillac Slim has always been a prolific writer, so the rest of us have to work it to get in the picture. We all have a say in arrangement, so our individual ideas can be quite loose (and usually end up that way). This time around Slim had an early start job so he had to leave practice early, so Dik, Tops and me were left to our own devices! That's where "The Savage", "Monkey Do" and "Take The Lot" were written. We were goof-ball kids in way above our heads!
CS: I guess I've done the bulk of the writing over the years but whenever I take a song to the band, they always change lots of bits and Lazy Dik often changes the lyrics (despite my protestations!) Blacktop is also great for inspiration because he's ALWAYS noodling away in between songs at practice making up little riffs and chord sequences.
As Bootpolish said this LP is the most collaborative with everybody contributing at least a couple songs or lyrics. And I really love the other guys' songs. When I hear them, they really sound like the Breadmakers, but they are something I just never would have thought up myself.
As for the themes of mystery and stormy nights, it's hardly surprising when the first song we ever learnt together as a band was "It's Your Voodoo Working" by Charles Sheffield, closely followed by Lazy Lester's version of "Bloodstains On The Wall". As the Romans would say alea iacta est – the die had been cast! Also, Bootpolish and I were obsessed with re-runs of the old B&W Perry Mason episodes (Perry features in the animated video for Hoodoo Nightspot and there's a song about his secretary Della Street on our second album!) The label I started to put out the Breadmakers' stuff was called Corduroy Records and Detective Agency. A coincidence? I think not!
Over a decade since your last album? How come? And what can we expect next?
CS: 'Fine wine takes time'! We're in no hurry. We ain't going nowhere! I was just saying to the band the other day that we might be rushing things a bit. When I saw that Bob Dylan had to wait sixty years for his first Billboard number one single it made me think that, being together only 31 years, maybe we're getting a bit ahead of ourselves. If we follow Dylan's example then our best is yet to come and we should peak sometime around 2050!
The Breadmakers new album is available here: The Breadmakers