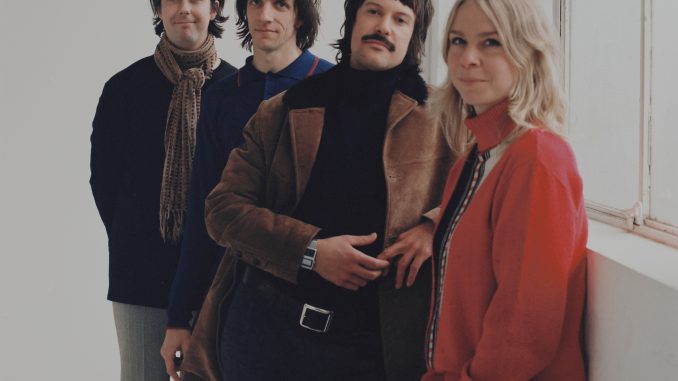 By David Laing.
"WE LIKE TO KEEP IT SIMPLE, BUT WE LONG TO TAKE IT SOMEWHERE ELSE"
Melbourne garage-folk-pop group the Girlatones have just released their second album.
The Girlatones are a newish Melbourne combo who've just released their second album Horn If You're Honky. Rhythms readers may be familiar with guitarist Leah Senior, who has released two singer-songwriter/folk-oriented albums in recent years. In the Girlatones, Leah plays second fiddle to her partner Jesse Williams, who writes the songs and does most of the lead singing. 
Jesse writes songs that are at once funny and heartbreaking, naïve and clever. He writes great melodies – simple folk-pop kind of things – and sings them in a voice that is always searching earnestly for the right note, musically and emotionally. The band has a charming sound – loose, with bright electric and acoustic guitars, occasional organ and a solid beat. What they most remind me of soundwise is probably the second Go-Betweens single, 'People Say'/'Don't Let Him Come Back', which was released on the Able label in 1979. This was before the Go-Betweens got a bit drab; the Girlatones have the same sunny tones and colours – lots of yellows and oranges  – and a similar endearing awkwardness. It's the awkwardness of innocence, and it's not something that can be faked. 
The Girlatones are a bit more rock'n'roll than the Go-Betweens though; I can certainly hear echos of early Real Kids' songs like 'All Kindsa Girls' and 'Common at Noon', especially in some of the guitar licks. The Real Kids were formed in mid-'70s Boston by John Felice, who had co-founded the Modern Lovers at the age of 15 with his slightly older neighbour Jonathan Richman but isn't on the record because he couldn't cut school. Real Kids songs are honest and heart-rending, and John Felice has a uniquely stylised sense of melody; simple but unique and immediatelyrecognisable, just like Girlatones songs and just like Jesse. It's something that Jesse encapsulates in a line in 'One Chord Too Many', the opening track on the Girlatones' new album: "We like to keep it simple, but we long to take it somewhere else."
'One Chord Too Many' also has echoes of Jonathan Richman. It's a love song to the perfect chord, and it captures the same sense of mystery as the Modern Lovers' 'Roadrunner'. 'The Saddest Synth' is more like Richman in his late Beserkley Records period. A childlike ode to a synth that could only play minor chords, it is, of course, a love song to sad songs.  The piano-based tearjerker 'Get to The End' is an actual sad song and sounds like a teenage version of the Apartments, who were labelmates of the Go-Betweens on Able in '79 (which was the same time that the Go-Betweens nearly became labelmates with Richman on Beserkley).
'2 Young 2 Forget' is another highlight, and, like quite a few of Jesse's songs, it also reminds me a little bit of early Jagger/Richards compositions like 'Some Things Just Stick In Your Mind' (as covered by Vashti Bunyan) and 'So Much In Love' – naïve attempts at classic pop, loaded with teenage drama. 'Pop Stars' also stands out, and, while it's basically a good natured dig at shallow ambition, it hits a touching note in the refrain: "It can be hard to take/When people don't like your music/and your dreams don't come true". 
The Girlatones' first album, 2017's Fitting In Well, has some fabulous tunes on it too, including the almost power pop 'You're My Friend', with strummy guitars coming out of the speakers like a low-budget version of the intro to Dave Edmunds' 'Girls Talk', and the rockin' pop of 'Share The Love'. There's also the charming title track in which Jesse bemoans having to hang out with boring career types, which includes classic lines such as, "'Which university did you attend?'/'Who gives a fuck?!'" and "You might invest in property but we've got cool guitars".
I asked Jesse to bring us up to speed with the band's progress and tell us about some of his musical favourites. 
So can you briefly tell me how the band was formed and what was the impetus to form it? You'd only just started writing songs yeah? Do you think there's a particular scene out of which the band appeared, or in which it exists?
I'm not sure if the band came out of a certain scene. Initially we played with bands that friends of ours played in. I think a lot of Melbourne is like that. From that you get to hear other bands at gigs and if you like them maybe you'll play a show together… The circle keeps growing. We have a bit of a power pop sound but that doesn't always fit in the Melbourne musical landscape so we more will opt to play with bands whose songwriting we like.
Talk us through your recording process. You record on 4-track yeah? Had you done any of that before the first Girlatones recordings? And have you recorded others, apart from the wonderful Grace Cummings album? 
The band for me has also been about learning about how to record. The first LP Fitting In Well was the first thing I recorded outside of personal demos. I think you go into recording knowing how you want to do things differently from past experiences, then go through the process of learning how difficult it is to attain the sounds you want. Wanting to record myself came out of being told that I 'couldn't' do certain things or make things sound a certain way. And I wondered why not? 
The first Girlatones album was recorded on 4 track. The latest album was recorded on 8 track. 8 track is a good medium. I think it has the right amount of limitations to make the recording process creative and exciting. That said, I've been learning how to record on the computer for the last year too.
Outside of Girlatones' music and Grace Cummings' album, I've been lucky to record music for Traffik Island, Alex Hamilton, Leah Senior, Annual Leaf, Tam Vantage, Chook Race, Permits & Darren Hanlon. Some released, some soon to be.
I think that recording should be a fun and supportive experience, hopefully then the rest should follow. I'm not very fancy. I like things to sound natural.
I love the guitar sounds you get in the studio. Both electric and acoustic. I sense that's really important you. Are there any records you use as a guide? Likewise with Grace's record.   
Glad you like the guitar sounds. There's a particular sound I like for my electric. Somewhat clean but with lots of sustain… Like it's being squeezed really hard. I guess the Byrds or Big Star are good references. Grace's acoustic on "Refuge Cove" I wanted to make full enough to fill out the space. I was listening a lot to The Kinks "Lola Versus Powerman…" album at the time and think I was hoping for a similar tone to the acoustic guitar on the song 'Strangers'.
What are some of your specific musical influences? 
Big Star's "Radio City" had a big impact on my guitar playing. Alex Chilton plays so great on that album. Belle & Sebastian – I love their sentiment. Grateful Dead when they do the folkier thing. Modern Lovers too, probably more so Jonathan's lyrics than the sound of the band. I also like Real Kids, I bought that first album on recommendation when I was a teenager. Connie Converse is awesome, what a ground-breaking songwriter. I really like Jeffrey Lewis's songs as well. I like lyrics that make me laugh. Also the DIY recording ethos of bands like Olivia Tremor Control, Dead Moon, Apples In Stereo & early Guided By Voices has been pretty important to me.
So what next now that the album is out and everyone is holed up inside?
Hoping that we'll be able to do a few belated album release shows whenever they may be possible. We were planning to do some shows in Spain too in October, not sure if that will happen at this point. While we're inside bound, I'll be working on songs for the next album. We recorded half of it at the end of 2019 and I'm slowly making sense of what the other half will be.
The Girlatones' second album Horn If You're Honky is out now on Lost And Lonesome in Australia and Meritorio Records in Spain.