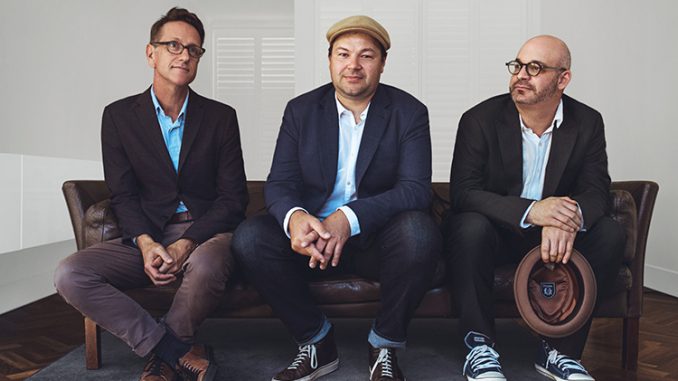 By James Gaunt
After last year's festival was cancelled, this December crowds are returning to the Melbourne Jazz Festival. To celebrate, we're looking at some of the programs highlights, starting with the Jake Mason Trio.
The trio features Jake Mason on Hammond organ, James Sherlock on guitar, and Danny Fischer on drums. They're currently putting the finishing touches to their second album together, a follow up to 2018's The Stranger In The Mirror.
Ahead of their appearance at the Melbourne Jazz Festival, I caught up with Jake to talk about his trio.
How would you describe your sound to someone who hasn't heard you live before?
Being a Hammond organ trio, it's kind of like a 60s easygoing-jazz sort of vibe. Players like Jimmy Smith and guys like that are definitely where we get our inspiration from, but I very much try to put a new spin on it where I can. We don't want to live in the past too much, and there's all the influences from today in there, but superimposed over that classic instrumentation in the 60s.
For me, the Hammond has a sound that brings you back to a certain time.
Well, If you're if you're into organ players, I'm not sure if you've come across Larry Goldings? He's a modern organist, and he's amazing. On his solo records he's managed to take an instrument from the 60s and when you hear it, straightaway you go oh, that's Larry Goldings. It's amazing! It's a bit like the piano, how different players can just take it somewhere else and it's great.
How long have the Jake Mason Trio been playing together?
About four or five years now, so it still feels quite fresh. We only recorded a record a couple of years ago, which was a heap of fun and I'm super proud of it. It was nominated for an ARIA award which was really exciting as well.
I've known both James and Danny for a really long time and we've played in other projects over the years, so we've definitely got a great rapport. Now, we've done part of another record, which was very much interrupted by the whole pandemic, so we're pretty keen to get back onto that soon.
How do you tour with the Hammond organ? Do you have to book one in every city, or do you carry it with you?
It can be a bit of both. Obviously, for carrying it with you, you have the electronic ironing board version. But there's a lot of Hammond organs out there, tucked in dark corners, and online there's a good community who share resources.
It's always nice to play a real instrument. But if we're going out in the middle of the desert somewhere and we have to bring our own, then it'll be the ironing board special.
For anyone who's not able to make it to Melbourne, will you be taking the trio out across Australia soon?
To be honest, I don't have any plans to do any touring until everything's calmed down. It's just too much. I mean, we love to travel and play music and that's part of the whole excitement of being a musician. I just think in the short term, no, but in the longer term, absolutely. We're just gonna wait till that calms down a little bit.
Jake Mason Trio perform Friday 3 December, at The Toff in Town as part of the Melbourne Jazz Festival.
The Stranger In The Mirror is available to purchase on Bandcamp.