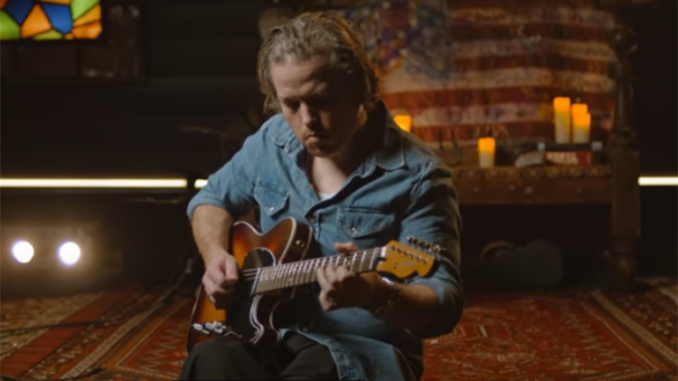 Jason Isbell is the King of Americana. At least, that is the title I have given him; and I think it is justified. The 42-year-old guitarist began his career in the Drive By Truckers before releasing his first solo album in 2007 and since then has released six more albums with his band the 400 Unit, the latest of which was Reunions which we spoke to him about last year. Since 2009 and his second album, simply titled Jason Isbell & The 400 Unit, he has won nine Americana Awards and four Grammys. That's impressive.
Now, as a tribute to Isbell's guitar playing, Fender have released the Jason Isbell Custom Telecaster®, marking his first collaboration with the iconic guitar brand as part of its Artist Signature Series. Other names in this year's series Chryssie Hynde in the Telecaster range, Joe Strummer's Campfire acoustic guitar and Dhani Harison's ukulele. They join legends such as Jimmy Page and James Burton in the Telecaster range and Eric Clapton and Jimi Hendrix in the Stratocaster series.
Isbell worked with Fender on the design, and his signature Telecaster® comes equipped with all of the same modifications – even his known Road Worn® markings – that the Americana guitarist has sought out for touring and recording throughout the years.
The Jason Isbell Custom Telecaster® ($2,799.00 AUD) comes in a Chocolate Sunburst finish against the cream double-binding of the '59-style Telecaster® Custom body. The vintage-inspired mid-'60s "C"-shaped maple neck and 21-fret rosewood fingerboard combines with custom Isbell Telecaster® guitar Pickups, designed by in-house Fender tone guru Tim Shaw.
So, the launch of the guitar luckily offered the opportunity to chat to Isbell who, when I caught up with him was in Oklahoma where he is making his movie acting debut in Martin Scorsese's Killers of The Flower Moon, starring Robert DeNiro, Leonardo DiCaprio and Lily Gladstone as well Isbell and Sturgill Simpson.
"It is really exciting. I'm out here a couple of weeks ago and I'm here until July. It's a pretty big project. But I'm enjoying myself a lot so far," replies Isbell when I ask him how he is going on the movie set. Our conversation picks up from there.
Is this your acting debut?
Well, in a movie. I have a voiceover part and a TV series, and then I was in the HBO movie, Deadwood, but I didn't have any words or anything to say, I just stood there. So yeah. I mean, I've technically been in a movie before, but I've never had any lines. This is all new to me.
They've got some pretty big names in this movie, haven't they?
Yeah. Yeah. It's a big deal. I don't know how I wound up getting a part, but I'm certainly happy. I just tell everybody, "I don't know what I'm doing, so just tell me what to do and I'll do it." And so far, that's worked out.
I assume that they're not getting you to play the guitar or anything like that, are they?
Well, I haven't done anything like that till this point, but we'll see, who knows. Who knows when that…
Well, looking forward to that. It will probably come out next year I would imagine, wouldn't it?
I would think so. Yeah. I don't know, but it's certainly not happening anytime too soon. They still got a lot of work left to do, but hopefully we'll be able to go see it in a movie theater when it comes out. It's been a long time.
Is sitting around on a movie set more frustrating than working in a recording studio?
I mean, if I was frustrated to sit around and wait on Martin Scorsese, I would be an asshole. To tell you the truth, I'm fine, man. If I'm just going to be sitting somewhere, I might as well be sitting around waiting on Martin Scorsese to give me something to do.
It's a little windy, but it's Oklahoma, so I guess you know what you're getting into there. It's a long day and it is real work and it's not easy, but I've got no complaints about it at all. I'm really enjoying myself.
And if you're going to start your acting career, why not start at the top with Martin Scorsese.
I know. That's what I told my agent. I was like, "I would like to do the greatest movie of all time please. Call me when they say yes." No, I'm very lucky that this is my first role. It's a short resume, but so far, it's a pretty good one.
Last year we spoke. It must have been around this time last year because it was just before the release of the Reunions album. It's been a strange year since then. I know you've released a single ('The Problem') with Amanda since then. I've recently got a live album that you recorded a few years ago – Live at Macon City Auditorium, 2016 – that's just been released Bandcamp
Yeah, that was a good time there. That that was a really fun show, I remember.
What else have you been doing in that year? I mean, have you been able to do any more new recording? I assume you weren't able to go out on tour following the album.
No. We did a few outdoor socially distanced shows last fall but, of course, the weather didn't allow for that very long. But we've spent quite a bit of time in the studio. I've been working on an album with my wife, it's her album but I've been playing guitar on it. Also, I've recorded an album of some favourite songs of mine from the state of Georgia as a benefit.
What I did was is when we were having the election here I said if Biden won the state of Georgia – because it looked like he had a chance thanks to Stacy Abrams and a lot of other people who organized – then I would make an album of my favourite Georgia songs. So, I've been working on that. That's been a whole lot of fun.
I don't know when that'll be out, but we're getting close to being done with it. I've been spending a lot of time with my daughter, she's five, and she's actually out here in Oklahoma with me now. That's been enough for me, definitely.
Last time we spoke we were both bemoaning the fact that the High Women's album had not been more successful, but since then it's had a lot more success, I'm very pleased to say, including album of the year at Americana and a Song of the Year Award at the Grammy's. So, that must've been very pleasing for you and Amanda.
It was. It was really good. And right before I came out here to Oklahoma, she and I went to the Academy of Country Music awards, where they were nominated for group of the year. That was great.
I was glad to see it getting some attention, because I do feel like it's a beautiful record. I went back and listened to it again recently and it's still just staggeringly, good piece of work. Song by song and all the performances are great.
I mean, hopefully when things open back up, they'll be able to go play some shows behind it. I know they had plans to, but I guess we all had plans.
It's funny how long it took people to catch up on that album. But it's great to see that they did.
Yeah, definitely. That happens a lot in the popular country music world. If something's not marketed really hard and fast to radio it can take people a while to catch up to it. But it's a good thing to see that people are appreciating their work.
Now, you're going out and doing some shows starting with The 400 Unit in June, I guess, and going right through to the end of the year with dates. And I guess you'll be using the Telecaster, which is why we're talking because the Fender in your name is being released next week. Can you tell us how that all came about?
I've been working with Fender for quite a while and playing a lot of their guitars. They've treated me well for a long time now. But then when the idea came up to do a signature guitar, they approached me, Ben, over at Fender approached you about that. I was all for it.
I've played those guitars since I was a kid. They were my first electric guitars. Well, I had one that my uncle gave me, a Les Paul copy, but really soon after that I got a Strat and then I got another one a few years later. And really my formative years as an electric guitar player were all spent on Fender guitar. So, it was a no brainer for me.
I chose to go with the Telecaster just because I've had such a good experience with those instruments on the road. I think the design is probably the best electric guitar design of them all. They're very reliable and they're not expensive guitars to make. So, I wanted to do one that was accessible to a lot of people but also versatile enough to where you could cover most styles of music with. And I think we pulled that off.
Did you help out with the design and the color? Because it's sort of a distinctive color, isn't it?
Yeah. I have a custom Sunburst Telecaster that is a little bit darker. But we wanted to do something to sort of differentiate from that 1959, 1960 Tele custom Sunburst finish. So, they lightened up the inside of the finish a little bit. I think it looks great.
But we wanted something that people would recognise as that particular model. And that's hard to do to and not stray too far from the vintage guitar aesthetic. I feel like there's a very fine line there because if you make something that's too immediately recognizable, there's no way to make it look like a vintage guitar.
So, I think we tried to approach that from a very similar way to how I do my records. It's like I want to do things that they could have done back then but didn't necessarily choose to. I think that worked well.
For the uninitiated, what's the difference in playing a Telecaster compared with a Stratocaster?
Well, a Stratocaster usually, not always, but usually they have a bar, a tremolo bar. It's kind of a misnomer, it doesn't really do tremolo, but it's a pitch [bar]. It's got springs inside it and then it's a whammy bar. You can make the pitch of the guitar go up and down. A lot of people prefer a hardtail Stratocaster. But the pickups are really the main difference.
The body style's a little different, the Strat is made to be a little bit more comfortable when you're sitting and playing it. But the real difference is in the pickups, because a Telecaster has this kind of twang that you hear in a lot of country music, a lot of roots-based rock and roll, like the Rolling Stones or Bruce Springsteen or something. Whereas a Strat is probably traditionally more thought of as a lead instrument or a solo instrument.
Now, you were in the Drive-By Truckers for a while. What sort of guitar did you use in that? A Telecaster?
Had a telecaster for a while with them. Also, I played a Stratocaster with them and then a Gretsch and a Les Paul. I went through a bunch of different guitars. I had a tendency to damage guitars in those days because we were playing rowdy shows and we were all drinking a lot. So, yeah, I busted a lot of guitars accidentally back then. I don't break guitars as often now, which is a good thing because I've got a lot of more valuable guitars than I used to have.
Now, they have a very distinctive guitar style to their music, but you've done something that's different. So, after being with them for a few years, how did you develop your own style with the guitar? How were you able to do that? I mean, there were obviously some references in your music to what you used to do, but you've developed your own style and people hear it and they say, 'That's Jason Isbell.' So, how did you do that?
Well, I just stopped writing songs for that band and really it happened naturally. I think for me developing my own style started out with imitating other songwriters and other musicians and then figuring out which of my mistakes I should leave in.
And I think that's how it happens with a lot of people. I've heard that Nirvana was trying to sound like the Beatles, but they missed the mark in the best possible way. I think for me, that was it. I followed a lot of my songwriting influences, and then when I found something that didn't sound to me like I had hit the mark, I would decide, well, is this better or worse than what I was aiming for? And if you can figure out which of your mistakes work out for the best and follow those, and eventually you'll sound like yourself.
I remember back in the '80s they had an expression for the kind of sound you've got, but a few bands did then and a few artists did then, and they used to call it kind of a high lonesome sound. How would you describe the sound you get?
That's a good question. I mean, it's rock and roll music really. The good news is you don't have to describe it as much anymore because you can just look it up on your phone pretty quickly and cheaply for better or worse.
It's rock and roll music, and it's not hard rock and it's not soft rock, it's somewhere in the middle. It's like The Three Bears. It's like the Goldilocks story and the Three Bears. It's just rock.
On that recent recording from Macon, Georgia, the concert from a few years ago that's just been recently released on Bandcamp. One of the songs you played, Duane Allman's Gold Top Les Paul. Tell us how that came about and tell us what the difference in the sound is between that and something like the Telecaster?
Oh, well, there's a huge difference sonically. They had that guitar at The Big House, which is the Allman Brothers Museum and Mecca for a long time now. They take really good care of it and bring it out to certain shows and certain musicians and ask if they'd like to play it on stage.
It was an honour for me to get to do that because it is a beautiful instrument and obviously carries a lot of history that's really important to me because a lot of my playing was influenced pretty directly by Duane Allman, especially in slide guitar stuff.
I think it's pretty hard to become a slide guitar player worth your salt if you haven't spent some time with Duane Allman's playing. So, yeah, it was huge. But a Les Paul sounds really thick and really heavy and it's not a particularly clean sound but it sustains really well. It's probably equally expressive to the Telecaster, but the Telecaster is more ringing and, I mean, people say twanging. Sometimes 'twanging' is the right word if you're trying to play something that sounds like country music.
Keith Richards plays a Telecaster. And if you go back and listen to the Rolling Stones when Mick Taylor was in the band – Keith playing the Telecaster and Mick Taylor's playing a Les Paul – you can definitely tell the difference. It's kind of like the difference between a whiskey and tequila. I mean they wind up with the same effect, but they go down a lot differently.
How many guitars do you have on stage with you? How many do you take on stage?
Just one at a time, man. Just one at a time. I can't play more than one at a time.
No, usually I travel with about a dozen guitars or so because I don't like to tune in between songs and also, I like to play a bunch of different guitars. It's fun for me to play a bunch of different guitars through the course of the set. And now that we have room to travel with all of them, yeah, usually I take about a dozen out. Usually like three or four acoustics and seven or eight electric guitars.
When you say you don't like to tune in between songs, you don't have to tune? I went to a gig recently and the musician concerned tuned his guitar for every song.
Yeah, it's tough. I mean, if you're playing in clubs, you probably don't have a whole bunch of guitars with you. You don't have the space in your van for them, and you also probably don't have stagehands and a guitar tech to take care of that.
Back when I didn't have a guitar tech and we were driving ourselves around in a van, I travelled with one guitar. It had to be one that would stay in tune – and very often that was a Telecaster. That's one of my favourite things about a Telecaster, is that they stay in tune really, really well even in extreme weather conditions. I played a show in Austin, Texas, for Willie Nelson's 4th of July picnic a few years ago, and my pedal board went out right when I started the set, so I had to play the whole set with just one guitar and I didn't have to tune the thing. It was a Telecaster and it made it through the entire set and stayed in tune. It was really hot and we were playing during the daytime, in the sunlight, on the 4th of July in Austin, Texas.
So, I'll always be impressed with that. But yeah, I've got Michael, my guitar tech over there, tuning the guitars – and if I bring enough guitars and I change out after every couple of songs I don't ever have to stand there and tune the guitar and make everybody wait on me.
I recall seeing Jeff Beck a few years ago playing in Oakland and he used one guitar. I think he might've used a 1958 Telecaster. I'm not sure. And he used one guitar and never had to tune the guitar. I think he swapped guitars for the encore where he did a version of 'A Day in the Life'. But for the entire show, he only used one guitar, which I was pretty impressed with as well.
Yeah. Well, Jeff Beck also, I mean, he knows a certain way to play those kind of guitars that keeps them in tune. I know that's a strange thing but you do find, especially if you've had one guitar for a long time, you get used to it, you know what it likes and what it doesn't like.
I mean, he's obviously one of the all-time greats, so he knows what he's doing. Plus, he bends so many notes. I mean, even if he was out of tune, you probably wouldn't be able to tell from the audience. Not with Jeff Beck. He would just bend it to pitch and nobody would know the difference.
So, Jason, you said you've recorded some songs for this album of Georgia songs. Are you doing any other recordings? Is there any other likelihood of an album coming out?
I haven't made plans for it. I mean, definitely I will put another album out at some point. I'm out here working on this movie for a while, and that needs to take a lot of my energy because I don't want to screw it up. It's a pretty big movie, so I don't want to mess it up. But yeah, I'm sure I'll get back in the studio soon.
I didn't spend all of the pandemic writing songs like some people did. I gave myself a break and thought, 'Well, we're in the middle of all this really sad, weird shit, so I don't have to force myself to try to write King Lear while we're in quarantine or something.'
But yeah, I'm always writing songs, and it won't be too long before another album happens. I never wait longer than a couple of years between albums anyway.
I was thinking that because the lyrics on Reunions were so personal, it was probably a pretty cathartic experience, and you got quite a lot out of your system in a way, and it might've been good to take a break after that and sit back once you've got that out.
Well, it happened, so we're going to say it was good. What I would have preferred is to go out and play those songs. The real release for me comes after I have written the songs and recorded the songs. When I get to go out and actually share them in real time with audiences, and play with my band every night, because they change. I love my job, so it was a difficult thing to be without it for that long.
I had a lot of things to be grateful for. I have a healthy, happy family and a young child at home, and I spent a lot of time with her. And also, I've got a bunch of really great guitars. So, I sit around and play guitar. I don't have any neighbours close by. Some days when I was feeling really pissed off and frustrated, I would just go out to the barn and turn the Marshall all the way up and play for nobody but myself. It was ridiculous volumes for a few hours and get a lot out of my system that way.
Sounds like Neil Young: More Barn!
More Barn. Yeah, exactly. Yeah. Yeah. I don't think anybody would have needed more barn in my situation because that sucker was loud. But yeah, we don't have neighbours close by, so that's good. And our neighbours are mostly musicians anyway, so I don't think they would have minded.
Before we go, can I ask you about a couple of friends? I want to ask you about someone that I met you with the first time I ever met you, which was at Blues Fest in Byron Bay and you were with Justin.
Oh yeah, yeah. That was probably my first trip to Australia I guess.
First tour to Australia. And he left us last year and it seems hard to believe. I mean, it was difficult for everyone really. There's a concert happening in Melbourne later in the month to raise money for his daughter, like a benefit concert that is put on by musicians here, because he came to Australia so many times and he loved Melbourne.
Yeah, he loved it. He loved it over there. Sure. He had a lot of friends over there. It was sad. It was really sad. He and I hadn't been close over the last few years mostly because of his addiction issues. I mean, it's just tough. It's tough when you have a friend who struggles with those things.
I can't say that I was surprised when he passed away, but I was very sad. It's just some people have their demons and sometimes they can't quite conquer those. I know what happened was not necessarily his fault. I know it was something that he hadn't planned on, and it was an accidental thing obviously, but he struggled for a long time. And all the years that I knew him, he never got to stay happy for too very long, so at least he's not having to suffer at this point.
Could I say that when I met you, I mean, you were drinking at the time as well. One of the most impressive things I've seen, and I have to say this is a personal observation, is the way that you managed. Justin didn't. But you managed to turn your life around and become the person you are, which is an incredibly impressive thing to see, I have to say. Because it's not easy to do in the entertainment industry. It's incredibly difficult to do, but you've managed to do that.
Oh well, thank you. I think it would have been harder for me if I was doing a job that I didn't love. I think if I'd been roofing or painting houses or teaching school or something, then it would have been harder for me because part of what helped me get sober and stay that way was the fact that I wanted to keep making music and being creative.
I was in a worse spot than Justin was when we first came over there together. He was doing a good job keeping himself together at that point in time and I was a mess. A lot of it is due to just good luck on my part. I had people around me who cared enough to call me out on my bullshit and also helped me when I needed help. And when I needed to get sober and were supportive of me when I was trying to stay that way.
I got lucky in a whole lot of situations there that Justin might not have been afforded. But yeah, at that point in time, we were really close and we had a lot of fun and I have a lot of good memories from that trip.
Well, I don't think anybody should ever underestimate the effort that it took on your part and the willpower and just the presence of mind to do it. So, it's just a fantastic thing to see. The other person I wanted to ask you about was somewhat of a mentor to you was John Prine, who came out to Australia and I saw him at Americana and he just put on fantastic shows. Can you briefly talk about his influence because he was a bit of a mentor to you on stage, wasn't he?
Oh yeah. Yeah. John was a big deal to me and to Amanda, my wife, and our daughter. We loved John and learned a lot from his music before we ever knew him and then learned even more from him as a person.
He was the same onstage as off, and he loved making music. He never looked at it as a chore and he never did it for the money. He was always out there to communicate with people. And I really think that he made the world around him a lot better just through his art and through the way he treated people.
He treated everybody with respect and we loved John. That was a big, big loss. And we're still close with the family and they're all doing a great job and staying busy and picking up the pieces of their life, but it it's left a big hole in Nashville and certainly in our house.
I don't know what else I could say about him. I mean, he was a beautiful man. One of the greatest things that ever happened to me through music was getting to be John Prine's friend.
It was great to see his final album was probably his most successful album ever. He got all those kudos and awards, which was just terrific to see that he got that recognition.
It was. It really was. And for me, seeing him sort of have a victory lap there at the end, even though we didn't know it was the end quite yet, it helps. I think about John's memory because I do know that he was happy and he was shocked, I think, by the amount of positive response he received to his last album and those last tours, he was selling more tickets than he ever had in his whole life. It was nice to be able to see that and just see how much he still loved making music after all those years, and how he still loved writing songs and singing them for people. It was a really beautiful thing.
Well, Jason, thank you very much for your time. I really appreciate it. Good luck with the movie.
Thank you.
Apart from all the other awards, we might be looking at your first Academy Award. You never know.
Ooh, I don't know. I doubt it. I doubt it. But I don't think they're going to let me screw it up too bad. So, I'm just going to trust them to make me the actor I need to be.
For details on the Jason Isabell Fender Telecaster go to: Jason Isbell Telecaster