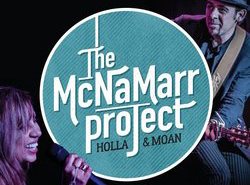 THE MCNAMARR PROJECT – HOLLA & MOAN (Only Blues Music)
By Chris Lambie
Sometimes you find the perfect recipe simmering right under your nose. When longtime friends Andrea Marr and John McNamara were encouraged to record as a duo, they discovered a match made in soul heaven. On their debut joint recording, rhythms flow free and easy over 10 original tracks.
They fuse individual range and phrasing like vocal bookends. Cooking up spicy soul on 'Can You Take The Heat?' a trio of Memphis horns joins them in the kitchen. Bluesy gospel heartbreaker 'Cry With Me' builds to a crescendo worthy of a classic a Motown or Stax session.
Accompanying McNamara's lead guitar: Bobby Manuel (Guitar), Ray Griffin (Bass), Willie Hall (Drums), Lester Snells (Keys and arrangements) and the fabulous horns.
This collaboration between two multi award-winners was recorded in Memphis (TN) and Carisbrook, Victoria. The antipodean pairing has been applauded (and signed up) by a US label founded by Sam Phillips and co. You may be inspired to holla and moan or twirl and testify. Either way, it's a joyous ride, right up to the final track. Sing out loud and proud with its chorus: 'Blues has brought me here.'
UPCOMING TOUR DATES
SEPTEMBER 29
Album Launch!
Sun 6 PM
Groove Live Bar & Terrace
City of Port Phillip, VIC
OCTOBER 5
The McnaMarr Project – Ballarat Album Launch
Sat 8:30 PM
The Cabaret Club
Ballarat, VIC
OCTOBER 12
Paella In The Pyranese
Sat 12 PM
Summerfield Winery
Moonambel, VIC
OCTOBER 19
The Blues Train – Saturday 19th October
Sat 6:30 PM
The Blues Train
Queenscliff, VIC
OCTOBER 20
Federation Square Blues Music Festival
Sun 3 PM