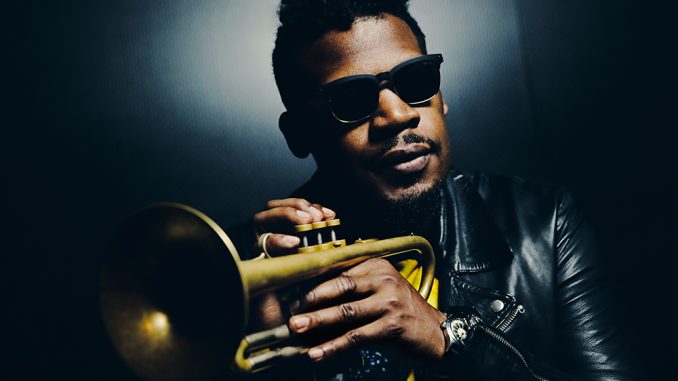 By Andra Jackson.
While filming Miles Ahead, actor Don Cheadle coined the term 'mugician' to describe trumpeter Keyon Harrold's role.
"Keyon, you've done an amazing job helping to bring this project to life," Cheadle who played Davis told him. "What you did was massive, you're a mugician.'' He blended musician and magician to describe "making music happen, making artistry, you know touch people,'' says Harrold who played on the soundtrack.
The term inspired him to write Mugician, the title track of his second album released in 2017. Harrold is speaking ahead of a season at Melbourne's Bird's Basement, after playing at Blue Note jazz club in Shanghai and Bejing. It is his third visit here. The first was in 2013 in the Cirque du Soleil Michael Jackson The Immortal World tour. His second performance was in the Melbourne International Jazz Festival in 2016 in saxophonist Marcus Strickland's Twi-Life. This time, the 38-year-old trumpeter fronts his own band.
Harrold is also a vocalist, composer and producer. Trumpeter Wynton Marsalis has hailed him 'the future of jazz'. Harrold has played brass since the age of six, starting on bugle. His grandfather toured in a singing group and was also a police sergeant. He established a drum and bugle corps to give young people an outlet and to teach them skills and discipline. Harrold and his siblings had to join the corps and march in parades.
Another influence was growing up in St Louis, Missouri with its legacy of jazz lions of the trumpet – Miles Davis, Lester Bowie and Clark Terry were from there. Listening to them the young Harrold realised there was no questing who was playing, "each had their own voice". He determined to find his.
Growing up in a family with 15 siblings pushed him. "It made me focus on what it is that I wanted to do. It is so easy to be drawn into what everybody else is doing. My siblings would do one thing and for me to basically stand out, I would have to be confident in what I was doing. For me, the trumpet in jazz to a professional level is what I want to do."
He met his mentor Wynton Marsalis when about 15 or 16. "We would talk on the phone and he would listen to me play, he would play for me and he would give me pointers on trumpeters to check out and people to listen to." Harrold went on to The School of Jazz at the New School In New York with its chance to "meet the masters who actually did it." If they lived in New York City and you could contact them, you could study with them, he says.
By 19 he was in the Count Basie Big Band. He has since played or recorded with diverse artists – pop singer Beyoncé, rappers Snoop Dogg and Eminem, soul singer Anthony Hamilton. "I like to do the music that has a magnetic influence on me, so I go that way and if it makes me move, and if it touches my soul, I want to be a part of it. "
Family is everything for Harrold. A number of family members perform on Mugician. He opens his shows with the recorded track Voicemail delivered by his mother Shirley who died last year. "When I moved to New York, she would call me and leave these amazing messages that would inspire me and keep me going." His brother Emanuel is the drummer in his band.
Harrold's music is a snapshot of the reality he sees around him – "music and politics and love and life." He wrote the eloquent MB Lament instrumental track on Mugician after watching television news. MB was Michael Brown Jr, an 18-year-old African-American youth shot head by police as he raised his hands in 2014 in Ferguson, a suburb of St Louis.
The trumpeter wanted to convey "the visceral feeling and the yearning and the pain of going through that for me on both sides." He says he could imagine "being that kid because I grew up right where he was killed." He says, "it was literally where I used to go get my candy."
When performing, Harrold looks as if he is absorbing the music around him into his body. "I'm trying to use all those elements around me whether it be bass, drums, piano, keyboard, I'm trying to use those things and basically funnel them out to the audience, making music on the spot. Other band members are pianist Shedrick Mitchell and guitarist Nir Felder who both played on Mugician and bassist Dominique Sanders.
*Keyon Harrold is at Bird's Basement tonight and until Sunday November 10. Tickets at Bird's Basement.