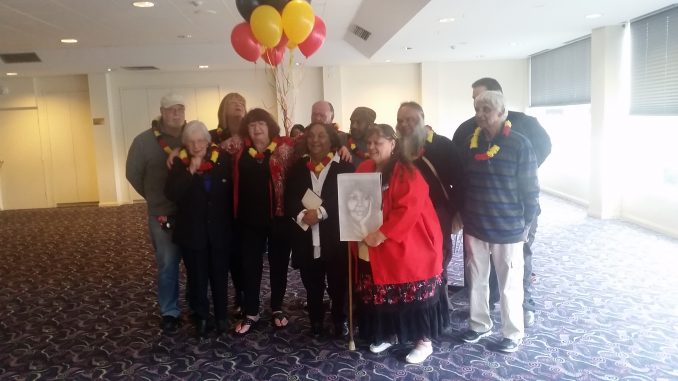 NO:RI Music Festival Launch
Renmark Hotel, 17th June 2016
Story by Allison O'Donoghue
It's been six years in the making, but finally the inaugural NO:RI Music Festival was launched at the Renmark Hotel, Renmark in the Riverland in conjunction with the Ruby Hunter Foundation. The untimely death of Ruby Hunter on the 17th of February 2010 at the tender age of 54 of a heart attack, shocked family, friends and the folk, blues and roots community.
"Auntie Ruby always dreamt of creating an Indigenous music festival, but she just ran out of time," says organiser/event manager Cheryl Norris. "Her death is still a great loss to our community and this is a way of keeping her memory and vision alive."
As a prominent Indigenous singer/songwriter, and author Ruby was passionate about promoting Indigenous talent, in whatever form that took, however her drive was not exclusive to just the Indigenous community. "Ruby promoted inclusiveness, and that we are all one people," informs Cheryl. Although, the main theme of the inaugural NO:RI Music Festival will be to promote Indigenous acts, the second year will held at the Riverland Field Day site which will showcase other cultures to highlight global talent.
Ruby was born on Goat Island on Ngarrindjeri lands just outside of Renmark, South Australia. At the age of eight Ruby was forcibly taken from her family and put in foster care, effectively becoming one of the Stolen Children. When she was "released" at the age of 16 she left with only the clothes on her back, not a cent to her name and essentially homeless. Fortuitously, she crossed paths with Archie Roach, who was also homeless, and from that day forth they were inseparable. Together they forged a powerful musical duo, with a strong determination to create a better life for themselves, her people, and the underprivileged. Ruby penned the lyrics while Archie formed the melodies, and together they achieved great things. They jointly conquered the world forging stellar international careers, spreading their unique, indigenous sound to the masses, while giving enormous hope to not only the indigenous community, but to all musicians – if they can do it, so can we.
NORI means pelican in Ngarrindjeri language and the term – "The NORI has landed" – was coined by Ruby when she rang home to inform the family they had arrived safely to their destination. On one of these O/S trips, Ruby experienced chest pain and ended up in a London hospital. "She was going to have a check up when she got back, but left it too long," says Cheryl sadly.
Crestfallen after the death of Ruby, Archie decided to retire from the music industry, however, "we encouraged him to keep going", says Uncle Wally, Ruby's brother. "We're grateful he will headline the inaugural event."
Co-organiser, Rosemary Gower came on board to help navigate the tricky compliance process of running a festival, and to approach local councils for funding and grants, as well as help with the marketing plan. "Local councils have been 100% supportive, as you see here today," says Gower. "The Berri/Barmera mayor and committee members were all in attendance at the launch, as well as the local radio station 5RM. We couldn't have done this without them." Coupled with the strong support of the Renmark Hotel, and other local councils, they are bound for bigger and better things to come. "It is safe to say the whole Riverland community is proud of Ruby and Archie's achievements and will support the event in any way we can," says Berri/Barmera Mayor, Peter Hunt.
Archie and Ruby were BIG in Japan – so much so – "a committee of Japanese music representatives travelled the long distance to the Riverland for her funeral, that's how much they respected the music," informs Cheryl. The loss of Ruby is still felt deeply within the community and music fraternity, yet the NO:RI Music festival will keep her legacy and memory alive.
The inaugural line-up will of course include her partner Archie Roach along with David Arden, Bunna Lawrie and the Coloured Stone, Mon-Cherie, Owen Kapeny, Dakota, The Ringo Rigney band, The MERRG, Kutcha Edwards, and Kevin Kropinyeri, plus a few "special" high profile guests. Jessie Norris has developed an easy to navigate website, where you can buy a selection of Ruby and Archie's music, and buy tickets for up and coming events, plus donations can be made via Paypal.
For further information go to http://www.rnmf.org.au/
NO:RI Music Festival
Bonney Theatre. Barmera.
October 2nd, 2016
11am-11pm