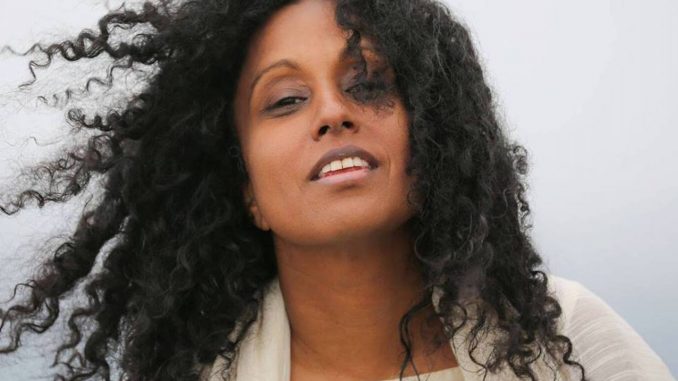 By Tony Hillier.
Raga rock queen. Steamy jazz vixen. The sultriest soul diva this side of Sadé. These are among the sobriquets acquired by the extraordinary British world music star Susheela Raman, who'll be performing two shows at Adelaide's Space Theatre this week (Wednesday & Thursday October 23rd & 24th) as part of the 2019 OzAsia Festival.
Suffice it to say, none of the above epithets comes within cooee of capturing a unique musician, one who combines exoticism and eroticism with emotional depth and sublime singing and songwriting capabilities.
Fusion may be as de rigueur in the global village that constitutes the contemporary world music scene as it is in current haute cuisine. But there's nothing remotely mundane or contrived about Susheela Raman or her music. The epitome of taste, she belongs to an elite group that has elevated hybridity to an art form.
Raman's heritage is cosmopolitanism personified. Of Indian Tamil descent, she was born in London, raised in Sydney and now lives in the UK capital, close to the world famous Portobello Market with her partner, producer-guitarist Sam Mills. Raman has cultivated her own distinctive sound, combining Indian and other Asian influences with Western sensibilities — Sanskrit texts and revamped songs from the Carnatic (South Indian) and Indonesian gamelan traditions, pop/rock and roots music and her own compositions.
Sheila Chandra charted not entirely dissimilar territory in the 'eighties and 'nineties, at first with a band, Monsoon, and then as a soloist, but Susheela Raman has taken the synthesis to a new level of artistry.
Raman is aware of Chandra's music and of other excellent East-West fusionists such as John McLaughlin's Mahavishnu Orchestra, Ry Cooder's collaboration with V.M. Bhatt, even the great Nusrat Fateh Ali Khan's various dalliances with people like Michael Brook and Massive Attack, and the clubland outings of the Anglo-Indian princes Talvin Singh and Nitin Sawhney. But she insists none of those artists have really informed her work.
"I listened to Sheila Chandra's albums — but she's gone on her path; mine has been very different. I've probably been more influenced by Ry Cooder's album, Chavez Ravine, and his previous excursion with Cuban guitarist Manuel Galban than his work with V.M. Bhatt."
If Susheela Raman's first two albums, Salt Rain and Love Trap, were minor classics, 2006's Music For Crocodiles —a finalist in the 2006 BBC World Music Awards — must be close to being her magnum opus.
Music For Crocodiles was part recorded in India with Indian musicians, adding new depth and dimension to her songs.
Swooning Bollywood-esque strings embellish some songs, a wailing 'veena solo leads into a haunting ballad. Other tracks feature shimmering South Indian violin, an instrument Raman studied in her youth. An 18th century Indian song is given a bluesy makeover; a beefed up Tamil tune is charged with hand drums and wailing strings.
For good measure, Susheela tossed in her own take on French chanson, sung flawlessly in French, and finished the album with a slab of funk that James Brown would be happy to claim. Her extraordinary voice, sultry and seductive in the quieter passages, soars with ecstatic abandon in the more emotive phases.
Talking to Susheela Raman the realisation soon dawns that here is a fiercely independent, non-mainstream musician who trusts her own instincts and is not scared to back her artistic judgment.
Susheela spent her formative years in Sydney, fermenting her musical taste in the New South Wales capital, where she lived from 4 to 20 years of age. "I grew up with Indian classical music, but branched out into other musical styles as a teenager." Before returning to the Old Dart, Raman performed under her own name, leading a pop/rock covers band that used to play in pubs like The Orient in The Rocks precinct.
She grew up singing South Indian classical music and began giving recitals at an early age before discovering more blues-based music. In a mission to bring these streams together, in 1995 she went to India to study with one of the greatest living Hindustani vocalists, Shruti Sadolikar. "This was a challenging experience as I had to let go of what I thought I knew and find a new, more insightful approach to my craft."
"For a time I concentrated on North Indian music, but I've come back to South Indian (Carnatic) music in recent years. It's an on-going journey; as it progresses your understanding deepens. It's something that goes deeper and deeper."
When she returned to England from India in 1997, Raman started to work with multi-instrumentalist and producer Sam Mills. While Raman describes her musical partnership with Mills — also her partner in life — as "very important" she attributes equal significance to their collaboration with other musicians. As she puts it: "The distinction between players and producers is blurred. Any record is a meeting of many minds and now more than ever it is networks of people, not just individuals, who spark new and exciting work. Everyone brings their own special energy to the music and I am very proud of what we have all worked together to create."
Listening to Raman's music one is aware of a wide musical taste beyond her Indian heritage. Recently she's been most influenced by Indonesian gamelan music. Indeed, her seventh and latest studio sees her collaborating with contemporary Javanese gamelan composer Gondrong Gunarto. Ghost Gamelan, which was classed among 2018's top albums by The Guardian and Le Monde newspapers. Susheela's live shows at the OzAsia Festival this week will feature young gamelan virtuosos alongside her own extraordinary band.
Raman says Bjørk is an artist whom she would love to duet with one day. "Her work is always surprising; she's completely off on her own tangent. She has worked with an intriguing range of musicians, including the Tuvan band Yat-Kha, and says she'd like to expand on that.
'Nowhere to go but the horizon,' sings the artist, somewhat paradoxically, on one of her finest songs. You suspect the horizon for Susheela Raman will always be hazy, as she winds her way along an undefined path. As she says: "I'll keeping following the road and see what happens." A growing number of fans will happily go along for the ride.