By Megan Gnad.
One of the highlights of the recent Americana Festival was the appearance of Tanya Tucker, who has just released her first new studio album for 15 years.
When country legend Tanya Tucker joined Brandi Carlile on stage at the 2019 CMT Music Awards recently – supported by a star-studded group of female country artists – it was a moment to be celebrated.
The performance coincided with the launch of Tucker's highly-anticipated new album, While I'm Livin' – co-produced by Carlile and Shooter Jennings – which marks the release of her first new material since 2002's Tanya.
Described as a "musical biography", it compiles stories of her childhood in central Texas, personal memories, reflections and well-chosen, iconic covers.
The Delta Dawn hitmaker's return to the recording studio happened by chance, when she bumped into Jennings.
"I'd been working on several other projects, but the last few years I've been back on the road and everyone was wanting new music," Tucker tells Rhythms Magazine.
"I ran into Shooter Jennings who mentioned he'd love to do an album with me. I knew Shooter before he was Shooter, I call him Little Waylon.
"Brandi Carlile was involved and we ended up going into the studio for three weeks in January. This album, we did it like I did my first records, recorded live. There were no overdubs, and then of course, the ultimate cool thing for me was the song I had in my head for 30 to 40 years, Brandi and Shooter finished it. It ended up being the title track of the album."
While I'm Livin' is largely comprised of songs written by Carlile, twins Tim and Phil Hanseroth, and Tucker. It also features 'High Ridin' Heroes', a 1987 song Jennings selected that featured David Lynn Jones and his dad, Waylon Jennings; as well as 'The House That Built Me', a track made famous by Miranda Lambert.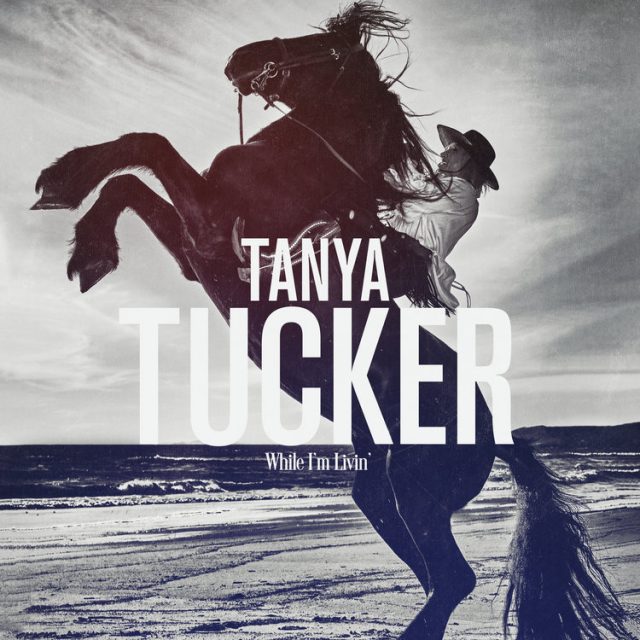 "'High Ridin' Heroes' is a song I wanted to do for a long time," says the original female outlaw. "Waylon was on that, he was on that record, so Little Waylon was there when I recorded that song and he actually played the piano on that one. The songs are all special. 'The House That Built Me' has become special to me, the lyrics are special as a mama. And, 'Seminole Wind', that's where I'm from, Seminole, Texas.
"I can't imagine Waylon not looking down and smiling."
A key part of pulling the whole project together was the input of gifted singer-songwriter Brandi Carlile, who researched and co-wrote the majority of the 10 tracks.
While the pair didn't meet until the day Tucker came to the studio to record, they've since become close friends.
"The Twins and Brandi researched me and my life, where I'd lived, and wrote these songs. It's still amazing to me that someone could do that. They did a great job and I'm very, very happy with the way it turned out.
"I'm extremely elated that I have some really great friends I've developed; Brandi's my new best friend, and I love the twins to bits."
It was also Carlile who made possible their incredible performance at the 2019 CMT Music Awards, in June, when Tucker joined her on stage alongside, Jennings, RaeLynn, Lauren Alaina, Martina McBride, Trisha Yearwood, Deana Carter and Carly Pearce.
"That was all Brandi right there. She gave up her spot for me on that show. She got everyone together, all I did was walk up there and sing…the response was amazing."
Tucker's achievements include 23 Top 40 albums and 56 Top 40 singles, 10 of which reached the #1 spot on the Billboard country charts. Since her Delta Dawn debut at the age of 13, she produced some of country music's biggest hits such as Two Sparrows in a Hurricane, It's a Little Too Late, and Trouble, but she says it's good to be back creating new material.
"I never thought about not making more music. It should have happened a lot sooner, but a lot of things happened.
"I've been looking through pictures for The House That Built Me video lately, and it brings back a lot of memories. A lot of wonderful memories."
WHILE I'M LIVIN' is available now.