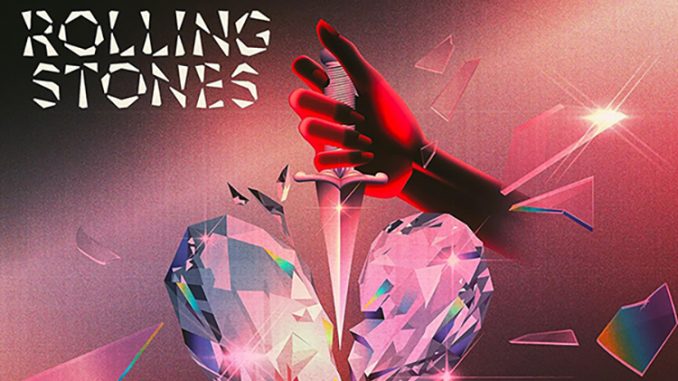 By Brian Wise
THE ROLLING STONES – HACKNEY DIAMONDS (Polydor)
There's good news and there's better news! The good news first. This is definitely the best Rolling Stones album since Steel Wheels in 1989 and comes within shouting distance of Tattoo You in 1981 if not quite that good. The better news is that incredibly at least 10 of the 12 mostly original songs here could go into the band's touring set and feel right at home. (I can't believe I have written that!)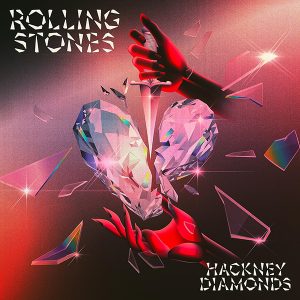 To say that Hackney Diamonds – with its appalling cover that seems to be AI generated but bears some relation to the meaning of the title – exceeds our wildest expectations is not saying much. I doubt if most peoples' expectations of an album of new songs from the Stones were very high in the first place; however, this album's collection is far better and more focused than so many of their other efforts that it makes you wonder how it could possibly have taken the band 18 years to get around to a new album.
Blue & Lonesome in 2016 answered the prayers of many long-time fans with its dozen blues interpretations and at least got the band back to its roots. But it was never going to be enough for Mick Jagger who for some reason seems to want to prove that a 60-year-old band can mix it with a much younger generation. I am not sure that Hackney Diamonds will win over any new fans, but it will certainly shore up the old-timers and drag back some stragglers. If your old uncle is going to turn up to a family 21st party and mix with the kids he wants to make sure that his wig or hair dye is not obvious, his shirt is tucked in, and he is not going to keel over after the first beer. When it came to a new Stones' album, I would have been more than happy to have a Keith Richards & The X-Pensive Winos one. But Uncles Mick, Keith and Ronnie somehow pull this off without even coming near to embarrassing themselves.
Was it a danger using the word 'hackney' in the title when it could have so easily been employed to describe the music? Thankfully, for the most part not. The band's reputation could also have been shattered like the glass on the streets of London after a smash and grab. But long-time fans will now have something to celebrate rather than create a raft of excuses.
You may ask yourself, to paraphrase David Byrne in 'Once In A Lifetime', how did they get here? Or why did they get here? Good questions. Like Dylan, McCartney, Neil Young, Willie Nelson, Marianne Faithfull, Neil Young, Patti Smith and others of their ilk the drive to create recordings and tour must be strong after you've been doing it for more than five decades. The drive to prove that you are still the world's greatest rock n' roll band must be even stronger, especially when you know you couldn't possibly have that much longer to go.
Obviously, there will be a huge money-raking tour behind this release and for the first time the band will have a number of new songs that people might actually listen to in concert. It was interesting to hear Sir Paul McCartney recently joking that fans didn't want to hear any of his new songs, but he was going to play them anyway (and most of them were pretty good). Keith Richards certainly won't have to cringe when the new material is showcased.
I suspect a lot of the credit for the success of the new album must go to 33-year-old producer Andrew Watt who has worked with various generations of musicians from Britney Spears and Elton John to Ozzy Osbourne, Iggy Pop and Eddie Vedder. I don't know what instructions Watt might have been given by Messrs Jagger and Richards but I suspect that he immersed himself in the Stones earlier classic albums from the late '60s/early '70s and figured out a template for what a great contemporary Rolling Stones album should sound like.
Possibly the first thing he did was to insist that the album be no more than 12 songs and he probably thought that was two too many. At least three of the band's albums in the late '90s and early 2000s were way too long. The sound here is massive and modern but it still sounds like a rock band in there somewhere. Watt, who is credited on some songs and also plays bass, has already won one Grammy as Producer of The Year in 2019. It wouldn't surprise me if he won another for this album. He has managed to distil the essence of the band and create something that they haven't been able to do for decades – a fine album. Take a bow Mr Watt!
So, what do we get? Songs with immediately recognisable Keith Richards riffs: 'Angry' (the first single with its terrible video clip), 'Get Close' and 'Driving Me Hard' (echoing 'Tumbling Dice'). A huge, orchestrated ballad for Jagger to sing on 'Depending On You,' with Benmont Tench on keyboards and organ. An infectious dance hit in 'Mess It Up', one of two tracks featuring Charlie Watts and way better than 'Emotional Rescue' in 1980 or 'Miss You', which I hated, from 1978. A huge hit single in another era.
There's the gospel infused song in 'Sweet Sound of Heaven' with Stevie Wonder on keys and Lady Gaga as surrogate Venetta Fields a la 'Shine A Light' on Exile On Main Street. An all too brief classic Keith Richards' ballad in 'Tell Me Straight' on which he sings 'is my future all in the past?' A great country-tinged ballad in 'Dreamy Skies' (another terrible title by the way) in the vein of 'Sweet Virginia' – it even mentions Hank Williams in case you didn't get the country inflection. Listen to it a few times and it starts sounding like a classic. There's even a punk raver in 'Bite My Head Off' featuring bass from Sir Paul while the tune is a direct borrowing of the Sex Pistols' 'Liar'. Add a driving modern rocker in 'Whole Wide World' which references the subject of the album's title with Mick singing like Johnny Rotten just to ram home the Sex Pistols reference and more energetically than you can believe. Pretty good guv'?
Not so good is 'Live By The Sword' – with Bill Wyman guesting on bass, Elton John on keys and Don Was on additional production – which has dubious lyrics but a great guitar solo.
To finish off, there is the blues classic in Muddy Waters' 'Rolling Stone Blues' which gave the band their name in the first place– and I wonder if there is a message in the fact that it bookends the album.
Of course, the lyrics on Hackney Diamonds are basic (or hackneyed), and they mainly deal with interpersonal relationships, conflict that you think they might have sorted out by now and found something different to write about. Mick and Keith obviously haven't spent the last 18 years reading the classics.  I'm pretty certain that Walt Whitman's Leaves of Grass isn't on their bookshelves. At least they did tackle some broader subjects in recent years on a few singles. Here 'Dreamy Skies' explores an escape from the rat race and 'Sweet Sound of Heaven' has a vaguely religious undercurrent. But hey, this is rock 'n' roll not Shakespeare, what do you want from the Rolling Stones, a philosophy lesson? No one expects Mick and Keith to win the Nobel Prize for Literature!
In the end, all the guests are a nice touch but probably superfluous. The key players are still Keith and Ronnie Wood on guitars and drummer Steve Jordan while Mick Jagger sounds so amazing at the age of 8o that it is difficult to believe that he wasn't using Autotune or some sort of computer processing (AI?). (If he isn't then we all need to be taking whatever he is having). I have checked a video of the recent album launch at a New York club and Mick sounds slightly more like a senior citizen but still astonishingly energetic.
I have to say that I approached this album with my cynic's hat on amidst the avalanche of publicity which included a host of interviews and early rave reviews. Could the album possibly be as good as it was being suggested? It is. I have now listened to this album more than I have listened to any of the Stones' previous albums since 1981, with the exception of Blue & Lonesome, combined. If this marked a full stop in the band's recording career then it would be a fitting, if not great, place to end. After all, how many bands are making great rock 'n' roll albums anymore? AC/DC and…….?
Finally, when I recently saw Paul McCartney in his fabulous show, I was awestruck by the fact that more than 60 years after his first recording he was still recording and touring. Then I considered that Dylan and Van Morrison are also touring at present and Joni Mitchell has recently made a comeback to performance. It feels good that we can be positive about a new album from what surely is the world's greatest rock 'n' roll band while it is still around to celebrate. As Keith says, let's hope our future is not behind us.